If you have a young lady in your life looking for her first real perfume then I think this might be it, without even having sniffed it. It just looks very feminine and sounds like a classic rose scent which I am a fan of. Instead of turning in to sweet candy scented perfumes named after pop stars. This is not in the same category as the Minoit my pre-teen spritzes over her hair but for young women.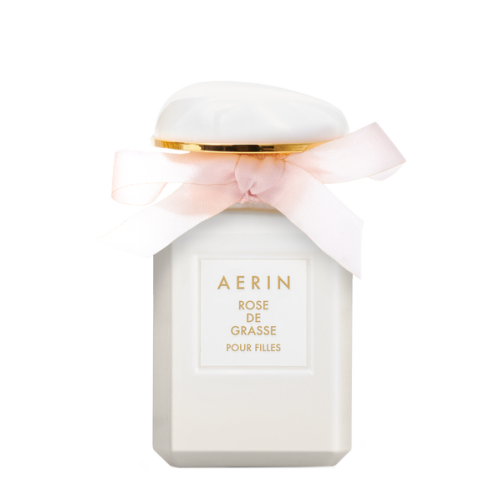 I remember some of my first real perfumes my mom bought me. I think I was 13 and Thierry Mugler had come out with Angel not long before and my mom happened to be Christmas shopping in Paris with her friend when they had a whole big campaign for it. She picked up the whole lot for me for Christmas that year. A thick body cream in a large glass jar, the perfume in it´s blue star shaped bottle and even these lovely light blue flakes that were a bath product. They were all wrapped in pretty light blue silk paper and paper bags. It was a whole thing and I loved it. I have kept the bottle as a memento and I might even have the paperbag somewhere with my other treasured memories. Angel is perhaps not the most subtle scent on the market, it was the first ever gourmand perfume, but I used it even during the day. At the time I think it was not available in Finland at first so it was all the more special as I was the only one wearing it in my school. Now it is obviously available all over as it has been a "few" years since it´s launch… But that first perfume can be a thing to remember and this one from Aerin looks like a lovely choice. And something I honestly feel I might even want to wear. The only thing is that Aering does not ship internationally and I have not seen it on Net-a-Porter yet, although it was launched yesterday so I think I have to give it a minute, nor am I sure it will be sold in Helsinki at Stockmann that stocks some other perfumes of Aerin but little anything else. Let´s hope we can all travel soon to find these little treasures that catch our eye.
Have a lovely day,
Lattemamma
p.s. I liked and used plenty of different scents as a young adult but one I used for years in my twenties was Romance by Ralph Lauren. It was my signature scent and I´m pretty sure I was not at all unique in that. Anyone else? It´s quite a basic fragrance but I´m sure I would still love it´s shower fresh scent. I think I might have to go sniff it somewhere. And I still like their often black and white advertisements.