... I bealieve jealousy is a perception that might be changed. 
A while back I asked you to leave possible questions and hopes or ideas about the blog for me and I received very good ones indeed. I have already answered several on my blog posts and will continue to do so this year. If yours never gets answered to please don´t be offended. It´s either that I feel the answer feels too private or I may not remember them all in the end. But I will do my best. One was a question about jealousy. If I as a  "privileged" person feel that people are jealous of me. And if so then how do I consider these feelings. And do I think financial or status differences create jealousy.
I quite honestly don´t think people are jealous of me. I hope some might admire some qualities in me like I admire qualities in others. I would like to think I´m a nice and sweet person ( most of the time) and when ever I am with someone I hope I make them feel comfortable and good about themselves around me rather than jealous of me. Obviously the question mentioned that one´s friends or family who´d know your struggles ( as no ones life is void of those), would not be the jealous ones, but ones acquaintances. But yet again I honestly don´t understand why they would be. I have lovely things going on in my life but then again they are lovely from my point of view not necessarily someone else´s.
|


|

I´m sure we all have those moments we are not too proud of as parents. We do the cuddling and we do the comforting. We do the teaching and raising as best as we can. But then there are those days or quite simply those moments when we just do not manage. And believe me I know there are good reason for snapping at your kids. Sometimes even the most angelic ones turn in to little "Damiens" really. They get cheeky and do not listen to a word you are saying. You snap. Fine. I´m pretty sure that happened to you too. But I´m not talking about those moments. I´m talking about the moments when you really should be the adult in the house. When you know you are wrong and they are just little people who need our love and understanding. And yet you snap. Let me give you an example and my little life lesson learned…
I was alone on the island with the girls. It was one of those amazingly gorgeous nights when you just hold your breath and count your blessings. Mr Espresso had to pop in to the city to do something at work. So the girls and I decided we would eat dinner al fresco. I know people think that many bloggers or "Instagram affeccionados" just make things look pretty to look good in their photos. Well I for once grew up in a house where there were linen napkins on the table at weeknights and water was served from a pretty jug. My mom would never put out cold cuts or cheese in their wrappings. So I do like things to look pretty, but I liked them so even before Instagram times. So we set the table nicely with my lovely clay bowls I really really love to use at the country house. The girls love these too as they are mostly pink!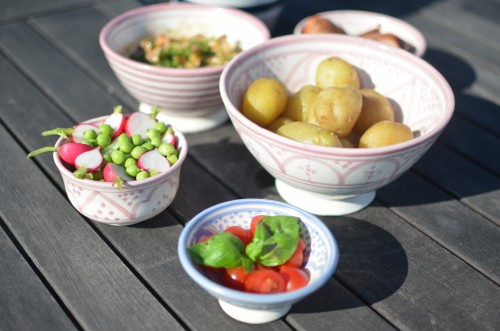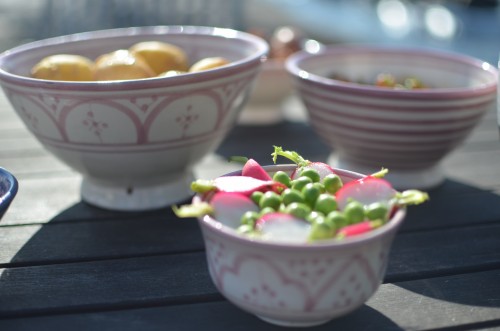 |


|