Mistä on hyvät yökyläilyt tehty? Itse leivotusta pizzasta, pienistä essuista, jäätelöannoksista, kermavaahdosta ja kirsikoista, nonparelleista, prinsessaleffoista, pedeistä teltassa, kauniista unista, herkku aamiaisista, pannareista, marjoista ja aimo annoksesta rakkautta ja kikatusta.
We love slumber parties in our house. And apparently mine are so much fun a do-over is often requested ( by kids and adults too… I take this as a huge compliment!).  We had the girls´ cousin come stay overnight on Monday. ( She literally asks me every week when she can come for a sleepover in my house, not her cousins. I love her to bits!) They are in the same daycare group with Cotton Candy so I picked them up together.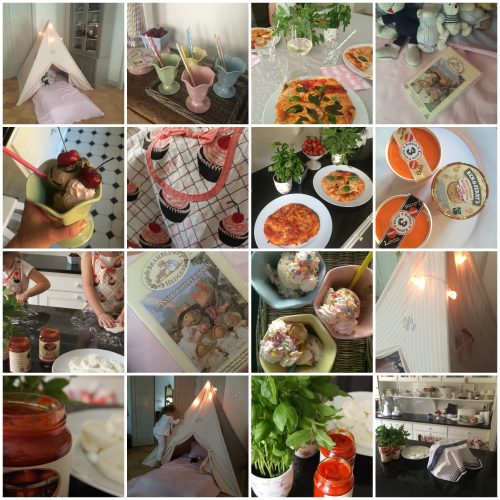 The girls requested to make their own pizza. Tomato and bufala mozzarella for all. So I had little aprons and rolling pins ready for them. Bubble Gum was also participating of course. I had made the dough before leaving for pick up so it had already risen nicely. We bought a ready made tomato sauce. Our absolute favourite is Rao´s. I love it because it has all the ingredients I would add to a sauce and nothing extra and it tastes so good. They sprinkled the pizzas with fresh herbs and watched them bake in the oven. Ice-cream for dessert was also a must they said ( with sprinkles and whipped cream). I did not mind playing along.
We did girly things too like ( washable) pink stripes for their hair. Just one for each. I made them a bed in the teepee tent in our living room floor and let them watch a movie lying in there in pj´s before bedtime. The bigger girls shared the tent bed for the night and Bubble Gum kept me company ( as mr. Espresso was traveling for business again). But I did wake up with three little girls cuddled next to me.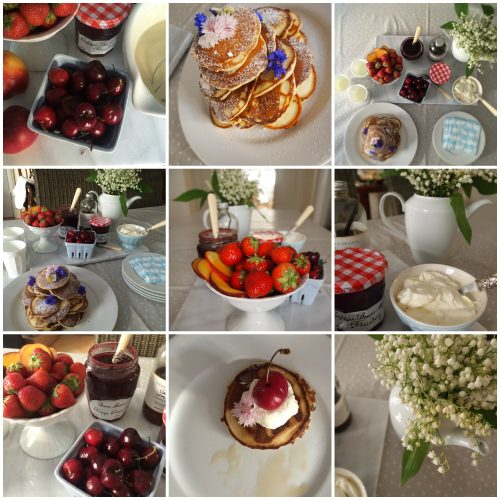 In the morning we made pancakes for breakfast. They really had been planning this at nursery for a few weeks! So we ate pancakes and fresh berries for our breakfast before heading back to nursery for the day. We all had a tremendous time and I´m sure a do-over will follow after the summer holidays again. But before that we have an extra bunk bed in the girls bedroom at the country house and their house is just a few hundred meters away so I´m pretty sure there will be some summery sleepovers coming our way before that.
Suloista päivää ihanat!
Have a sweet day!
Lattemamma