Swiss meringue buttercream
by Sofia - in Cooking
I know I promised this recipe and I´m keeping to it. I just have not had a chance to make it before. This is Martha Stewart´s buttercream recipe from her book Cupcakes. It has a lot of butter, the taste is mild and soft and not as sweet as a regular buttercream or cream cheese frosting, but if you dislike buttercream in general then maybe it´s not for you. But the magic about this meringue buttercream is that it pipes like a dream. So if you want to make pretty piped designs I recommend you try this.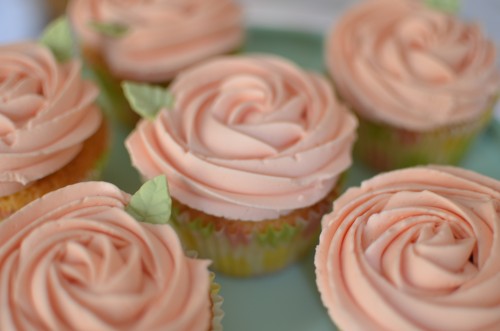 Swiss Meringue Buttercream
1 1/4 cups sugar
5 large egg whites
1 pound, approx. 450 g (4 sticks) unsalted butter, cut into tablespoons, room temperature
1 teaspoon pure vanilla extract
1. Combine sugar and egg whites in mixer bowl, and set over a pan of simmering water. Whisk constantly until sugar is dissolved and  you can feel no sugar grains between your fingertips.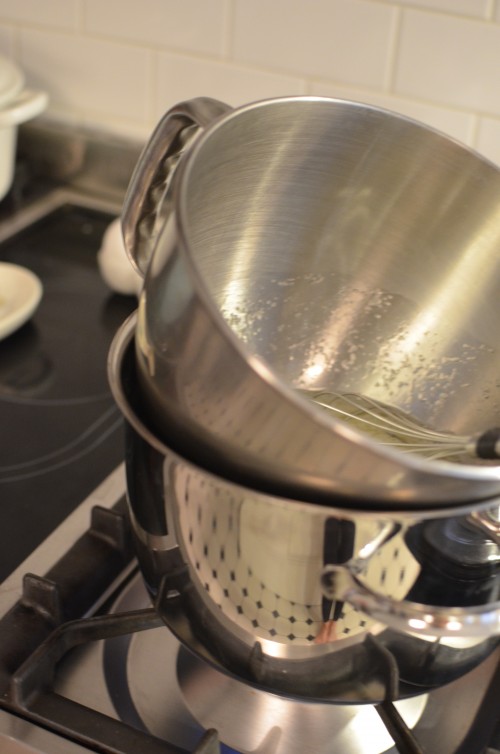 Happy baking feet in the ugly lit photo. This is my Bain Marie.
2. Transfer bowl to mixer; whisk on medium-high speed until whites are fluffy and cooled, about 10 minutes. Continue to whisk until stiff, glossy peaks form.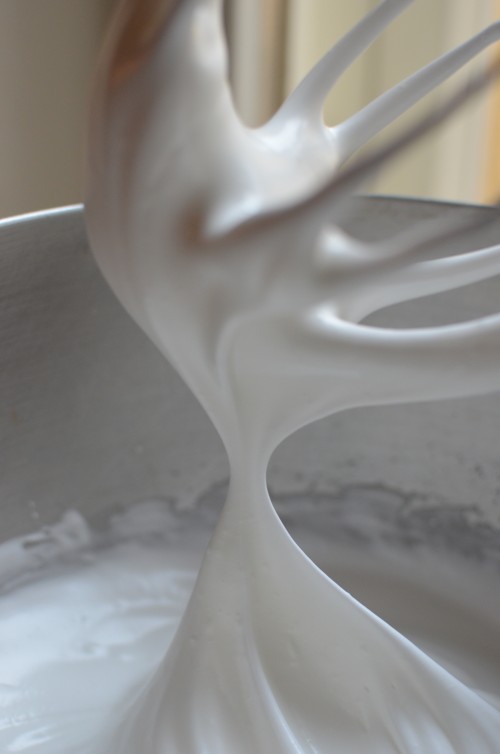 Nice meringue peaks. It´so stiff it stays like this.
3. Reduce speed to medium-low; add butter by the tablespoon, whisking well after each addition. Whisk in vanilla ( and colouring if you desire). When you add the butter the mixture usually curdles. It´s natural and if you just keep on whisking on medium high speed it eventually turns back to normal ( this may even take some time).
4. Change you paddle whisk on and beat out all air bubbles to get a nice and smooth buttercream.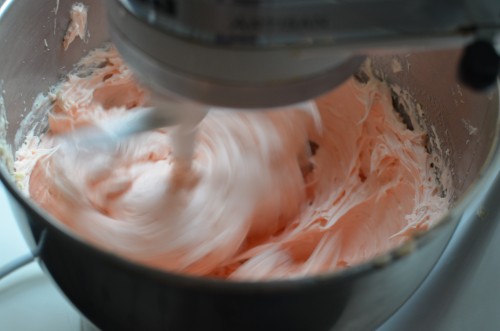 Whisk away sweet paddle, whisk away.
Buttercream can be refrigerated in an airtight container up to 3 days or frozen up to 1 month. Bring to room temperature before using; beat on lowest speed until smooth, about 3 minutes.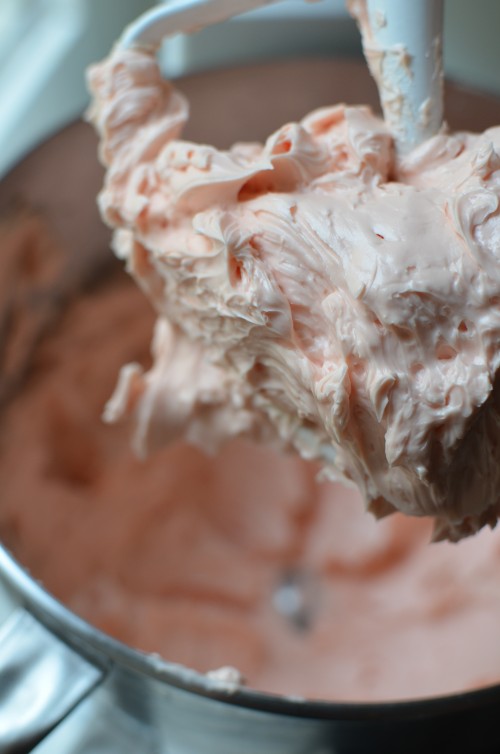 This weird looking mass of pink pipes like a dream! You can see how glossy & firm it is compare to for example whipped cream.
I wanted to try and make some easy roses. For the rose piping you will need a closed star tip ( as opposed to an open star tip). You can see the differences here. I found an easy tutorial for the roses here. But it still took me a few tries to get it remotely pretty ( which tells probably more about my skills than anything else). You start in the middle of the cupcake and swirl towards the edges in a circular motion. No biggie. My problem was getting the finish looking nice & pretty on the edge. I had some green leaves that I ended up using for the roses ( like I saw on Pinterest). I could´t find a really tightly closed tip like the Ateco 2d so these were not quite as nice as the ones on the video but I think they turned out quite lovely. I think these would be very pretty for a tea party. I made about 50 ( half of them with cream cheese frosting and sprinkles) cupcakes for a charity bake sale but put a few in the freezer to serve at a special birthday breakfast tray this Friday.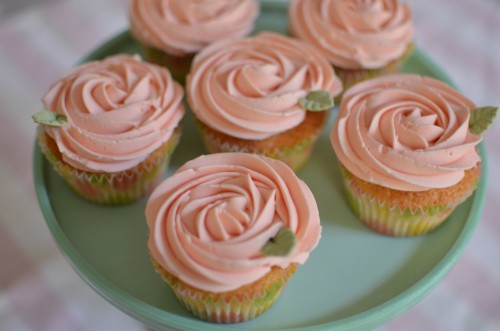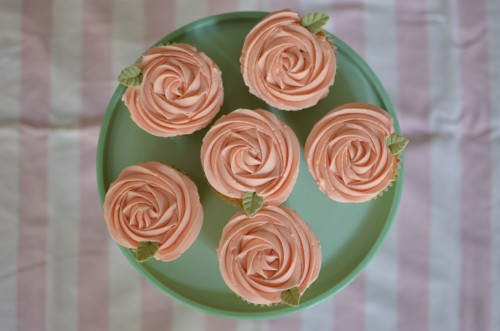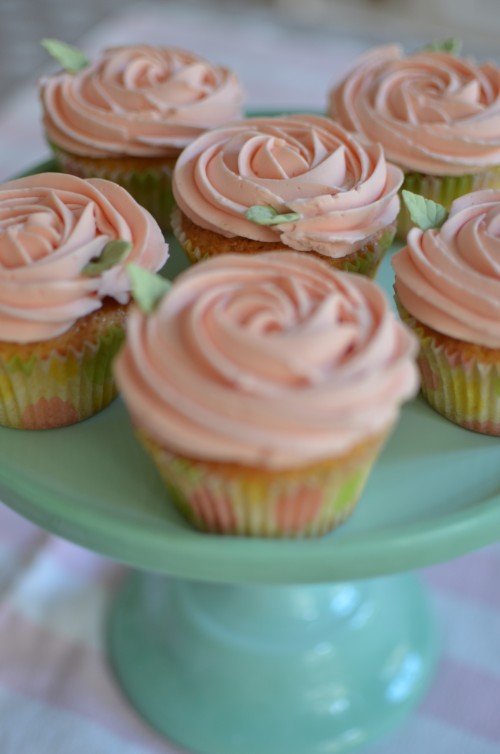 In the last photo you can see what I meant about the finishing if you look at the middle cupcake. Normally when decorating cupcakes you start from the side and finish in the middle lifting the piping upwards but for the roses you start in the middle and  finish on the side. Maybe making bigger leaves from sugar fondant would be useful for hiding that part. And as with everything practise makes prefect so maybe next time they will be better.
Hope you have a lovely start of the week sweeties and as always I´m sorry I´m lacking way behind on your sweet comments, especially on the Lattemamma birthday post, but I assure you they were all read with a very warm feeling in my soul! Thank you so much!
Lattemamma