I hope you all had a lovely weekend. We did not make it to the island yet but we had a great family weekend in the city including a lunch on a sunny restaurant terrace, ice-creams & bowling amongst other things. The Spring is also bringing all the Spring recitals from gymnastics & ballet and of course school & day care too. So excited to watch my girls perform! I will be on a lookout for little bouquets of Lily of the Valley or Sweet Peas for them to present after their performances. I think both are lovely for little ones.
Then comes summer and things like camp for Cotton Candy. We stocked up on a few basic things for those day camp activities. Like a new cap & sweatpants and a hoodie etc. Obviously depending on the weather the kids will be in t-sirts & shorts or summer dresses but there is a possibility that sweats will be needed too as this is the Finnish summer we are talking about. I was on a lookout for a very basic one in navy that I think looks great with white Superga sneakers we already have and with baby blue or light pink. It´s just such a classic. We found ours from Petit Bateau´s collection. Cotton Candy and I are both loving the cap. I bought them great summer hats from our London trip but ( "obviously" and "dah" and "silly mom") it is not suitable for school or camp just for the beach. But this cap definitely is. I have always been a cap person and used them all my life myself. I think they look so cute on girls ( and obviously boys too… all my puppy crushes all the way to my husband have been cap wearing guys). This one is perfect both in colouring and shape. Very classic!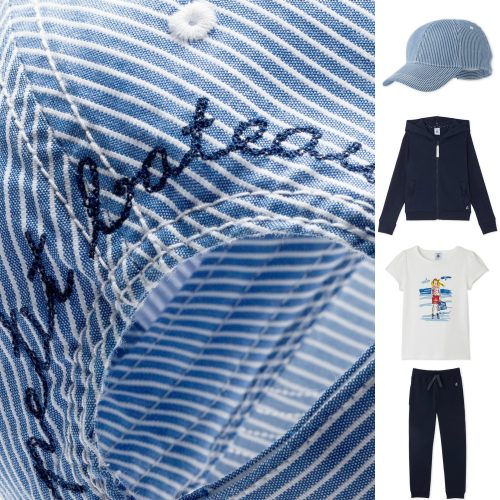 Are your kids attending camp this year? Ours is a half day camp for two weeks. There would have been the gymnastics camp as an option but this one has most of her school friends so she chose this one ( that sounds perfect with a trip to go swimming and Linnanmäki amusement park and lot´s of crafting amongst other fun things). We looked through a leaflet of camps and there were incredible things for basically everyone from tennis to dogs ( you can take your own pups with you) to whatever you can imagine. In Finland the summer break from school is over 2 months and most parents don´t have such long holidays so the camps are fantastic for that!
I spent a few summers on sleepover dance camps when I was a little older ( 13 & 14 I think) and even though we literally spent the days dancing everything from contemporary to jazz to character to multiple ballet classes and then rehearsed for the end of camp show it was so much fun just hanging out with girls who loved to do the same thing as I. We danced for about six hours a day I think and slept on really hard school classroom  floors on just gymnastics mats but still it was great! I remember shopping for new shower gel & body lotion etc. with my mom before going ( peach & apricot!) on camp. I was there with my best friend and we had our super hard mats next to each other. Everyone would just talk about dance ( & boys!) and stretch at nights in the rooms while massaging our aching feet. Memories memories!
Have a great day!
Lattemamma