Tämän raparperipiirakan resepti löytyi ihan nettihaun perusteella, mutta jouduin hieman muuntelemaan sitä koska osa aineksista uupui saaressa ja kauppavene ei vielä kulje. Noudatin tätä reseptiä, mutta korvasin kermaviilin kreikkalaisella jugurtilla johon lisäsin hiukan sitruunanmehua ja kardemummaa. Piirakasta tuli erinomainen ja se oli ihan super helppo tehdä joten se sopii erinomaisesti myös mökkikeittiöön tai aloittelevalle leipurille. Huomaat kuitenkin ehkä, että minun piiraani on hieman erinäköinen kuin tuo linkin takana oleva. Se johtuu siitä, että leikkasin muutaman raparperin juustohäylällä pitkittäin nauhaksi ja punoin piiraan päälle koripunoksen nauhasta. Se onnistuu helposti niin, että teet ensin piiraasta yhteen suuntaan "raidallisen" ja sitten lisäät poikkipunokset keskeltä aloittaen. Muistat vaan siis laittaa joka toisen punoksen eri nauhan alta/päältä jotta syntyy koripunosta. Vimeistelin pinnan sitruunamehulla jotta se ei tummuisi liikaa uunissa.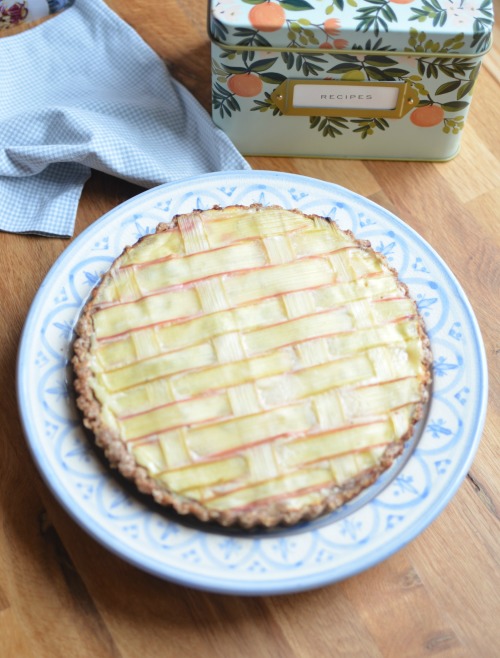 I made a rhubarb pie on the island and here is the recipe in english…
Rhubarb pie
for the crust:
2 dl flour
1 dl oats
1/2 dl sugar or brown sugar
1 tsp baking powder
1 tsp cinnamon
1 dl oil or melted butter
1 egg
for the filling:
5-6 dl ( about 300 g or 2 cups) rhubarb
200 g thick Greek yoghurt or sour cream
1 egg
1 dl sugar
lemon juice
( a pinch of ground cardamon)
1. Heat the oven to 200°c.
2. To make the crust mix together the dry ingredients and then add the oil/ better and egg. spread over a pie form ( about 24 cm in circumference).
3. Mix together the ingredients for the filling excluding the rhubarb. You can flavour with some lemon juice and a pinch of cardamon.
4. Save a few stalks of rhubarb. Chop the rest and add to the pie before pouring the filling over the crust.
5. Slice the rest of the rhubarb lenght vice with a cheese slicer so you get "ribbon". Make the basket weave by adding the ribbon in one direction first next to each other the starting from the middle add to the other direction by going under and over and alternating between ribbons. I finished the ribbons off with scissors. Pour some lemon juice over the ribbons to prevent them from getting darker in the oven ( although I´m not quite sure if it´s needed as the rhubarb in itself is very sour).
6. Bake the pie for about 25 minutes. Let it cool before eating. This pie is really good cold too.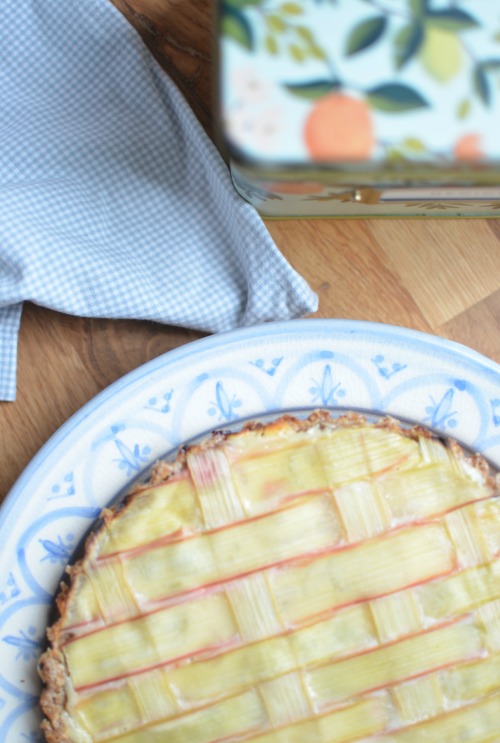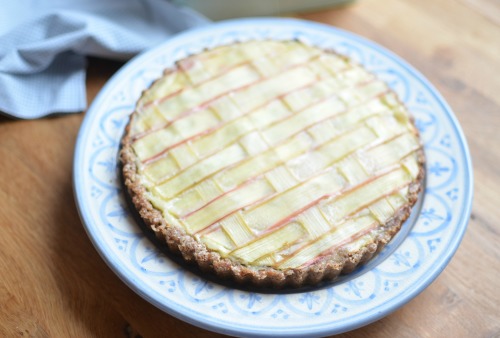 This is the kind of pie that would be really pretty to bring to a potluck with edible flowers on top and perhaps a few pretty berries dusted with powdered sugar. As mentioned it´s delicious eaten cold too so it would be perfect for that.  Have a sweet day!
Suloista päivää!
Lattemamma
p.s. Rabarber is rhubarb in Swedish, it´s one of my favourite words.