One of the posts I promised to write but then it just started lacking when my photo editor collapsed was the American Girl post. As an important part of our Florida trip was a visit there. If you don´t know what it is then let me enlighten you. American Girl Company is a doll emporium. You can have a doll made to resemble you ( had colour, length, eye colour, skin shade, freckles etc.). Then they sell things for dolls from clothes to furniture to anything you could think of. Like braces, eye glasses, casts and crutches, toothpaste and passports. Anything. There are movies about the girls and stories behind them.  There are books and restaurants. You can have your dolls hair done or ears pierced. So when in Florida we visited one in Orlando for some shopping and a lunch with our dolls. We actually have French Corolle dolls for the girls but the taller one fits the American Girl clothes perfectly and the smaller can wear some too and all the accessories.
The lunch was very cute and super girly with chairs and table settings for the dolls too. You get to keep their cups & saucers and the napkin rings that turn in to hair bows. If you have girly girls who love dolls I recommend this experience if you get a chance. Instead of lunch you can also book a dolls tea party at some places.
Here are some photos from my phone from our American Girl moment…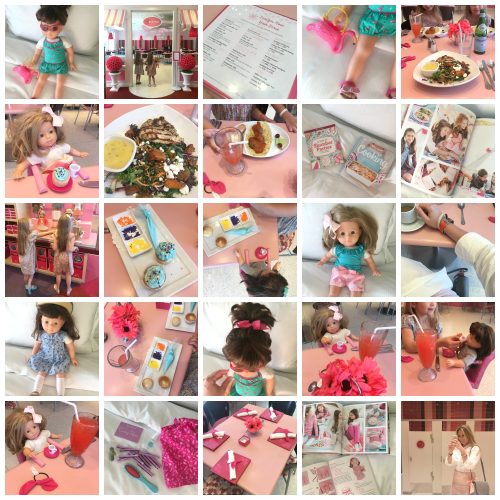 Very hot pink as you can see! even the bathroom tiles were in different shades of pink ( as you can see from my not so flattering bathroom selfie…). As dessert the girls got to decorate miniature cupcakes. Such a classic but cute idea and very American. All in all the experience is a tad tacky and plasticky but still super adorable and most importantly the girls had the bets time!
I hope you have a lovely day,
Lattemamma