For a few years now we have been hosting a Boxing Day brunch in our house for our family and a few close friends. We have a traditional Christmas dinner at my parents house on Christmas eve so this is a different kind of meal. I love brunch and breakfast foods but as we usually spend a whole day together it´s nice to add something a bit more substantial and lunch like in the mix. I think we will do a roast beef this year. There will also definitely be smoked and cold cured salmon with mini blinis or lovely toast and fish roe for sure. Definitely eggs in some way. Perhaps as a scramble served from the shell topped with some roe or a sprinkling of truffle salt.Or maybe I will do quail eggs as they are so pretty. I think we need to do some roasted potatoes for the roast beef? With a lovely cranberry jelly perhaps. Obviously a salad with some candied nuts on top. And cheese. Some pretty desserts too. I think cookies, perhaps something with almond and a sprinkling of powdered sugar, some mini pavlovas are always gorgeous, decorated with pretty jewel like berries and some orange rind. The girls will decorate gingerbread cookies for us that are always a cute addition. And then a panettone on a pedestal.
My new table cloth fabric arrived yesterday. I will have it sown for a long festive table cloth that I can use all year around. It´s a beautiful classic blue toile de jouy on a creamy white base. Such has been on my wish list for years and now we decided that our pretty new dining room deserves a lovely festive table cloth. One that lands all the way down and is probably impossible to iron but looks elegant. I think it will look lovely with any colour scheme from pink peonies in the summer to red velvet bows during Christmas. With yellow, pistachio and baby pink for Easter or with orange & teal for Fall. I have a very good feeling about it!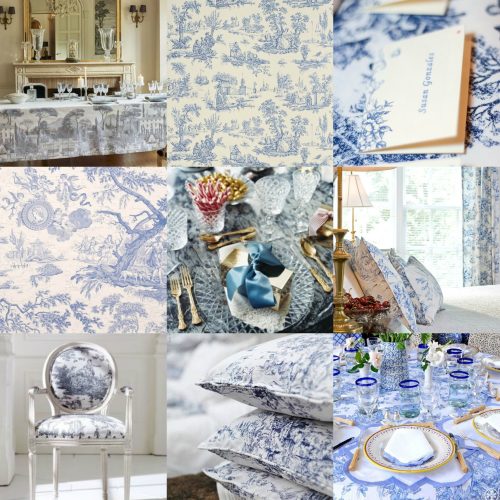 I hope to add some of our silver pieces on the table this year. An antique silver toast stand, our silver coffee and tea set etc. They should look lovely with some white pieces and I think I will add some pears, lemons & mandarins with leaves attached as edible decorations. I have seen both in the stores lately, also lemons with leaves. So pretty! I will make a tower of two or three of my white cake stands to display them at the centre of the table. Or perhaps I´ll make a centrepiece on a silver tray. I´m still contemplating if we even need flowers. Perhaps not. I´ll most likely have them around the house everywhere else.
For drinks I think champagne cocktails of some sort are always perfect for brunch. And we had the loveliest cocktail, a port tonic made with white port wine, ice, tonic water and a slice of orange. It was delicious and refreshing so I might add those too.
How does it sound?
Lattemamma
p.s. I have already started thinking about next year. I think I will do a small tree in a beautiful urn on a table again ( this year we put up a big tree on the first of December which I absolutely love) and then add wreaths on our windows so that I hang them from the curtain rods. I will have festive red velvet ribbon and do a light blue, white, green and rich red colour scheme. I have not had a red Christmas for ages but I feel next year might be the year for that!