I´m not even going to say it. Yes it´s been too long and as I said on instagram. When it´s been so long it always feels like a post should be something substantial. At least  little more substantial than caramel corn. But then you said it does not. So here we go. Back at it! Fingers crossed it won´t be yet another month or two before I´m back here apologising fr my absence and wondering if anyone still finds their way here.
So to the corn! Ralph´s in Paris, you all know it, has this amazing caramel corn that they serve with the coffee after dinner. So I tried to copycat them! My first try was better, the second time I did not heat the caramel quite hot enough so it did not get as hard but a bit sticky instead. Which makes it feel sweeter for some reason. So if you have a candy thermometer like I do, use it and don´t just wing it. If you don´t wing it and hope for the best. It will be delish anyhow.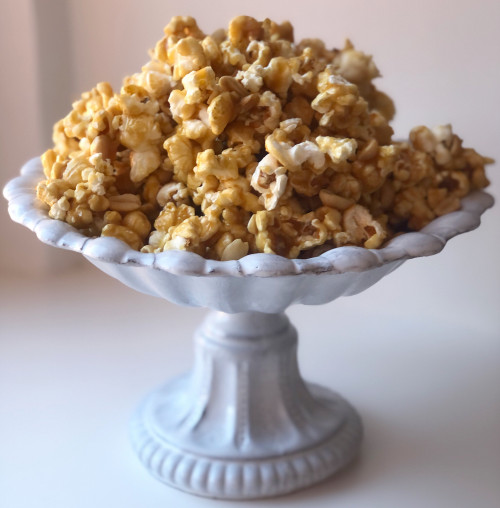 Caramel Corn
1/2 cup 
light brown sugar
1 1/2 cup 
honey-roasted peanuts or other nuts (optitional)
In a medium, heavy-bottomed saucepan, melt butter over medium heat. Add sugars, honey, and corn syrup and cook to 150°c over medium-high heat, stirring occasionally. Mixture will be thick and bubbly. Add baking soda and stir carefully to incorporate.
Remove any unpopped kernels from popcorn ( this step is important), then place in a lightly oiled bowl. Pour caramel over popcorn and toss to combine, using oiled, heatproof spatulas. When popcorn has cooled slightly but is not quite set, mix in salt (and peanuts).  Place popcorn on a sheet tray; once cool, store in an airtight container. These last about a week. If you don´t eat the before! Enjoy!
I hope you like this easy and fun recipe and can forgive me for being absent for such long times! If you ares till here then how lovely to have you.  I will return soon!
Lattemamma