I have a Le Creuset Dutch oven that I like to use for braising things and making stews but lately I have wondered if I should get an actual crock-pot slow cooker. If I have understood correctly you can leave it on during the day and then it slowly cooks your meal while you work. Or you can make a lovely porridge overnight and wake up for it in the am. There are actual slow cooker cook books available as well as Pinterest full of ideas. As we do have a pantry I thought it would also find a spot in my house in case I don't want to have it in the kitchen counter all the time. But I did find a white one which is a bonus for me. 
What do you think? Do you own and use a slow cooker? If you do please share your ideas and thoughts on it. I asked on Instagram and I got no con´s from those of you who have one but plenty of pro´s. So I think my mind is already headed this way. But I do not just buy on a whim so I'll give my thoughts some time to stew ( pun intended) as well as discuss with the rest of my family to see what they think. But the idea of coming home from work to a warm meal that has been slowly cooking to perfection during the day or to wake up to a lovely porridge in the morning kind of has me excited. Think lovely soups, or a bowl of chili or even a tagine or some lovely stew. And Martha Stewart's famous slow cooker Mac´n´cheese would make our girls so happy. The best bonus in my mind.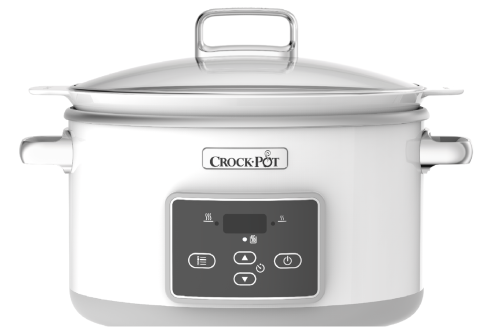 Let's see if there is a slow cooker in my future. It's not like it´s a novelty. It just sort of slowly landed on my mind and now I have a hard time getting it out. 
Have a wonderful day!
Lattemamma
p.s. After writing this post we actually took the step a few days later and our crock-pot is on it's way to us. I have a folder on Pinterest now called Slow Cook full of recipes if you feel like joining me on this quest. You can find me there by Lattemamma.