Ski bunnies
by Sofia - in Random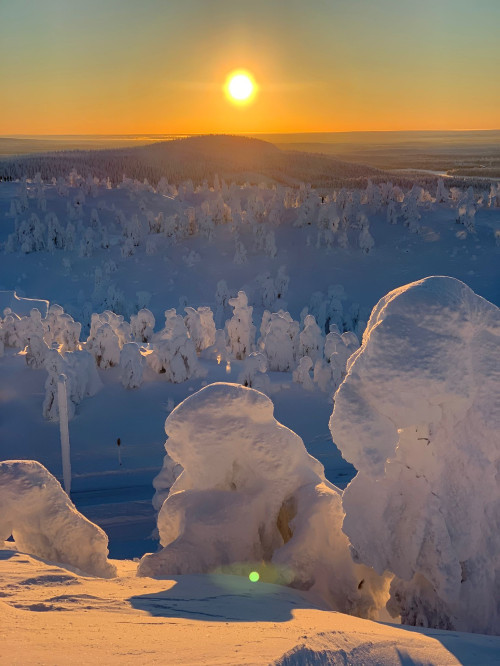 We escaped the city for a little ski-ing up North. Just our family, the wonderful white nature, the peace and quiet of the snow filled forests and fresh air all day long. A lit fireplace and a sauna every night. We love our yearly trips to cross country- and downhill ski. Great cozy meals and playing games at night. We do spend time together at home but it's always a little different when you change the scenery.
I am very unsurprisingly in navy and white at the slopes but we got the kids colorful Colmar outfits from the sale last year ( I shared it here). Great for spotting them at the slopes especially as in Finland there is often snow or the weather is otherwise grey. You want people to actually see you to not get run over. This is what we learned last year when trying to spot our friends and one of their kids had a very brightly colored helmet and pants. We could always spot her from the lifts.
The holiday was so relaxing, four days in the slopes and one cross-country skiing. I cooked some ski holiday favourites like my Gruyere lasagna eaten with heaps of crispy green salad with a tart dijon vinaigrette, salmon soup with local rye bread, tomato soup with herb & garlic bread and reindeer stew with mashed potatoes served with lingonberries and Finnish pickles. We went sledding on our back yard, played Monopoly ( our youngest beat the whole family) and had a pancake party. Lettukestit in Finnish, the Finnish lettu is more like a crêpe. Now it's back to real life after a very long holiday and it feels fine really. We can do this now after a lot of relaxation.
On our last night we saw the Northern lights so we left home hearts and bellies full. Our souls filled with family time and good memories imprinted there.
I wish you a swell day! Hope you stay healthy and happy!
Lattemamma