All the light
by Sofia - in Random
I am not a person who really gets affected by the lack of light or warmth. I have other things that make me upset. But I do know and understand that it does have a very strong effect on some peoples moods. So I am happy to tell you I did the math and today we have around 2 hours more sunlight a day than we did a month ago and next month it will be two more. The sunlight might not be the strongest word for weather like todays looks like it's going to be. Pretty grey and wet. But let's try to think of ways to find the silver lining in that too.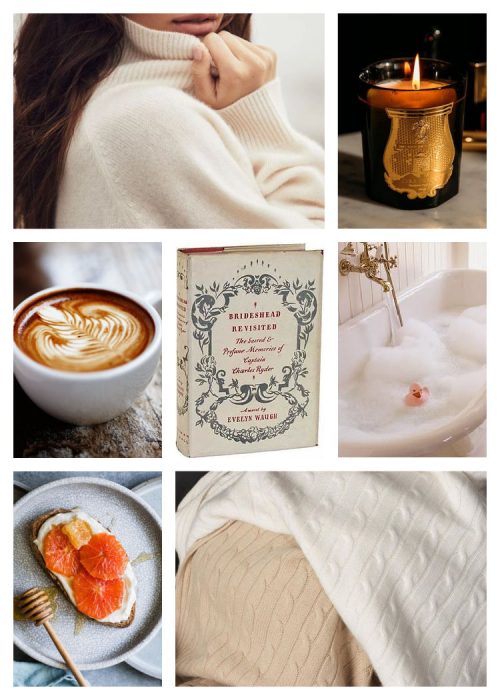 Collage pictures from my Pinterest files. 
If it's grey outside the candle light looks even lovelier. People always make fun of " candle lighters" and yes it is very true that if you have real life altering worries in your life the candle light will probably not make it any better. But if you are just annoyed it's another cold and rainy day it really might. I have the Heather candle from Nest Helsinki in our kitchen and it has such a warm and  inviting scent it just makes my day a little nicer from the get go. I will try to get myself one more as it's burning out. They are on sale now so I hope there are some left.
Make nice plans throughout the day to cheer you up. I'm not saying you have to have lunch dates etc. It can be the smallest things. Buy yourself that nice tea you always look at in the shop and brew a cup when you feel like rubbing your forehead. Or go get yourself some fresh air, even the grey days are still fresh, and buy the loveliest cup of coffee you know in town. If you have take away it will also keep your fingers warm on your way back home or the office. Take a moment to text something nice to people you like. Or someone you haven't seen or heard from in a while. I always find that sending nice messages to my friends instantly makes me feel really good. Get yourself a lovely snack. I love to choose a seasonal fruit like blood oranges at the moment. If you plate them nicely they will make you feel even fancier. Or silly, but to me it feels lovelier. Or buy some pastries for the family or even yourself and enjoy. Make small plans also for the evening so you don't just fall down on the sofa unable to get back up. Decide to light up the fireplace. Play a round of Uno with the kids or memo or whatever they like. Do you have a show that you like to watch? Something to look forward to in the evening. Make yourself a nice nest and relax. Take a hot bubble bath or pamper yourself a little. Read a book, a poem or an interesting article. Flip through a magazine you like. Just treat yourself with the smallest little things that might make you happy. Things you can also do on a sunny day but they feel much cozier when it's not. On sunny days nobody has time for hot bubble baths inside.
Think of all of your favourite warm, soft and cozy clothes and wear them. Nothing is so nice than wrapping up in the softest jumpers on a grey and rainy day. I too miss the season of bare feet and loafers, I admit to that, but then again I love my chunky cashmere knits and soft cashmere pants. Not much use for those on sunny days.
How about a nice lovely stew to warm your bones? Who wants stew on a hot summer day. Make it now! I will put this out there, the Crock•Pot is great for those. You just dump the ingredient in and come home to a lovely stew that has been simmering slowly all day. We just woke up to the silkiest soft cinnamon scented oatmeal this morning that I literally made in three minutes last night. That was mostly just time it took me to get the ingredient and to put them back in the cupboard. Or order in pizza and take it easy on yourself. Have a glass of red. By that fireplace if you have it and lit it. Why not?
I hope you have the loveliest day! Keep warm and cozy and remember the Spring always always comes followed by summer. It's on it's way. But for now let´s try to enjoy these grey days. At least it's a lovely color and has some lovely hues we can enjoy all around us now. The sun is now up, I must go!
Lattemamma