What to cook tonight?
by Sofia - in Cooking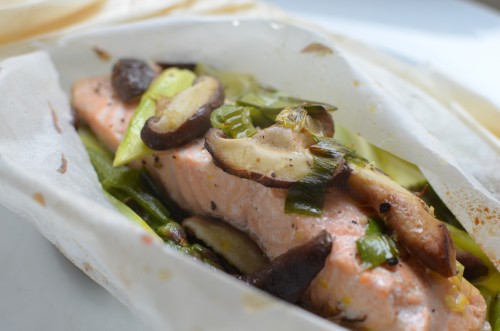 Aloitetaanko viikko heti ruokajutuilla? Tällä kertaa en jaa mitään reseptiä vaan linkitän teille suoraan videon jossa on ohjeet tämän annoksen tekoon. En nimittäin muuttanut annosta yhtään ja video oli todella selkeä ( löytyy Martha Stewartin Eat Clean osiosta). Tämä oli aivan super hyvää! Lapset eivät olleet kovin innoissaan, mutta kaikkea maistettiin kyllä. Jälkkäri maistuikin sitten molemmille sitäkin paremmin. Lohta, siitakesieniä, vihreää parsaa, kevätsipulia, sitruunankuori raastettuna, oliiviöljyä, suolaa ja pippuria. Siinä kaikki mitä annokseen tarvitset ( lupaan, että seuraavassa reseptissä ei sitten ole sitruunankuorta tai parsaa, ettei mene ihan yksitoikkoiseksi tämä touhu). Kaikki valmistuvat uunissa leivinpaperikäärössä. Ei sotkua ja taas helppoa ja nopeaa. Paistoaikakin on alle 10 minuuttia. Kokemattomampikin kokki onnistuu tässä varmasti ja annokset sopisivat mielestäni vaikkapa illalliskutsuille ( ei paistetun kalan tuoksua asunnossa ja jokainen saa oman kääreen lautaselleen jossa emäntä voi leikata sen auki paljastaen ihana tuoksun). Silloin lorauttaisin ehkä kääreeseen valkoviiniä vesitilkan sijaan. Jälkkäriksi meillä oli kirsikoita ja mansikoita. Illallisilla lisäisin jätskiä ja murustettuja marenkeja repertuaariin.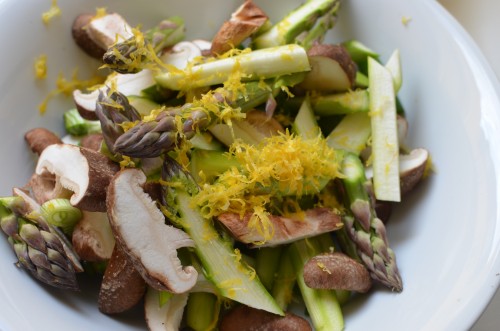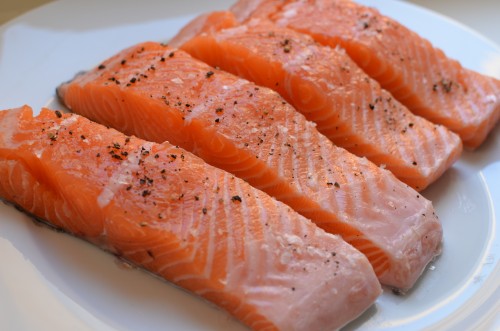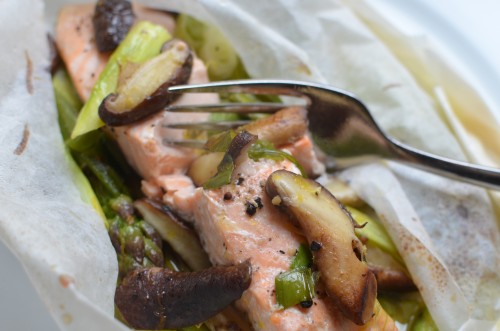 Today I have no recipe for you but instead a suggestion to what you should make for dinner. Here is a link to the recipe. Steamed salmon, asparagus, shiitake mushrooms, scallions and lemon zest. Light, healthy, clean food. Delicious and so easy to make! Really, try this! With the addition of  a spoonful of white wine in the parchment this would be a nice dinner to make for some less formal guests too. We served strawberries and cherries for dessert. It´s truly feeling like summer now!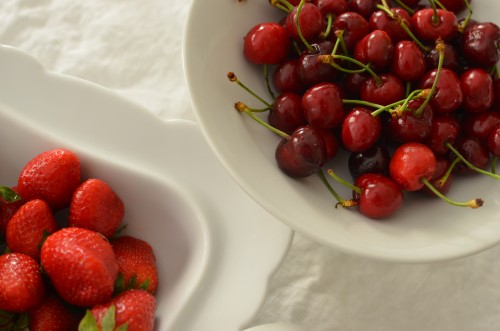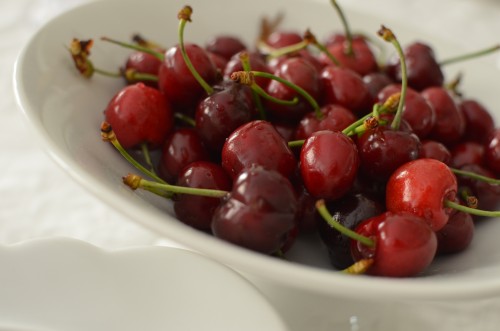 Ihanaa alkavaa viikkoa! Onko teillä jotain erityistä suunnitteilla? Meillä on tiedossa ainakin kevätjuhlat ♥.
Do you have some fun plans for the upcoming week? On hot days after dinner we like to take a stroll to an ice-cream kiosk near by and share some ice-cream cones. I think this is the first year Cotton Candy has chosen her ice-cream by flavor instead of color ( pink). Lemon-licorice was to her liking.
Lattemamma
p.s. I´m thinking of baking some rhubarb pies very soon. I have two different designs I want to try out. One that I saw in this pâtisserie in Paris last May ( they always have the most gorgeous creations and so delicious too) and another design that has been in my head for a long time. Do you have a go-to rhubarb pie recipe I should try?
p.p.s So excited about the summer house kitchen. It was so pretty. And running water. That´s all I´m gonna say.