Yhtenä lahjana ystävättäreni vaippakakussa olivat nämä Milestone Baby kortit. Idea on mielestäni ihan huippu. Korteissa on mainittuna eri virstanpylväitä pienen elämässä ja ideana on ottaa kuvia korttien kanssa kun nämä on saavutettu. Esimerkiksi " Tänään hymyilin ensimmäistä kertaa" ja " tänään käännyin". Ensinnäkin silloin nämä tärkeät pienet merkkipaalut tulee kuvattua muistiin lapsen kera ja toisekseen kuvia on kiva jakaa myös sukulaisille ja ystäville. Kortit valmistetaan Alankomaissa ja ne painetaan FSC-certifioidulle paperille vegafast-musteella joka on kasviöljypohjainen muste.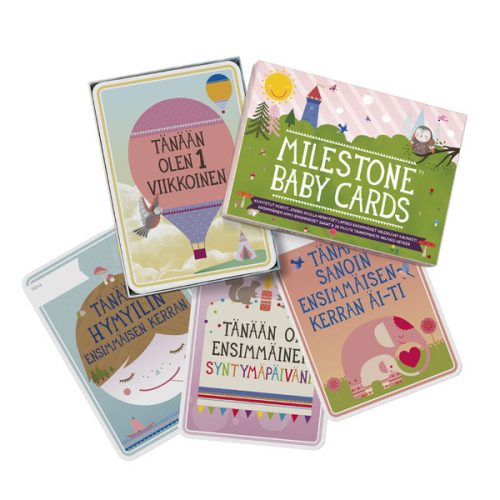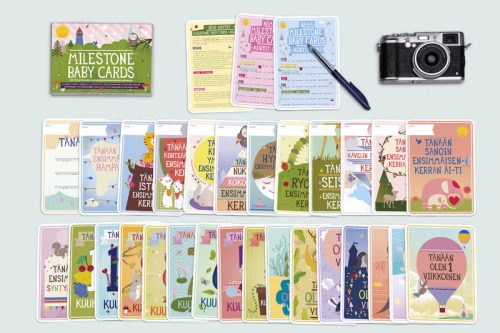 I really loved these Milestone Baby Cards I included in the diaper cake I made for my friend. The idea is to take pictures of your child´s little milestones like "first smile" or " first time I said mommy" etc. with the cards visible in the photos. It will be so nice to have all these special moments documented and the photos will be great for sharing with friends and family too. Don´t you love this idea? I wish I had these when my girls were babies. By the way I think the best baby gift ever or actually an important thing to buy for oneself before the baby is born is a good quality camera. Babies move fast ( well not newborns but you know what I mean) and you will be so grateful if you invest in a dslr and learn to use it a little before your due date. Maybe a gift for the daddy? It really makes a difference.
Toivottelen sinulle nyt ihanaa viikonloppua! Heinäkuisten kelienkin pitäisi saapua viikonlopun riemastuttajaksi. Mitä meinasit puuhata? Me olemme viettäneet saaressa kesäisiä hetkiä, tehneet lettuja ja syöneet niitä vaniljajätskin ja villivadelmahillon kera ja saunoneet, sekä kastautuneet meressä vaikka ulkona onkin ollut vuoroin sateista ja vuoroin tuulista.
Have a great weekend!!! What are you up to? The warm sunny weather is supposed to be heading this way too ( south of Finland). We have been doing summery things on the island, like eating crepes with vanilla ice-cream and raspberry jam and taking dips in the very cool sea in between sauna sessions even though it´s really been quite windy and rainy this week. Now we must pop by to the city for some work but next week we are moving to the island for a bit longer time. I guess the weather is supposed to stay better from now on too but you never know with Finnish summer really. 
Lattemamma
Kuvat lainattu Big Small shopin sivuilta.