This week happiness is…
by Sofia - in Random
Tämän viikon onnen aiheet ovat itseasiassa viime viikon onnen aiheita. Sain ne vihdoinkin siirrettyä kameralta koneelle mr. Espresson ystävällisellä avustuksella. Toisille meistä on luotu kultainen kosketus jauhopussin kanssa, toisille taas tietotekniikan. Ei varmaan ole vaikea arvata kumpaa minulle ei ole suotu. No onnen aiheeksi voidaan siis näin alkuun todeta oma aviomies. Tässä teille vielä muutama lisää…
… Finally finding Amaretti cookies in one of my favorite grocery stores ( Stockmann´s Herkku). I love to serve these for visitors after dinner or to those who pop by for a cup of coffee.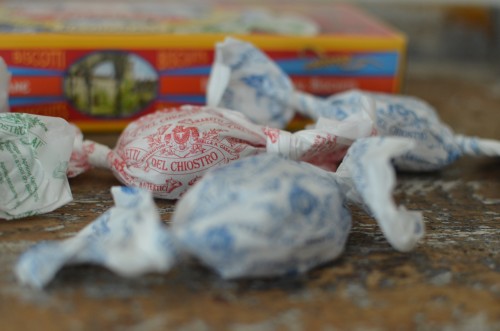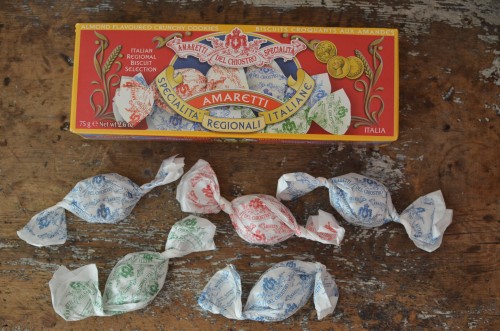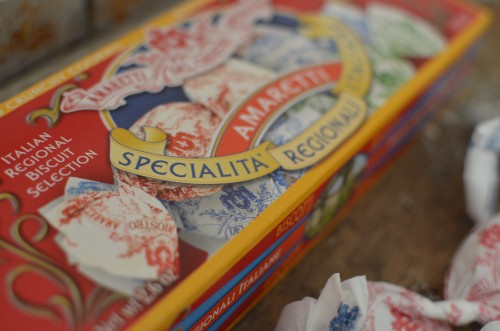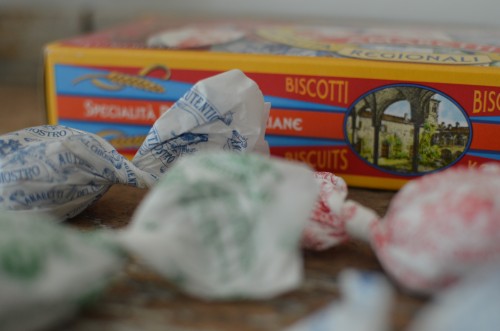 We like to put the girls to a bath before changing in to pj´s at night. I often pour a bit of Weleda´s relaxing calendula bath in it with a few drops of Sophie Le Girafe baby oil and after the bath it´s nice to scrub the whole tub. I finished my old tub cleanser from Method and was on a lookout for a new one. This Lilly´s grease and calc removing spray seems like a good one ( as I like it to be kid and eco friendly too). Have you tried their products? I found mine in my go-to eco friendly shop Ruohonjuuri. Happiness is finding something you needed without really looking for it.
I´ve bought the Mrs. Meyers aromatherapeutic cleansing products from New York. They have essential oils and these lemon verbena ones are uplifting. You know it´s really nice to have at least something uplifting when you are cleaning a fridge for instance. Even if it is just in your head…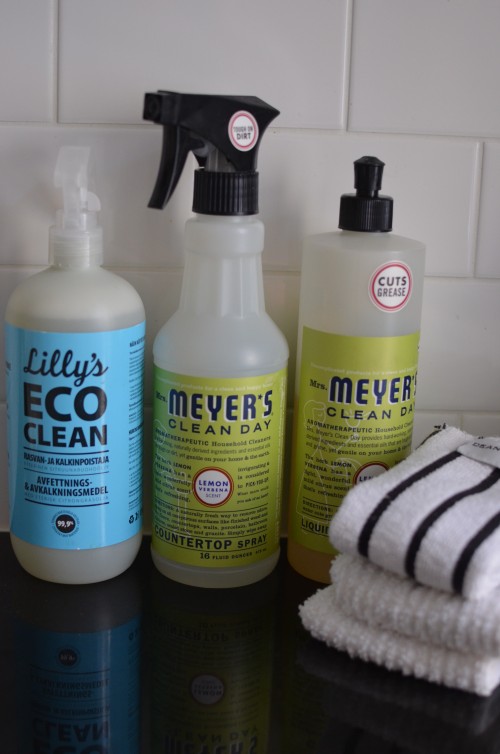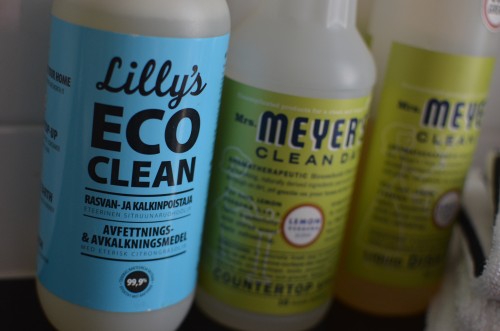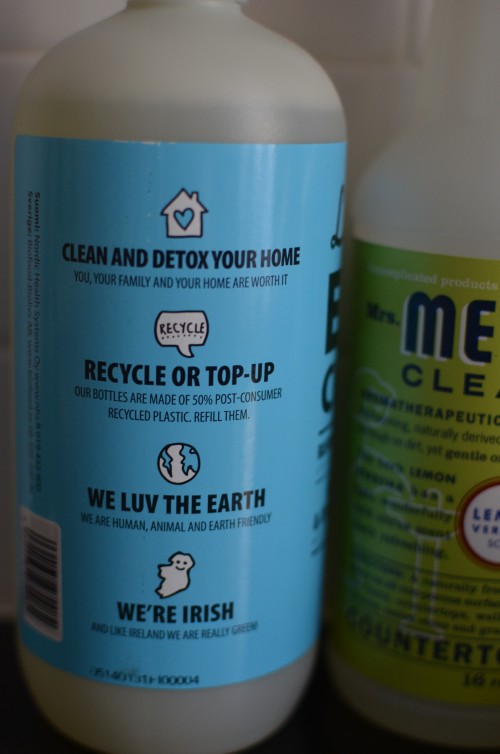 We put these super cute bathrobes on our girls after a bath. I´ve been meaning to share them with you ever since my parents bought them over from their trip to Italy last Spring. These waffle cotton robes are from Bellora which is one of my favorite Italian linen producers. These robes are just perfect and my parents even had the girls names appliquéd on them. We actually received the exact same robes for our engagement present many years ago now ( without our names of course). Little girls with wet brushed hair and pink cheeks from the warmth of the bath in fresh white robes just make me "bursting heart" happy.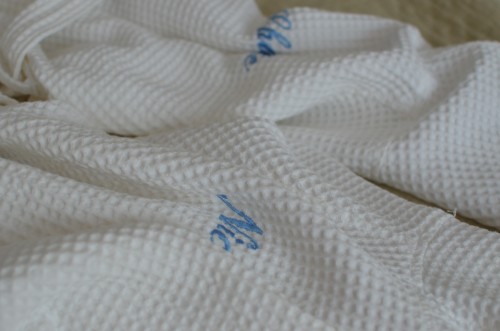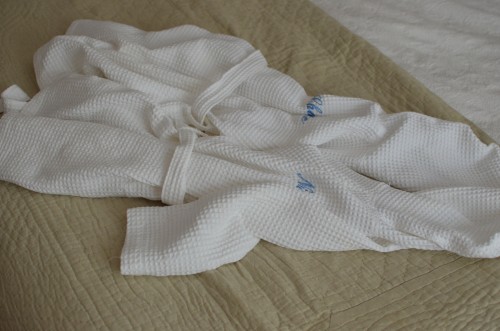 After we have changed the girls in to pj´s I read them a bedtime story. One of last weeks favorites was my old Babar books. Even though the girls have a few favorites they would like to read every night ( like Pinkalicious) I like to change it up so I don´t get too bored myself ( although there is always time for one favorite as well). I´m really looking forward to the time both of the girls will be big enough to listen to chapter books. Reading with them in our bed is already one of my favorite moments of the day. Them sitting on either side of me and asking questions about the book or making remarks. But to actually read my favorite children's chapter books with them will be great I´m sure. These moments were my favorites as a child. I remember my mom reading us the Moomin books or the Astrid Lindgren classic or something like Mary Norton´s Borrowers. There is nothing better in the world than the parallel universe of books. I always start rambling when it comes to books….so anyway Babar has always been a favorite and the illustrations have made a huge impact on me. One of my favorite illustrations from childhood is that photo of the elephants choosing their pastries outside the window of a café. Perfection!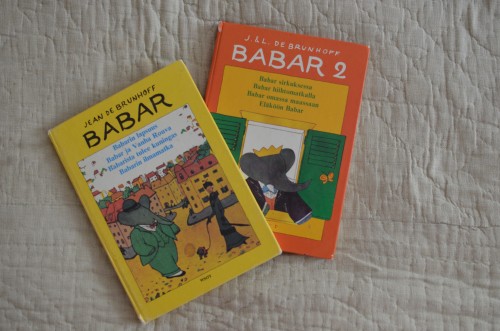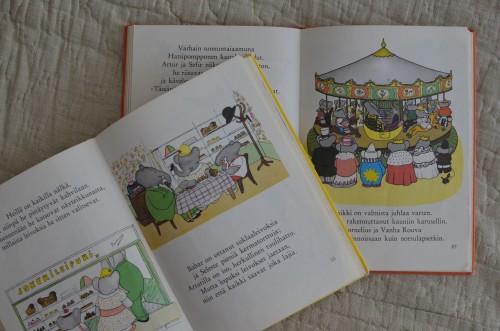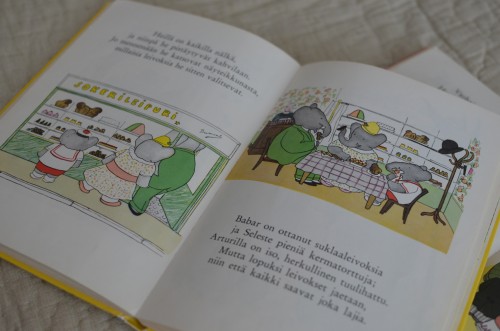 And when the girls are finally tucked in and dreaming of pastries and palm trees and monkeys who can ride cars it´s time to brush my teeth and get ready for bed ( as in read a book in bed until I´m told to switch off the lights). I really like my toothpaste. Mostly because of the packaging. I know these Marvis toothpastes are now super trendy but I have been using them for years. I always bought mine in France or Italy in pharmacies ( or in Italy you actually find them in supermarkets too) but you can now find them in many interior shops at least in Helsinki. My favorite is the aquatic mint but it contains no fluoride so I use others too. The whitening one is super fresh ( and maybe whitening too which is never a bad thing). The mouth water is from Florence from Santa Maria Di Novella. If you are in Florence it´s a must visit.  I like the packaging but never remember to actually use it. You put only a few drops to a class of water so it lasts a lifetime ( especially if you never use it…).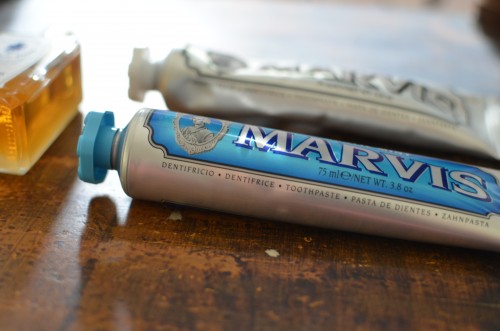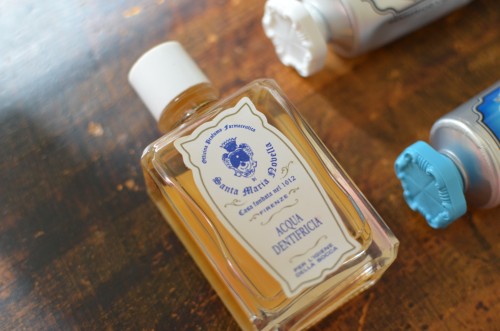 Onnea on siis vaikkapa ihan arkirutiinit. Kuten illalla nukkumaan meneminen ja sen ympärille liittyvät aisiat. Tai kauniit rapisevat keksipaperit ja vaikkapa juuri sopiva pesuainepullo. Onnea on myös puistotreffit ystävien  ja lasten kanssa tai lounastreffit ihan ilman lapsia. Niitä molempia on mahtunut eiliselle ja tulee mahtumaan myös tälle päivälle. Ja erityistä luksusonnea on kun pääsee illalla siivottuun kotiin. Silloin pitää aina tulla kukkakaupan kautta ja iltakylvyn jälkeen kiepsahdetaan puhtaisiin vastasilitettyihin lakanoihin. Oi sitä onnea!
Ihanaa alkavaa viikkoa!
Have a great week!
Lattemamma