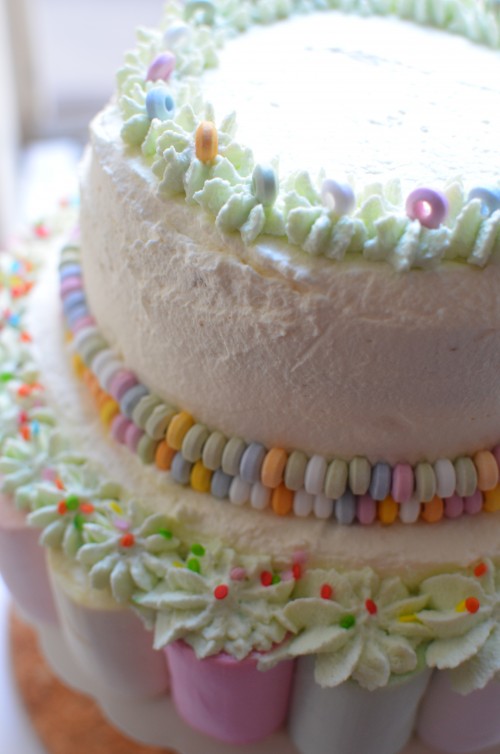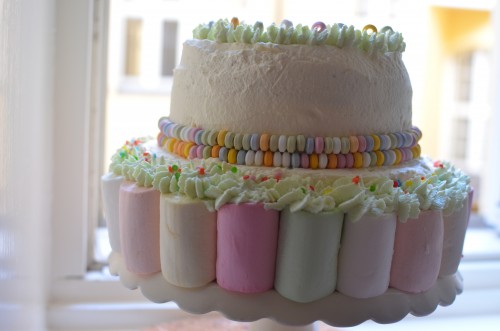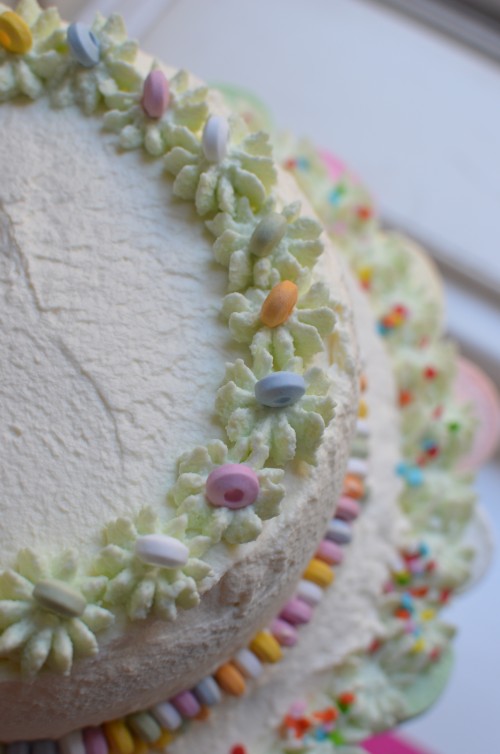 Arvaatte varmaan, että viikonloppuni meni juhlia järjestellessä ja herkkuja valmistaessa, joten en ole ehtinyt blogia edes miettimään. Niinpä toivotan vaan muutaman kakkukuvan myötä teille kivaa alkavaa viikkoa!
My whole weekend went by creating a little magic for my little girls so I had no time to even think about the blog really. So just a few pictures of the cake I made for their birthday party. Have a sweet start for your week!
Lattemamma
p.s. I found inspiration for this cake on Pinterest. I made a basic sugar cake base. I divided the batter in to 3 and coloured one with pink, one yellow and one green. Then the colours are mixed in the cake form and " marbled" so the actual cake has 3 colours when you cut it. I flavoured it with a watermelon candy oil so it tastes a bit candy like and used grapefruit flavoured soda to moisten the cake too. The whipped cream is also flavoured with the same candy oil. Between the layers is raspberry and banana. It was a nice moist cake that tastes what it looks like. Candy sweet and fresh at the same time. Here is the fabulous original cake I used for inspiration although I did not use the recipe except for the colour idea ( I sometimes find that American cakes are a bit too dense for the Scandinavian pallet). Mine looks home made which I guess is very well as it is just that. The "cake queen" of the party was made by my super talented sister in law and you will see that awesomeness when I share the photos from the party.
p.p.s Vastailen teidän ihaniin kommentteihinnekin kunhan vain töiltäni ehdin… ♥ ♥ ♥