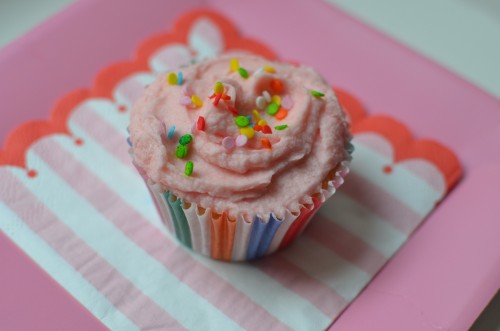 Kun mainitsin, että aion kokeilla synttärijuhliin Magnolia Bakeryn vaniljakuppikakkuja niin joku teistä toivoi, että jakaisin reseptin kanssanne. Kuppikakuista tuli hyviä. Resepti on toki melkoisen makea, mutta toisaalta kuppikakku saa mielestäni ollakin. Tämä on sellainen myös lasten suuhun hyvin sopiva klassinen kuppikakku, ehkä jopa hieman tavanomainen. Mutta minä pidän klassikoista! Resepti nyt vain englanniksi. Jos haluat kääntää mitat niin 1 cup on 2,5 dl ja 1 stick of butter on 113g. Itse käytän leivonnassa kuppimitta settiä, jollaista suosittelen paljon ulkomaisista resepteistä leipoville jos et halua jatkuvasta kääntää mittoja päässäsi. Itse tein näistä gluteenittomia ja käytin siis gluteenitonta jauhoseosta jossa on valmiiksi nostatusaine. Yleensä tuota reseptin kysymää määrää varten riittää tavalliseen jauhoon lisättynä 1- 1 1/2 tl leivinjauhetta, Suomesta kun valmiiksi kohottavia jauhoja ei helpolla löydy.
The cupcakes I baked for the girls birthday party were Magnolia Bakery´s Vanilla cupcakes with vanilla buttercream frosting/ icing. A sweet and classic cupcake that has a lovely texture. So here is the recipe if you want to try it. It´s Magnolia Bakery´s bestseller especially with pink icing!
Magnolia Bakery´s vanilla cupcakes
1 1/2 cups self-rising flour
1 1/4 cups all-purpose flour
1 cup (2 sticks) unsalted butter, softened
2 cups sugar
4 large eggs, at room temperature
1 cup milk
1 teaspoon pure vanilla extract
Magnolia Bakery Vanilla Buttercream
1. Preheat oven to 350 degrees. Line two 12-cup muffin tins with paper liners; set aside.
2. In a small bowl, combine flours; set aside. In the bowl of an electric mixer fitted with the paddle attachment, cream butter until smooth and creamy. Gradually add sugar, beating until fluffy, about 3 minutes.
3. Add eggs, one at a time, beating well after each addition. Add dry ingredients in 3 parts, alternating with the milk and vanilla, and scraping down sides of bowl in between each addition; beat until ingredients are incorporated but do not overbeat.
4.Divide batter evenly among liners, filling about three-quarters full. Bake, rotating pan halfway through, until a cake tester inserted in the center comes out clean, 20 to 25 minutes.
Transfer to a wire rack to cool in tins for 15 minutes. Remove cupcakes from tins, and cool completely on rack. Once cupcakes have cooled, use a small offset spatula to frost tops of each cupcake. Serve at room temperature.
Vanilla Buttercream
1 cup (2 sticks) unsalted butter, softened
6 to 8 cups confectioners' sugar
1/2 cup milk
2 teaspoons pure vanilla extract
In the bowl of an electric mixer fitted with the paddle attachment, combine butter, 4 cups sugar, milk, and vanilla. Beat on medium speed until smooth and creamy, 3 to 5 minutes. Gradually add remaining sugar, 1 cup at a time, beating for about 2 minutes after each addition, until icing reaches desired consistency; you may not need to add all the sugar. Store in an airtight container for up to 3 days.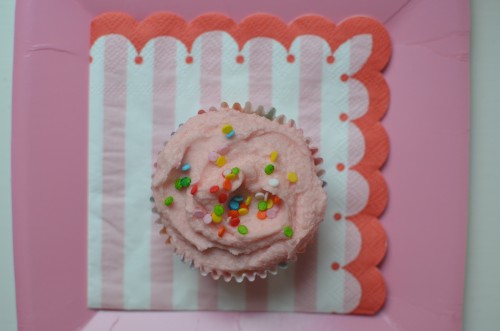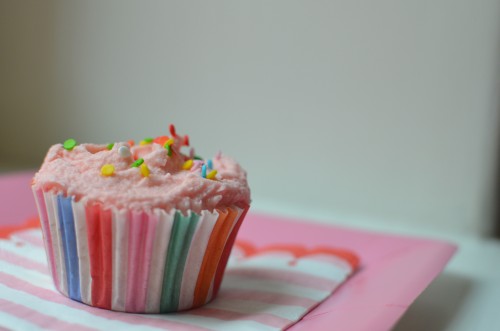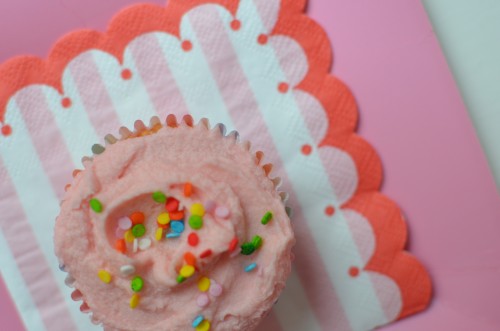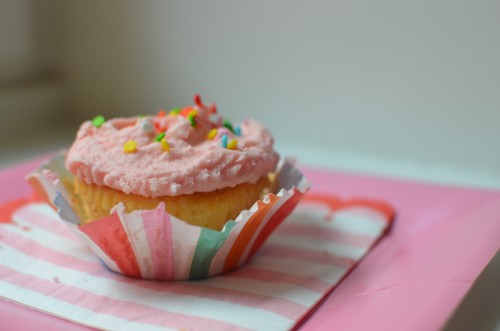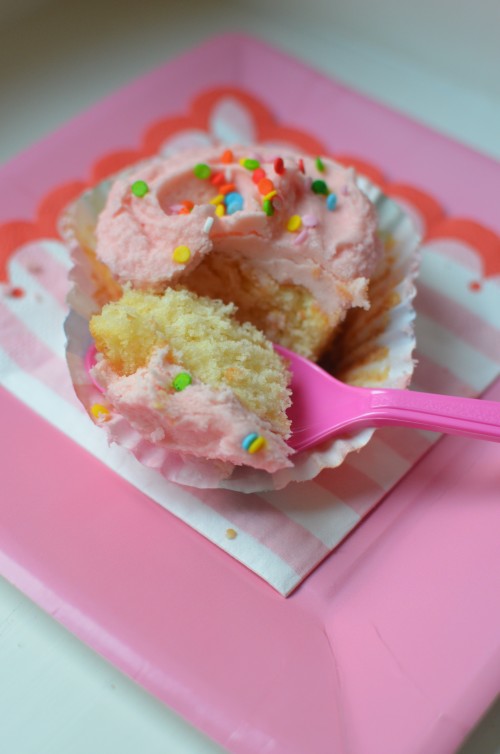 Yritän jossain vaiheessa ehtiä katsoa tyttöjen juhlista kuvia läpi, jakaisin niitä mielelläni kanssanne.
Happy Baking!
Lattemamma