Meringue kisses
by Sofia - in Cooking
Tein ystävänpäiväksi suloisia marenkisuukkoja ja jaoinkin reseptin silloin blogin FB-sivujen puolella, mutta ajattelin, että se olisi ihan hyvä arkistoida myös tänne. Minulla on jo seuraava marenkikokeilu mielessä joten ennen kuin pääsen siihen, niin kerrataanpas vielä nämä söpöt raidalliset pikku "suukot".
I made these meringue kisses for Valentine´s Day but thought I would share the recipe on the blog as they are good for any time really. I already have my next meringue project in mind but  I´ll share this one first.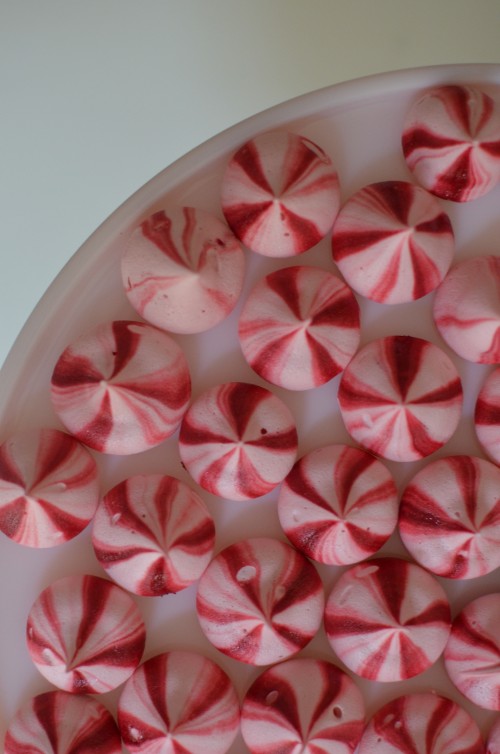 You need 3 egg whites and 7 tablespoons sugar ( I also added some cotton candy flavoured candy oil but you can leave that out or add some vanilla extract). Whisk the egg whites and sugar until it forms very stiff peaks. Add your colouring and flavouring if desired. If you want to make yours stripy like I did then draw 4 lines with gel food colouring on your piping bag before adding the meringue "batter".  You can draw the lines with a skewer or a chopstick  for instance. Pipe the meringue on baking paper and bake in a very low heat oven for a long time. Say 70°c for about 3 hours. Then you can still leave the oven door open a little and let the temperature drop slowly in the oven. Meringues are so easy to make and the only time they require is the long baking time. And they last a long time too. That is if you don´t eat them all at once…
Suloiset marenkisuukot syntyvät kolmesta kananmunan valkuaisesta ja 7:stä ruokalusikallisesta sokeria. Lisäksi laitoin muutaman tipan hattaran makuista karkkiöljyä ( voit lisätä vaikka vaniljauutetta tai jättää makuaineen kokonaan pois) ja pari tippaa pinkkiä elintarvikeväriä ( käytän Wiltonin geelimuotoista). Valkuaiset ja sokeri vatkataan kovaksi vaahdoksi ja lisätään väri & makuaineet. Raidat syntyvät vetämällä pursotinpussin reunaan elitarvikegeelillä raidat ( siveltimellä, grillitikulla, syömäpuikolla…) ja sen jälkeen lisäämällä marenkimassa pussiin. Pursotettaessa elintarvikeväri raidoittaa massan. Marenkeja paistetaan matalalla lämmöllä pitkään. Vaikkapa 70 asteisessa uunissa kolmisen tuntia. Lopuksi voit vielä avata uuniluukun raolleen ja antaa marenkien jäähtyä siellä hiljalleen.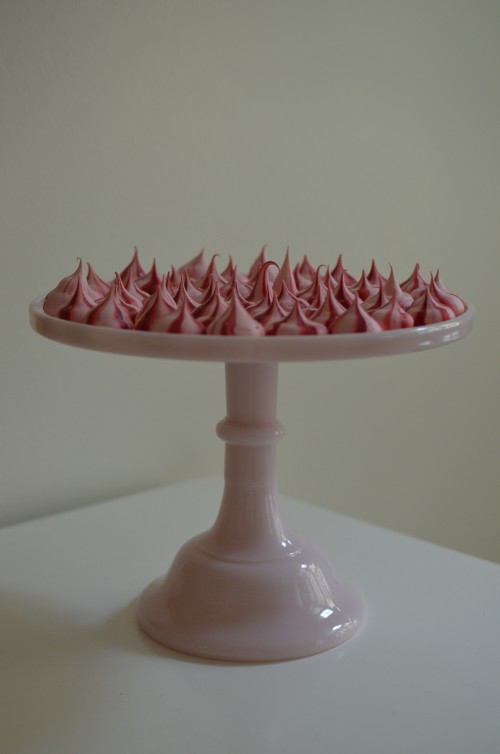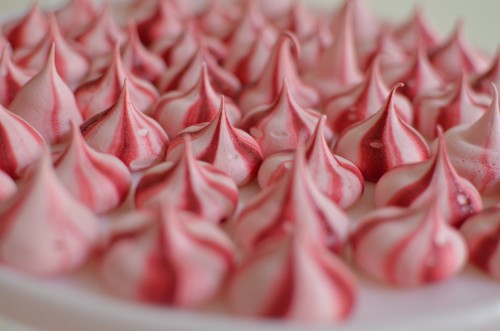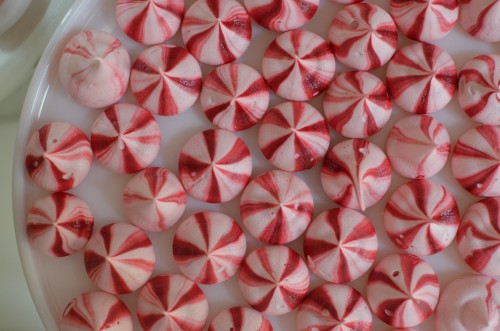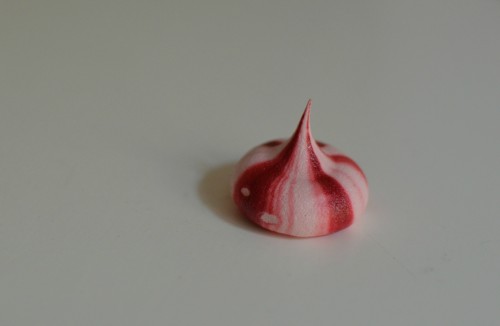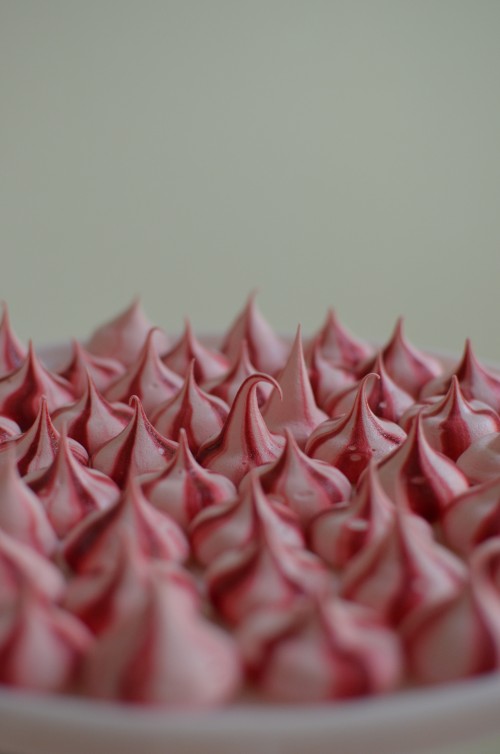 Marenkien valmistus on todella nopeaa, mutta niille täytyy antaa kunnolla aikaa uunissa. Tämä marenkikakku oli mielestäni aivan ihanan näköinen ( tosin ehkä turhankin makean kuulloinen)! Ja miten suloisia ovatkaan nuo pikkuiset marengit. Seuraavaksi kuitenkin marengista jotain ihan muuta. Ehkäpä ensi viikolla minulla on aikaa…
Did you see this meringue cake? I think it looks super sweet. But I have a little something else in mind for my next meringue project. I just wish I had some more hours in my day and days in my week to be able to make it. Maybe next week…
Lattemamma