Yoghurt cardamon pound cake
by Sofia - in Cooking
Saaressa on melkeinpä pakollista pitää välillä pieni päiväkahvitauko. Jos ei muuten, niin muistaakseen, että on lomalla ja voi istui kahvipöytään ihan vain kesken kaiken ja nautiskella hetkestä. Kahvitauko ilman niin sanottua kahvipullaa ei kyllä ole lomalla tauko eikä mikään. Välillä kahvin kaveriksi napataan yksi keksi korkeasta lasisesta keksipurkista johon hankitaan kaupan valmiita keksejä. Mutta toisinaan, ainakin kerran viikossa, sen seuraksi pitää leipoa jotain oikein erityisen hyvää. Viime viikolla syntyi kardemumma- ja jugurttikakku josta tuli niin mehukas ja hyvä, että minun piti taas kirjoittaa resepti heti muistiin. Tänne! Joten tässä se nyt on…
A coffee break during the day is almost mandatory on the island. And to have coffee but no cake is not an option. I came up with another accidental winner recipe just last week and wanted to share it with you. My friend came over and she said she felt like having a good old cake and I had been dreaming of making a cardamon cake for some time. So a yoghurt cardamon pound cake it was. Without further ado…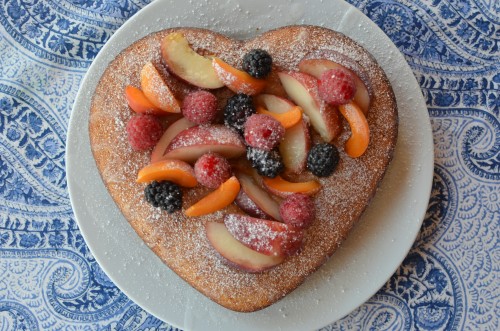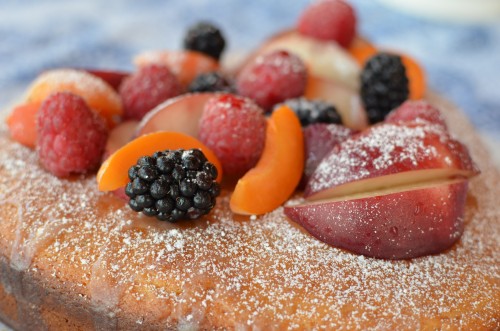 Yoghurt cardamon cake
1 1/2 cups / 3,7 dl all purpose flour
2 tsp baking powder
1/2 tsp salt
2 tsp vanilla sugar
1 tbs ground cardamon
1 cup / 2,5 dl granulated sugar
3 eggs
1 cup / 2,5 dl greek yoghurt
1/2 cup /1,2 dl coconut or sunflower oil
1. Mix the flour and baking powder together.
2. In a seperate bowl whisk the eggs and sugar. Add the oil, cardamon, salt, vanilla sugar and yoghurt and mix well. Fold the flour mixture in.
3. Pour in a prepared cake tin and bake in about 180°c oven for some 50 minutes or when ready ( try inserting a stick and see when it comes out clean and no cake batter is on it).
4. You can eat the cake just as it is or make some icing on top. I mixed powdered sugar and some lemonade I had and drizzled that on top ( you can try the consistency by adding a little liquid at a time and if it comes too runny add some more powdered sugar). I sliced nectarines & apricots on top and added some berries too. Decorate with powdered sugar and if you have some edible flowers they would look amazing on this too.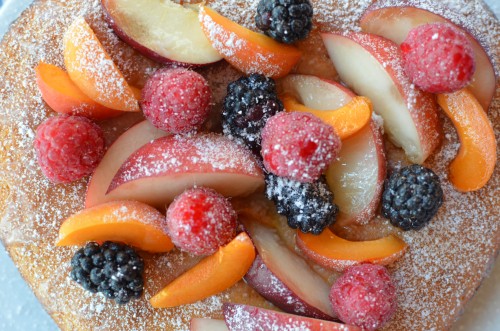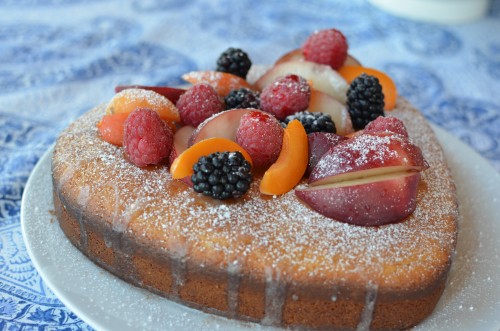 This cake is too good to pass. It´s absolutely delicious with afternoon coffee or tea or for elevensies. And it´s so easy to make you should really try it even if you are a beginner baker. Have a great start for this week!
Tämä kakku on kyllä mehukas ja herkullinen ja suosittelen kokeiltavaksi myös ihan aloitteleville leipureille, en nimittäin usko, että tämän kanssa epäonnistuu kovinkaan helposti.
Ihanaa alkavaa viikkoa!
Lattemamma