Apple and Plum Crumble
by Sofia - in Cooking
Yksi parhaista syksyn jälkkäreistä on omena-murupaistos. Tämä versio ei sisällä lainkaan sokeria, gluteenia, maitotuotteita eikä kananmunia joten se sopii myös monille allergikoille. Resepti on niin helppo, että tämä valmistuu aivan käden käänteessä joten sen voi tehdä vaikkapa tänään iltateelle.
This crumble is dairy free, gluten free, egg free and sugar free but filled with flavour and all kinds of goodness. It´s perfect for a fall dessert. You may want to enjoy it with some ( vegan) vanilla ice-cream, some vanilla custard or just on it´s own.
Apple & Plum Crumble
6 apples
6 plums ( or other stone fruits like peaches, nectarines or apricots)
1/2 cup raisins or dried currants ( optional)
crumble
1 cup almonds
1 1/2 cups oats
1/2 cup maple syrup
3 tsp ground cinnamon
1 tsp vanilla powder/ extract
3 tbls coconut oil
1. Core the apples and cut in to segments. Pit the plums and cut in to segments also.
2. Oil you oven proof dish with a little coconut oil just to prevent sticking. Add the apples, plums and if you like, raisins/ currants in the dish.
3. Put the almonds in an food processor and pulse in to crumbs ( maybe 30 seconds).
4. Mix the crumble ingredients together and add on top of the apple & plum dish.
5. Bake in a 180°c oven for about 25 minutes or until the crumble has nice colour and the apples have soften.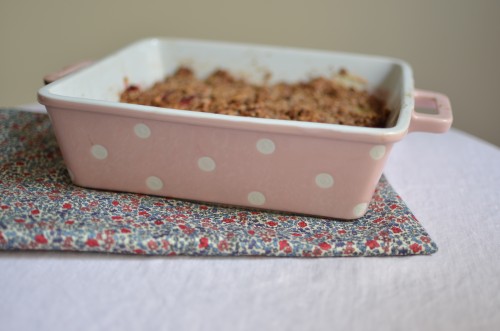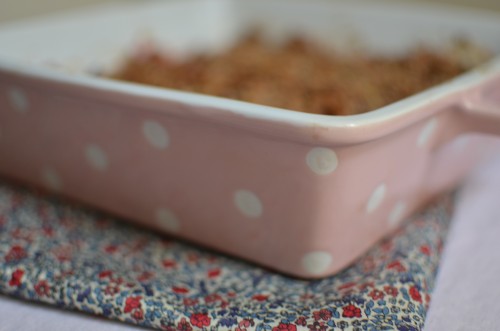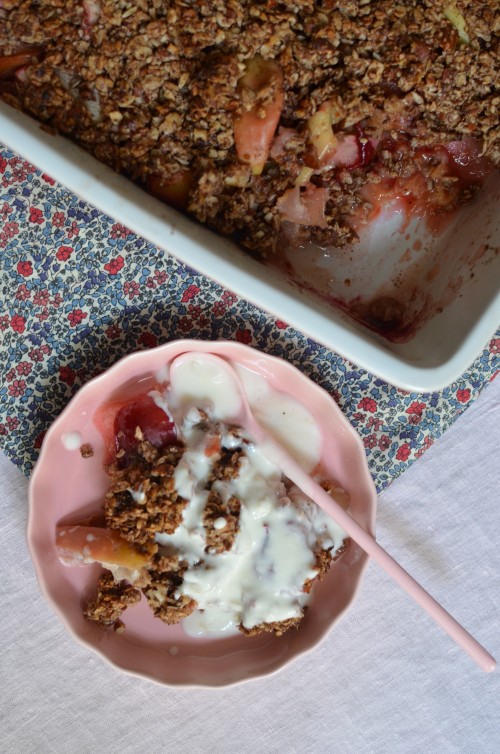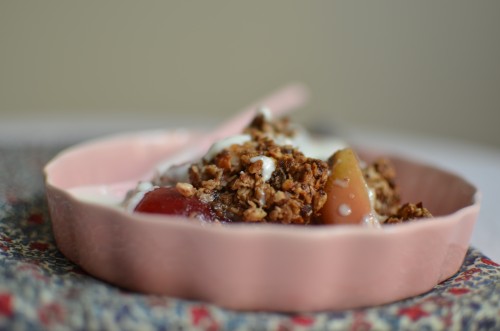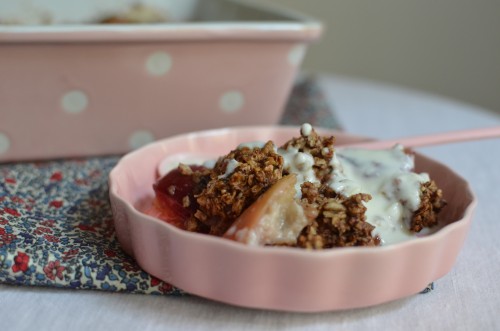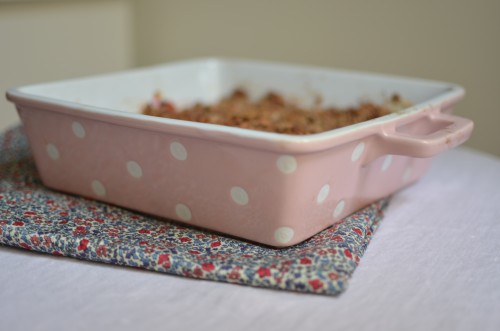 Some crumble recipes call for baking the fruit ( and sometimes berries) first but I find it´s an unnecessary step. They become soft without being too mushy when only baked in the oven. It also makes this one of the easiest recipes in history. The almonds in the crumble mix get this nice toasty flavour in the oven that I love and the cinnamon adds some warmth to it. And it makes the whole dish smell heavenly.
Will you try it? Please let me know how you liked it if you do! This was heavenly with a cup of hot tea after a rainy Monday.
Toivottavasti testaat tämän reseptin ja jos innostut kokeilemaan niin kuulisin mielelläni mitä pidit!
Lattemamma