Tämän päivän blogimerkintä on taas nyt täysin englanniksi, koska asiaa on niin paljon ja tämän kokoaminen pelkästään yhdellä kielellä vei melkoisesti aikaa. Toivottavasti aihe on kuitenkin mieluisa ja koet sen hyödylliseksi!
If you don´t have a big budget for children´s clothing or simply find it absurd to pay so much money for clothes for people who grow out of them in mere months then I have a post for you today! I love classical children´s clothing and I sometimes buy a few fabulous items from brands that are ridiculously expensive but just so adorable. But I can´t afford to buy the whole season from say Bonpoint for my children. No matter how much I love a fancier winter coat, one that is mostly to be worn with party dresses, I can´t justify paying over 600€ for a child´s coat they will wear for a few times during the winter.
I have a few go to brands that make clothes that are fairly reasonably prized and great quality. My favourite of them is probably Jacadi. But if you like a very classic style and even these kinds of brands are not in your prize range or like me you sometimes think it´s not worth spending all that money on children´s clothing, then it´s time to learn how to navigate the cheaper brands. I  made some collages for you with example outfits. These are the kind of combinations my girls wear ( and my boys would wear if I had boys). I may have a few cashmere cardigans for them and I like Petit Bateau underwear and t-shirts for the quality that is absolutely supreme ( and lasts more washes that any other brands I have tried) but our girls have for instance their leggings from Next and I would absolutely buy them these pink jeans if they wore pants and the navy blue coat is absolutely gorgeous!
When looking for classic clothes from these big affordable brands you will have to try to see through all the characters ( Dora the Explorer is a cute cartoon but not a character on a classic outfit) and the " seasonable fashion statements". And I´m not saying there is something wrong with such but we are going for the timeless looking classic on this post. I think all brands carry these very basics but I chose two brands just to make it a bit easier for me. So all the clothes are from Next or H&M and the shoes are from OKAA Spain.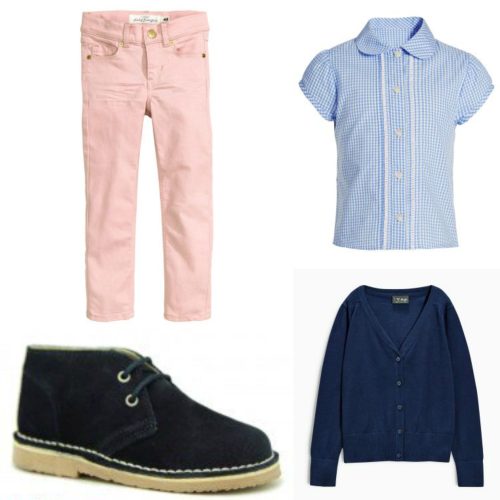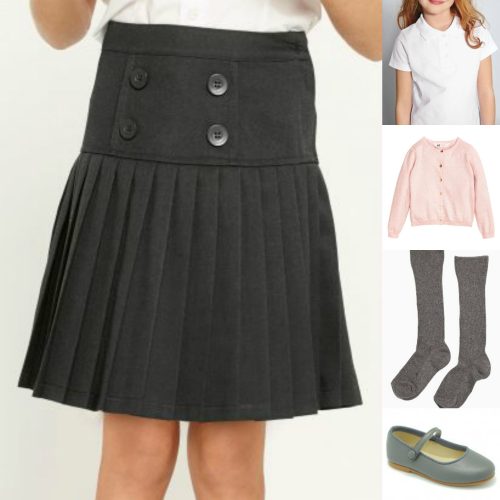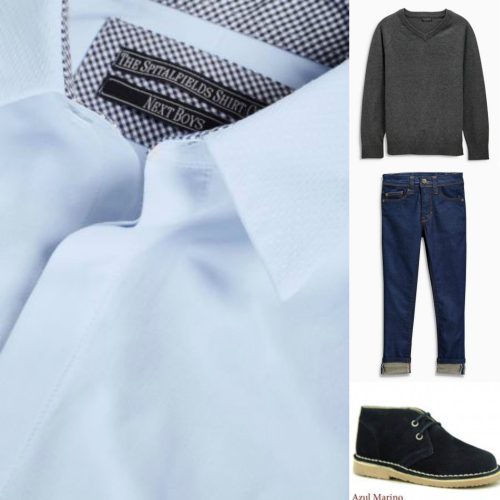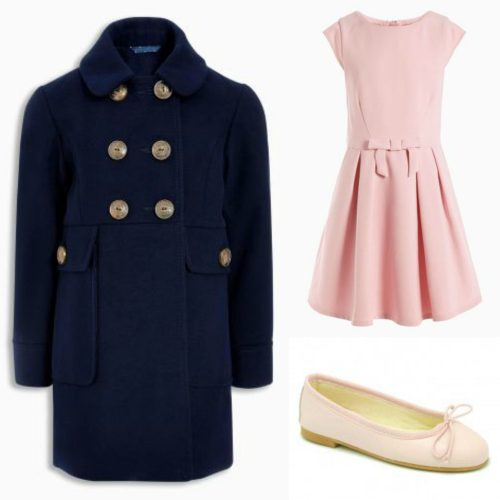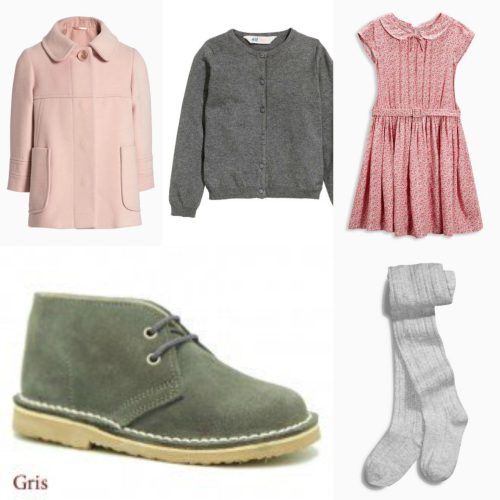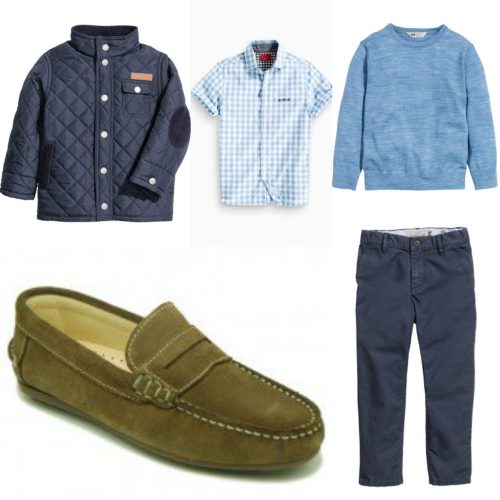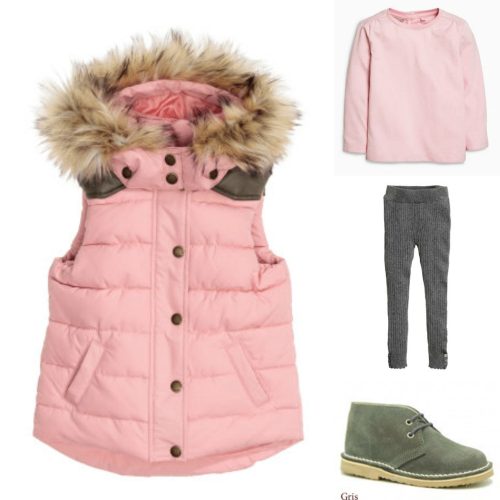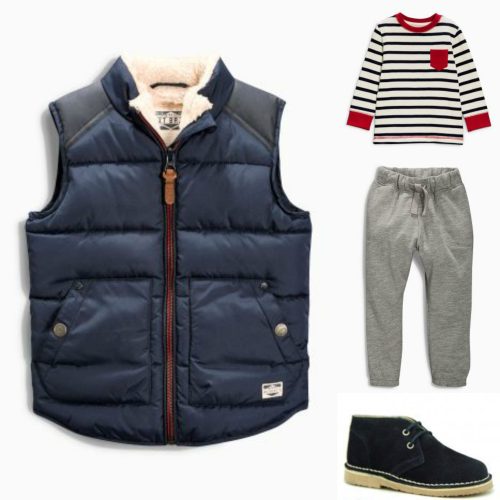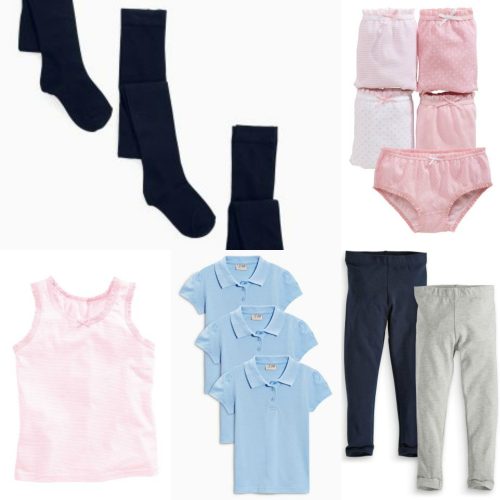 All in all you can build a lovely timeless closet without splurging too much. These are just example outfit and you obviously don´t need all of the above. Just keep in mind that buying very basic things that can be mixed with plenty of outfits like a classic navy or grey cardigan that you can pair with jeans, leggings, sweat pants and a dress or a skirt will save you money. I love colour on kids but patterns can be hard to mix and match. So for the basics I would recommend going for single colours. With Next I must say I really like that they deliver the items to your home door and postage is free. They also sell their very basics like underwear, socks, plain t-shirts and polos in multiple packets that come with a great price tag. It´s really worth looking in to their school shop for these.
What do you think? I hope you like these outfits and find this post helpful. I would love to know what kind of outfits you like to dress your kids in! I find that the most important thing with clothes is that they are comfortable and that they are well taken care of and clean. Kids the age of mine do not really care for labels, they are more for mommies. At least mine care more for colours ( and dresses!). Although when Cotton Candy saw a cherry sticker she asked me if it was Chanel. I told her the cherries are a logo for another company and she actually does not have any Chanel clothes yet. And I have started a day a week that the girls get to choose their own clothes for nursery and pre-school. Sometimes the outfits are great and sometimes there are quite crazy combinations. But I try to only navigate them through things that are actually not weather appropriate or say a part of a pyjama. Bubble Gum mostly ends up in tulle skirts on these days!
Have a great start of the week!
Lattemamma