Zoodles and kale pesto
by Sofia - in Cooking
I bought a spiralizer about a year ago and we use it for all kinds of things. From curly sweet potato oven fries to just your average spiralled carrot salad instead of a grated one. You know kids love when something looks  a little different. We even spiralize cucumber every now and then. But mostly we use it to make zoodles as in zucchini noodles. I love pasta. It´s probably my favourite food. All kinds of pasta really from pesto to pomodoro and a ragu to a simple chilli and garlic pasta. But obviously we can not eat pasta every day. So here comes zoodles. Such a great invention! My husband and kids are not really fans of zoodles but you can serve this kale pesto with your regular pasta also or use whole grain, spelt, or gluten free. Whatever you like. It´s not a "just kale " pesto but I add some kale to a regular pesto sauce. Hiding some goodness in there like we mamas sometimes do ( my kids have also decided to dislike avocado for now but it does not mean I can´t hide it in their smoothies!). They don´t even notice these things. I have shared a regular pesto recipe on the blog before ( in Finnish) but you can do this one with either the kale or without. I used the softer variety that I find in our supermarket growing in a small pot ( just like basil) but if you buy the harder kale leaves then remove the stems first and use maybe a large handful.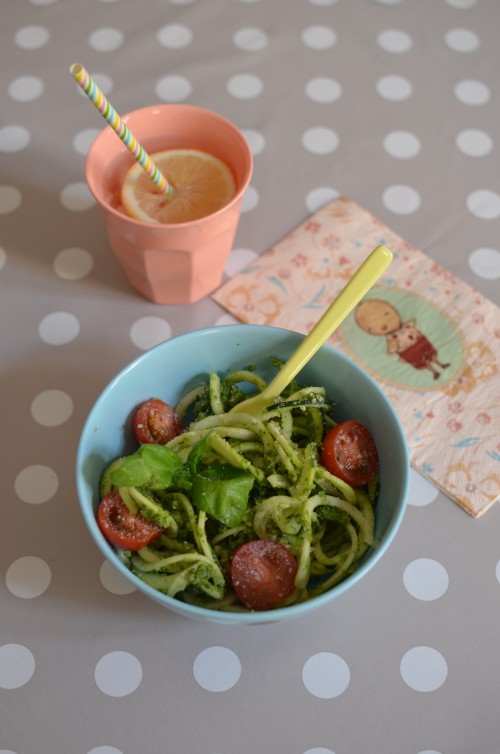 Kale Pesto ( makes a pretty generous batch)
2,5 dl toasted pine nuts ( or cashew or almonds)
100g parmesan cheese
1-3 garlic cloves
2 big bunches of basil
1 bunch of kale
grated zest of one lemon
black pepper
about 1 dl olive oil
1. Toast the pine nuts on a dry pan.
2. Put all ingredients (excluding oil) in a blender and blend until a paste forms.
3. Add oil until you reach a consistency you like. Season with black pepper and extra salt if you like.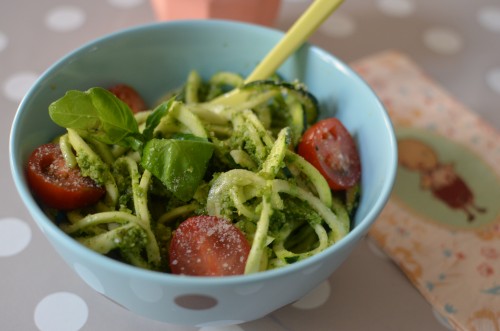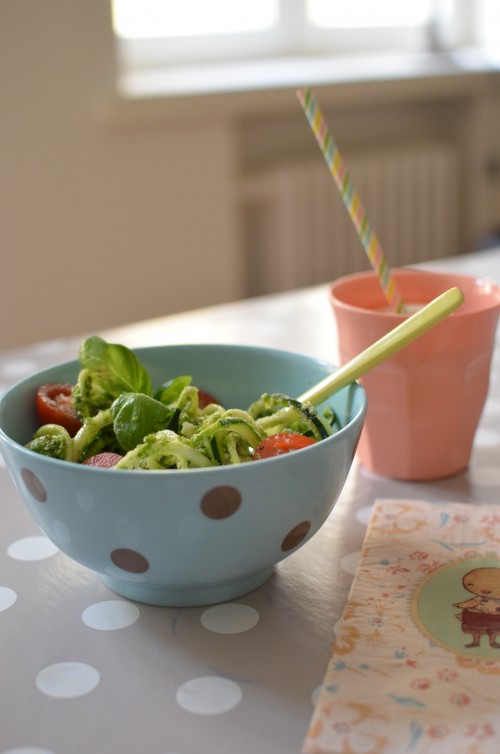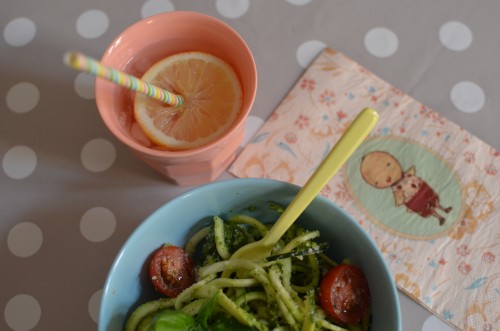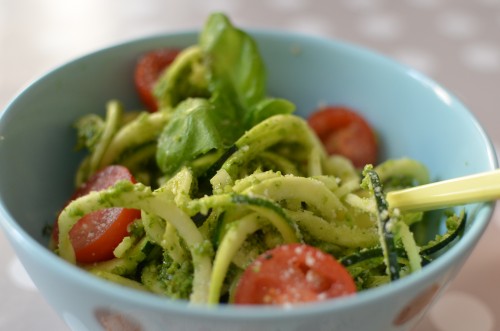 Use a spriralizer to make noodles from 1-3 zucchinis depending on size and how many eaters you have. I eat about one small zucchini myself. It´s quite light so I eat a bigger portion than if I was eating pasta. I like to eat mine cold. I also add halved cherry tomatoes for colour and taste but if I´m serving pesto with pasta I serve them on the side. The lemon zest gives it a nice fresh twist but if you don´t like lemon in foods you can easily leave that out. You could also substitute one bunch of basil to a bunch of cilantro for yet a different kind of flavour combination. 
Have a great day!
Herkullista ja kepeää alkavaa viikkoa!
Lattemamma