Sweet potato, coconut and ginger soup
by Sofia - in Cooking
Tämä bataattisosekeitto on todella samettisen pehmeää ja ihanan lempeän makuista. Ja kasvissosekeitot ovat myös yksi helpoimmista arkiruuista valmistaa. Paahdoin lisukkeeksi cashew pähkinöitä kuivalla pannulla ja lisäsin sekaan ihan pienen lorauksen hunajaa ja hyppysellisen maldon suolaa. Kun pähkinät jäähtyvät niistä tulee hieman tahmeita mutta silti kovia. Ne sopivat täydelisesti keiton päälle ripoteltuna korianterisilpun kera. Inkivääri taas antaa keitolle juuri sopivasti pientä potkua. Myös chili sopisi varmasti hyvin.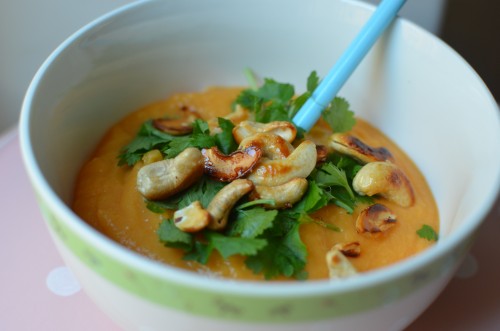 This sweet potato soup is velvety smooth, so delicious and very very easy to make. The ginger adds a bit of zing to the recipe and the coconut milk makes it very soft to the palate. If you are not a fan of coconut you could also use regular cream but I definitely prefer this with coconut milk.
Sweetpotato, coconut and ginger soup
4 medium- large sweet potatoes
1 l water
organic vegetable- or chicken stock according to the packets advice ( per litre)
1 can of coconut milk
about a thumb sized piece of ginger grated
1 bunch fresh cilantro or more
1. Peel and chop the sweet potatoes. Add them in the water ( it may not cover the ones on top completely by should cover them mostly). Bring to boil under a lit and then add the stock powder or cubes. Boil until soft.
2. When the sweet potatoes are soft add the coconut milk and ginger and use a hand mixer ( like a Bamix) to blitz into a soup.
3. Garnish with plenty of chopped cilantro and cashew nuts ( recipe to follow). Or our girls prefer basil over cilantro.
This makes a very big batch. Our family gets at least two dinner out of it ( I often freeze a portion or two that are easy to defrost for lunch if needed).
Salted honey cashews
Cashew nuts
small drizzle of honey
a pinch of Maldon salt
( chili flakes optional)
1. Roast the cashew nut on a dry pan. Add a very small drizzle of honey and sprinkle with some salt. Let the nuts cool and serve on top of your soup or snack on them. So easy and so good.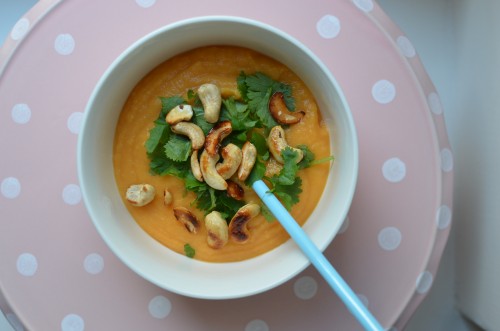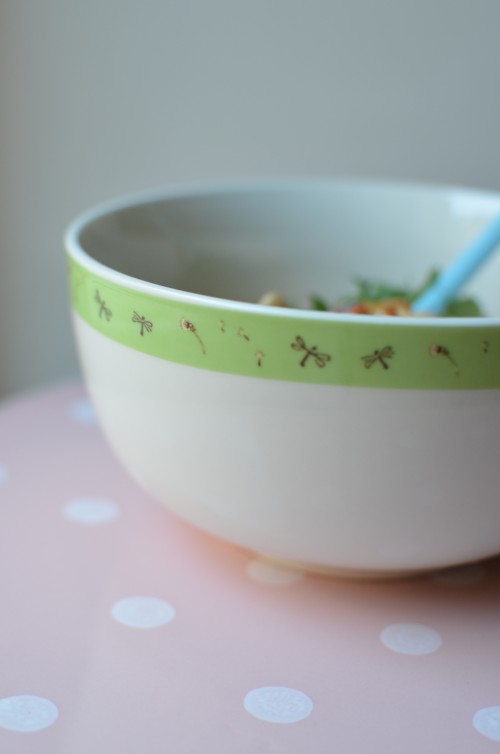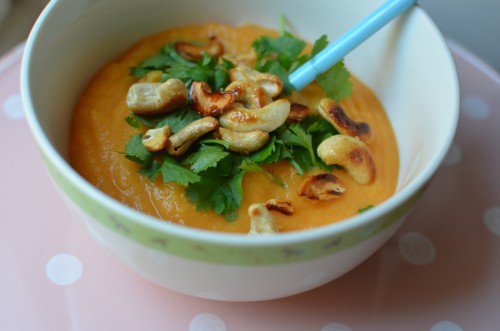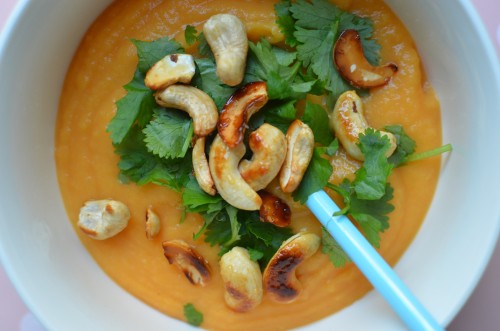 Toivon sinulle aivan ihanaa viikonloppua! Meillä vietämme ystävien kanssa pizza- ja leffailtaa. ♥♥♥
Lattemamma