I had a date night planned with my girls a few days ago. I went to pick them up a little earlier to take them to a Christmas fare. It was a horribly dark and rainy day but we are not made of sugar ( just spice and all things nice). The Christmas fare "Tuomaan markkinat" is gorgeous and they have an old Carrousel that you can ride for free. We also enjoyed looking through all the booths filled with candy canes, hand made soaps, knitted socks, gourmet foods and so much more. We found a little booth with Victorian era reproduction Christmas cards and decorations, old fashioned tin toys, little bunny lights and the cutest little umbrellas that we bought. Thank heavens for the umbrellas as it was pouring at that point. We sat inside to drink hot spiced apple juice and ate cinnamon buns straight out of the oven. It was heavenly!
At home our date night continued with baking gingerbread and decorating the cookies. The girls made a gingerbread wreath to my mother in law who has been poorly and I made one for them. Unfortunately I did not take a picture of my mother in laws wreath to show you because we took it to her the very next morning. But I wanted to share a few pictures of the one I made for the girls. It´s not very fancy as I had my hands full helping the girls with this and that and gathering sprinkles that kept spilling all over but you can get the idea. It´s very easy to make and makes such a cute gift for a friend or a godparent. Just have the kids decorate the cookies before attaching them to the wreath. The best part is that it´s edible so no-one has to feel like they have to keep the gift for years to come on display. You could definitely up the style a little by covering the whole wreath with frosting first. You know this is the sky is the limit type of a DIY. The one the girls made was pretty spectacular with loooots of  sprinkles and frosting. Maybe not that edible really but fun.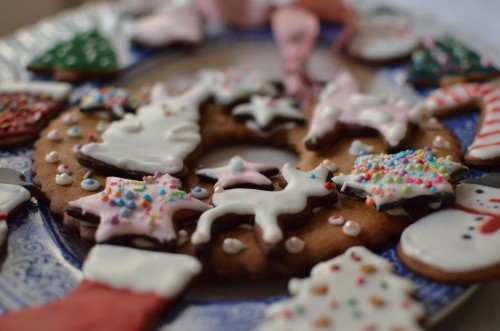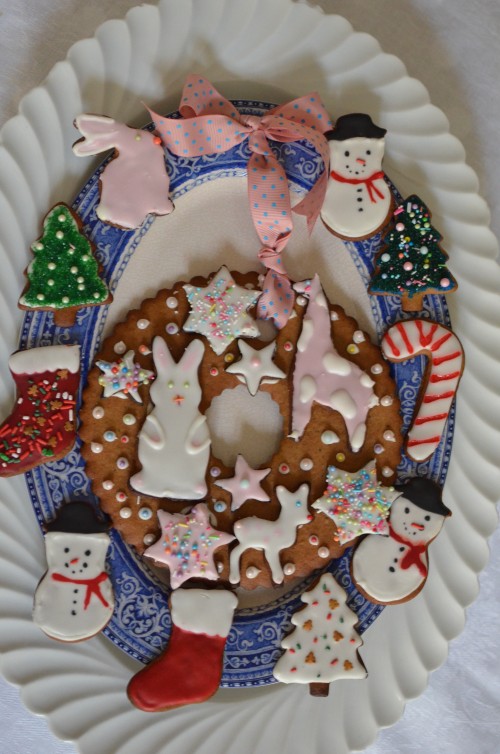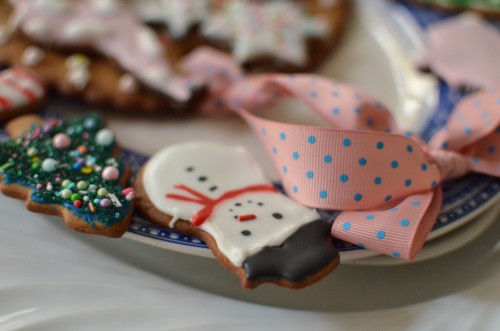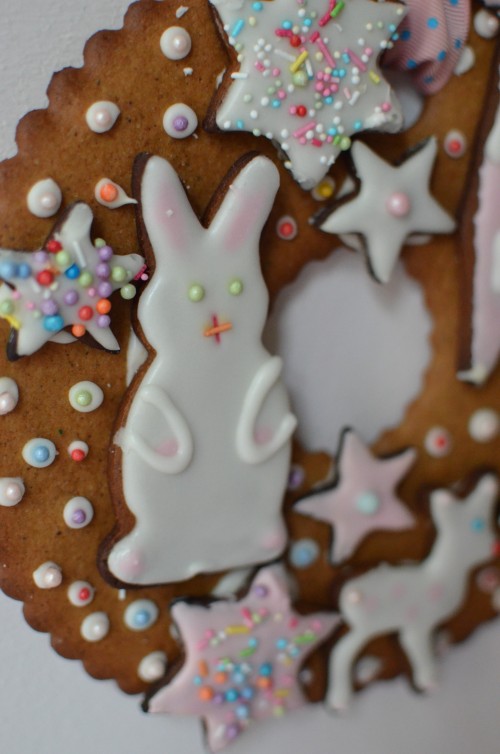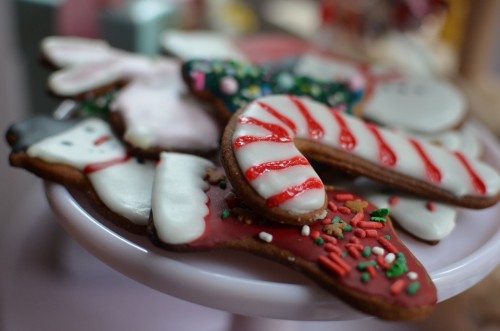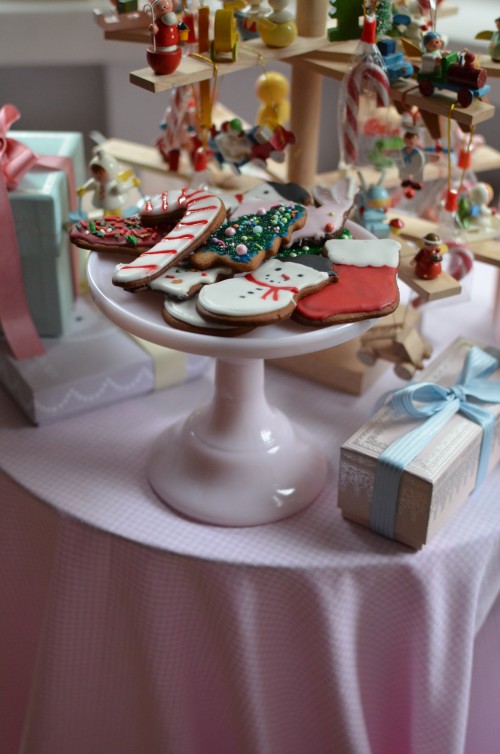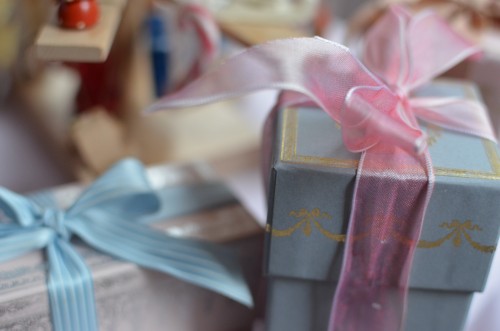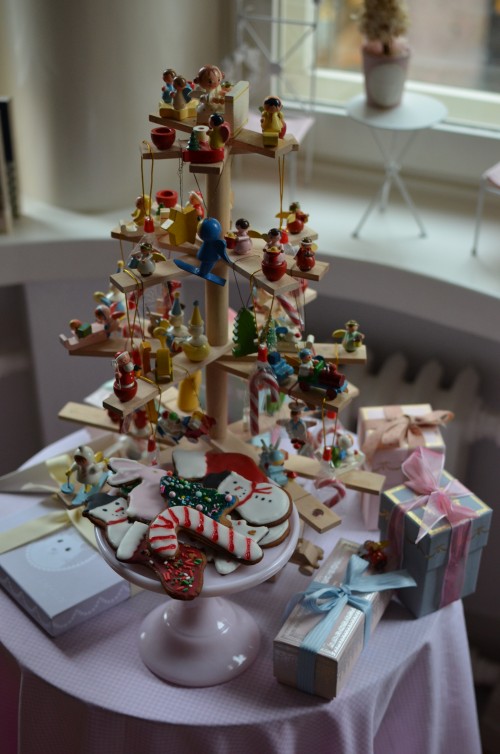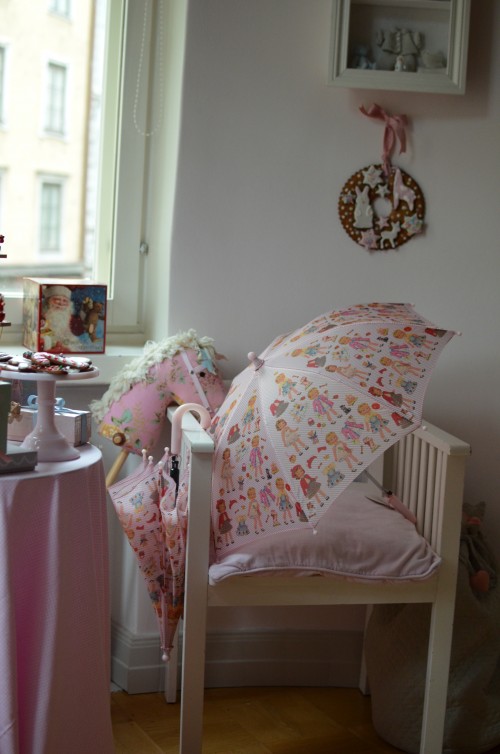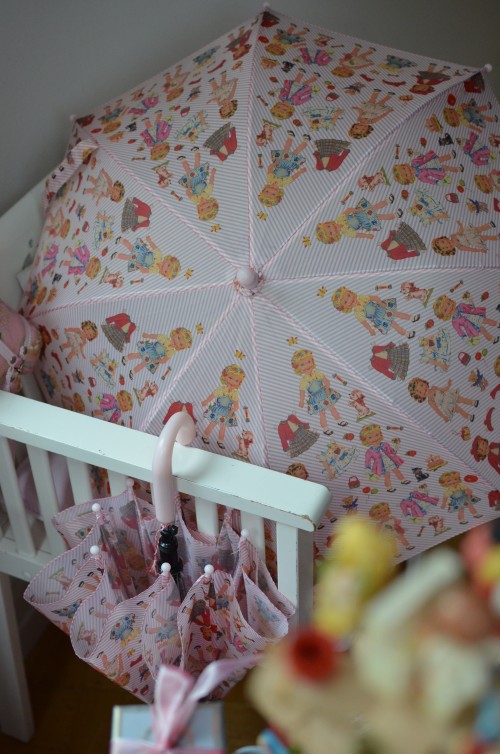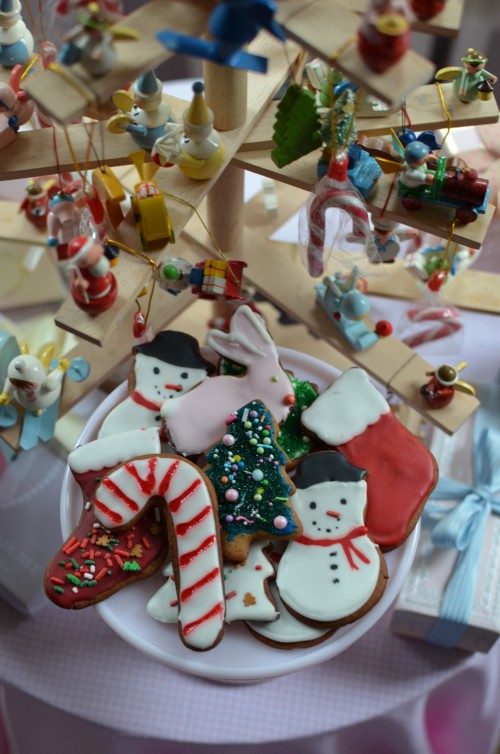 These baking together moments are funny in a way. The girls enjoy them so much but I notice I´m always a little on the edge trying to keep everything together as they tend to make such a mess ( and trying to let them do it all by themselves and not show them that I am on the edge… phew). But it´s always worth it as the moment leave such a nice memory imprint in the end. Little Bubble Gum told me that night when I was putting her to bed " Mom, I loved to bake with you and I loved making the snowflakes the night before." ( She was just sitting in my lap and folding the silk paper while I did all the cutting.) So it was worth every bit of the mess. I think our carpet will have sprinkles in it for all eternity. 
Teimme tyttöjen kanssa tällaisen piparikranssin josta jo vähän kirjoittelinkin joulukalenteriviestien yhteydessä. Itseasiassa tämä kuvissa näkyvä on minun tekemäni ja tytöt saivat tehdä fammolle oman. En tajunnut ottaa siitä silloin illalla kuvaa ja aamulla se lähtikin jo hänelle päiväkotimatkalla viemisiksi. Mielestäni tämä on suloinen ja helppo askartelu ja mitä parasta yhdessä tekemistä. Teimme nämä piparit ihan pakastealtaan piparkakkutaikinasta. Ensinnäkin se on mielestäni oikein hyvän makuista ja helpottaa projektia huomattavasti ( ainakin minun piparitaikinani tehdään hyvissä ajoin etukäteen maustumaan). Ja kun tytöt ovat valmiita pipariensa koristeluista on niiden päälle ladattu niin paljon kuorrutetta ja strösseliä, että ei niitä oikein kukaan halua syödä. Yritän ehtiä vielä leipomaan omasta taikinasta pipareita ennen joulua. Ne maistuvat mielestäni kyllä parhailta ihan ilman mitään koristeluja.
Tosin huomaan lasten kanssa tehdessä, että itseni kohdalla joudun katsomaan välillä peiliin leipomisjutuissa syntyvien sotkujen takia. Mitäs sitten vaikka strösseliä onkin kaatunut vähän sinne ja tänne, onhan meillä pölynimuri. Tytöt niin nauttivat näistä projekteista, että se on kyllä kaiken vaivan arvoista. Itsellänikin lapsuuden parhaissa muistoissa on leipomishetket oman mummini kanssa ja vaalin niitä arvokkaina asioina mielessäni. Ihanaa viikonloppua!
Have a Very Happy Weekend! In Finland we are celebrating Saint Lucia and you will hear more about that next week!
Here is a Christmas song for you for today!
Lattemamma
p.s. You can find a Scandinavian gingerbread recipe here in English. In Finland you can find a decent gingerbread dough in the frozen foods section at any grocery store at this time of the year. Makes the craft that much easier.