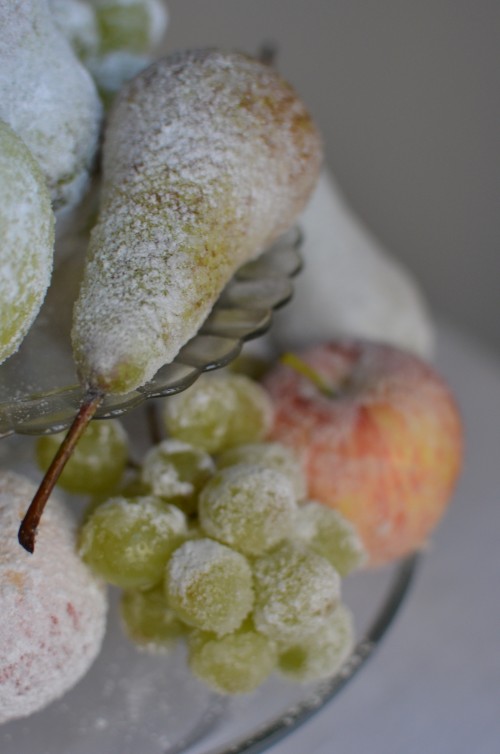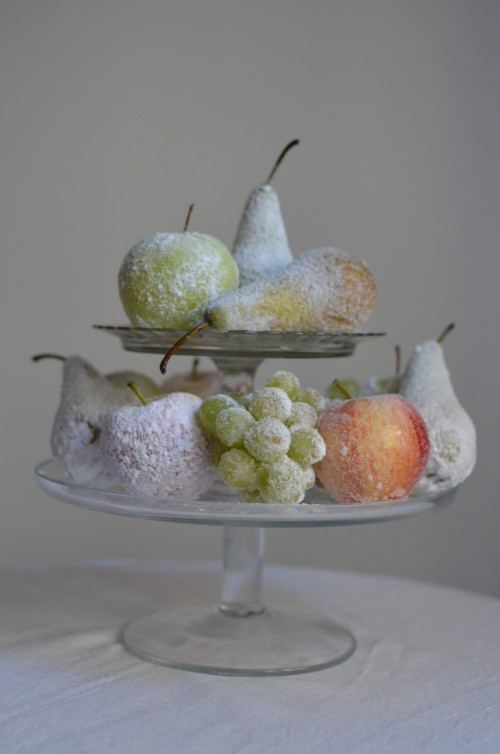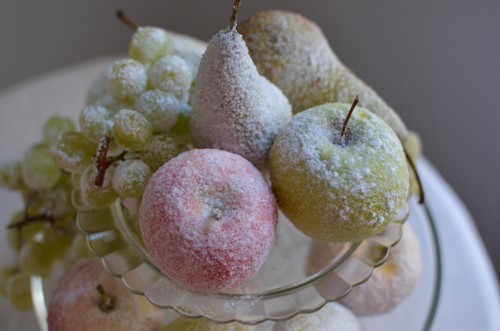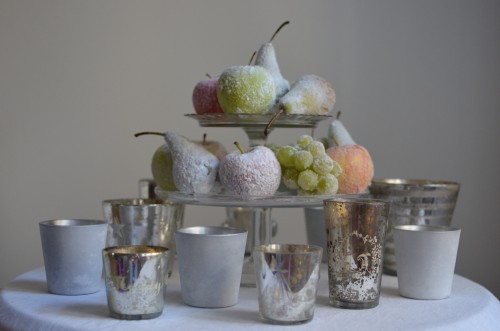 Mielestäni huurteisen näköiset sokeroidut hedelmät ovat niin kauniita. Tein niitä tänä vuonna hieman joulukoristeiksi. Jos haluat myös kokeilla niin seuraa kaksi vaihtoehtoista ohjetta…
Voit käyttää mitä vain marjoja tai hedelmiä ja voit halutessasi myös leikata niitä puolikkaiksi. Asettele hedelmät leivinpaperin päälle. Laita matalahkoon kulhoon ( tai syvälle lautaselle) kidesokeria. Sivele hedelmä tai marja seoksella jossa on yksi on vaahtokarkkivaahtoa ( kulkee nimellä marshmallow fluff tai marshmallow cream, meiltä ainakin löytyy ihan lähi k-kaupasta ja ystäväni oli myös ostanut Lidlistä) ja kaksi osaa vettä. Esimerkiksi 4 rkl vettä ja 2 rkl vaahtokarkkivaahtoa. Pidä sitten hedelmää sokerikulhon yllä ja ripottele sen päälle kidesokeria tai hienoa sokeria niin, että se tarttuu hedelmän pintaan. Kun kaikki hedelmät ovat valmiita niin anna niiden kuivua leivinritilällä tai ihan vain leivinpaperin päällä n. 4-6  tuntia. Nämä säilyvät kutakuinkin niin kauan kuin hedelmä säilyisi huoneen lämmössä myös ilman kuorrutusta.
Vielä hitusen helpompi ohje on sivellä hedelmien pintaan kananmunan valkuaista ja sitten ripotella päälle sokeriseosta. Hedelmät voi myös asetella leivinritilän päälle ripottelua helpottamaan. Jos haluaa lumisen näköisiä hedelmiä voi sekoittaa tomusokeria tavallisen kidesokerin sekaan. Valkuaisen kanssa ainoa ongelma on, jos hedelmät tahtoo syödä, mutta haluaa välttää raakaa kananmunaa.
Vaahtokarkkiseoksesta tulee vähän vaaleampia hedelmiä, tietenkin koska seos on lähtökohtaisesti valkoista, valkuainen taas luo kuultavamman pinnan. Testasin näihin nyt molempia, valkuainen on kyllä helpompi ja edullisempi versio. Itse kuivatin ( ja valmistin) hedelmät leivinritilän päällä jonka alle laitoin silikonisen leivonta-alusta helpottamaan jälkisiivousta ( se vain huuhtaistaa lämpimällä vedellä puhtaaksi tämän jälkeen). Tein hedelmät ihan viimeisenä hommana illalla keittiön siivouksen jälkeen juuri ennen nukkumaan menoa, hommaan kuluu aikaa ehkä vartti. Aamulla minua odotti ihanat valmiiksi kuivuneet huurrehedelmät jotka asettelin lasisille jalkavadeille.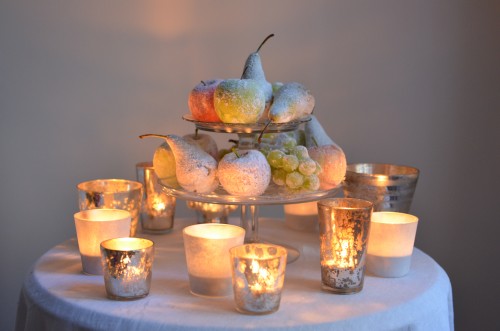 How to make sugared fruit or berries? Get the instruction in English here. Or you could just use an egg white and a mixture of sugar and powdered sugar for an even easier version ( especially if you are not going to eat the fruit). We will use this for our Christmas centrepiece with lots of votives twinkling around it. I think it´s pretty fabulous for such and inexpensive and easy craft. At this time of the year you can get a bag of apples, pears and satsumas for a few euros each so there will even be plenty of extra fruit to eat after your decorations are ready. What do you think? Will you make one?
Have a great day and do take a listen to today´s holiday song ( if you are a Downton fan it will make you feel all nostalgic and looking forward to the very last episode of Downton Abbey airing at Christmas Day in Britain and in Finland 29.12 and 5.1.)!
Ihanaa päivää!
Lattemamma