Do you like to get dressed up for Christmas? I love choosing an outfit. For the longest time I have been looking for the perfect bauble skirt for myself. I love the classic Carolina Herrera and Oscar de la Renta style but often the bauble skirts on the market are just too short for my liking ( they look great on killer legs!). But finally I found mine! They had two very different fabrics that I loved so I ended up getting both. As I have a wedding to attend to in January I decided to debut the other one for that and bought a pair of statement earrings to match. The other skirt has this amazing very dark, almost black, navy blue base colour with gorgeous big flowers that  look like they were painted on it. It´s not necessarily something I would normally turn to but for some reason it spoke to me. Somehow it reminded me of the lovely floral fabric dresses and skirts one of my style icons Aerin Lauder often seems to wear. So this skirt gets to be part of my Christmas outfit. The other skirt  has very fresh light & emerald green, white and navy stripes on it and will be absolutely gorgeous with a crispy white shirt. The good part of a bauble skirt is that on top of looking good with high heels it also looks very lovely with ballerina flats. Which is always a good thing especially if you tend to dance in to the morning or want to wear it for a dressier lunch on the town or other daytime function. I´m very tall so I often feel a bit too dressed up in heels in the middle of the day as I tend to be towering above most people. This does not bother me at night time events at all.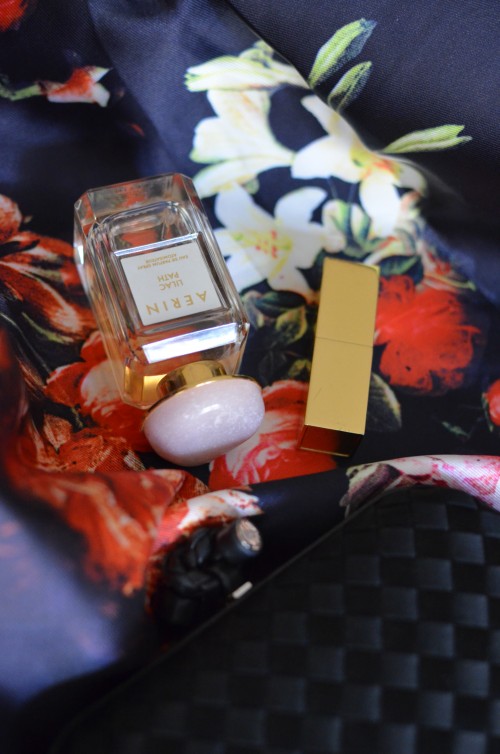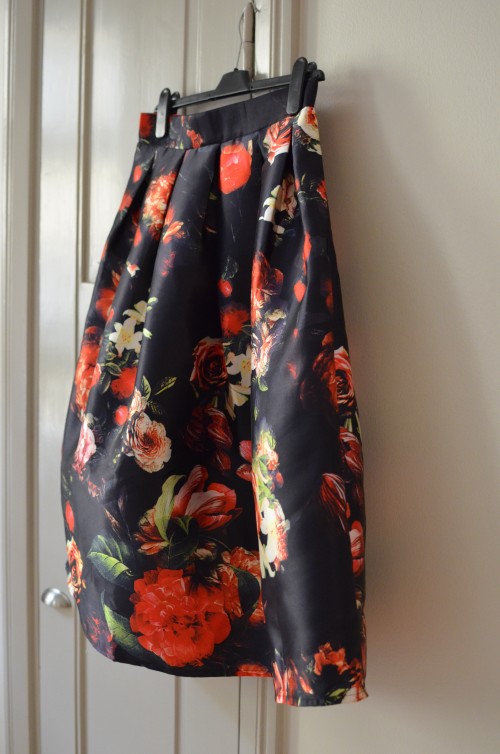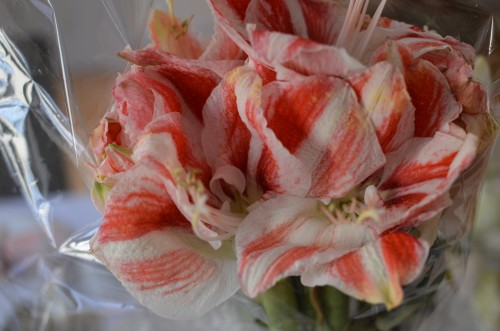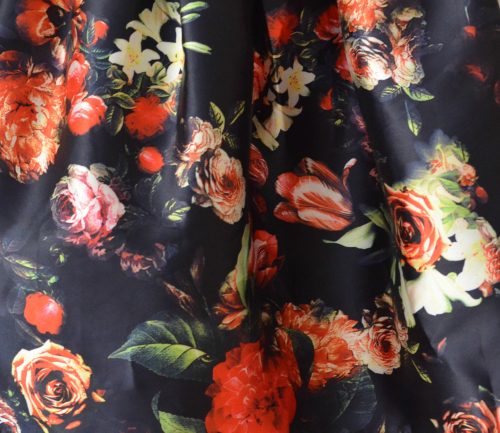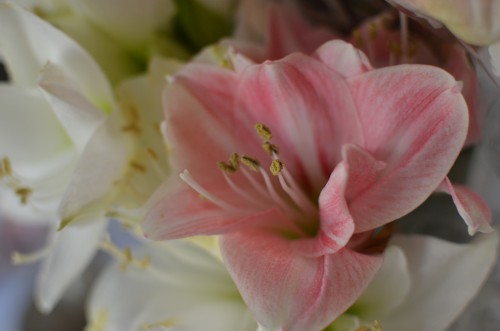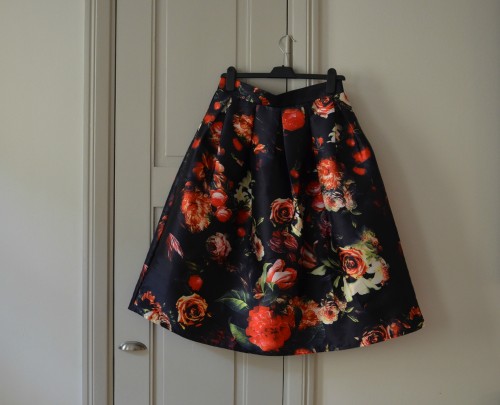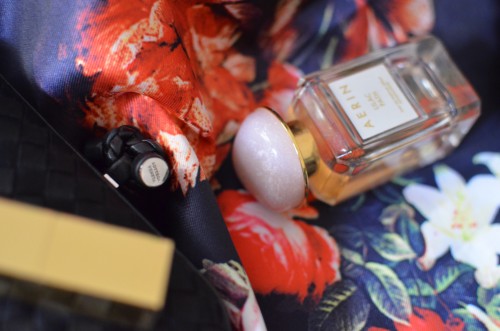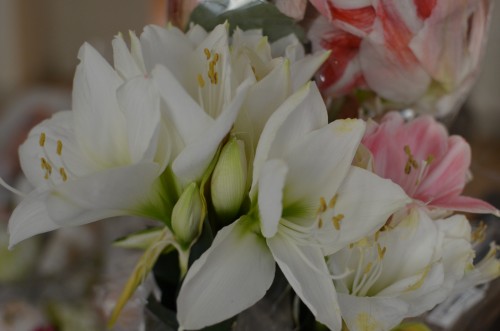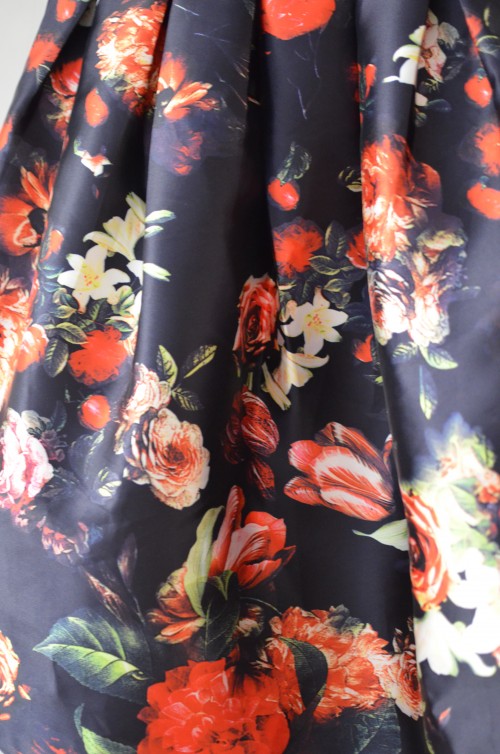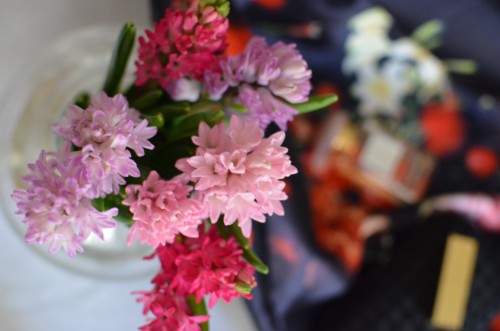 Tämän ihanan kukallisen hameen löysin joulua varten Muotikuusta. Se on todella kauniin mallinen päällä ja vaikka isokukkainen kangas ei välttämättä olekaan jotain mikä normaalisti tuntuisi ihan minulta, niin tähän rakastuin aika tulisesti. Hameelle tulee toki varmasti vielä muutakin käyttöä. Se on luonnossa selkeästi tummemman sininen kuin kuvissa, melkein musta. Kuvissa näkyy myös tämän joulun kukat, tosin ei ihan vielä siinä muodossa mihin ne päätyvät aattona. Koti on täynnä ihania leikko- ja ruukku hyasintteja joiden tuoksu suorastaan huumaa minut, sekä amarylliksiä. Toivottelen vielä huomenna hyvät joulut sisustuskuvien myötä. Sisustus ja asukuvat ovat kovin toivottuja, joten nyt sitten molempia peräpäivinä.
Are you all excited about Christmas already? We are in full swing planning the finishing touches on our menu and getting everything organised. I need to have it all set up in advance so I can just enjoy the day without too much of a fuss. But I think the planning and prepping might just be my favourite part. At least it´s a very big part of my process!
Have a lovey day!
Lattemamma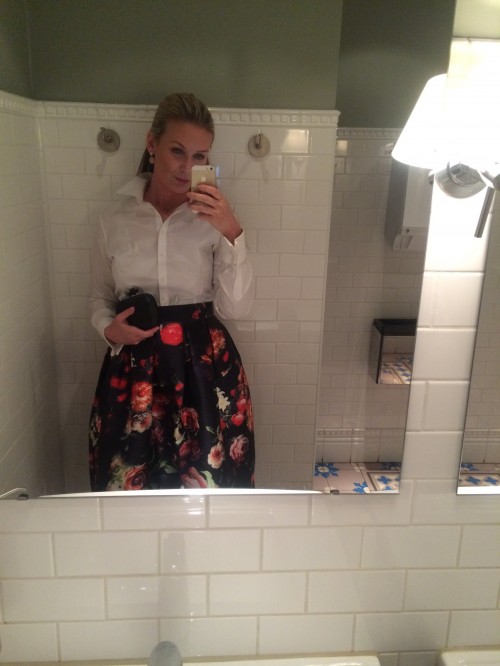 This is a terrible picture quality vice and you can´t really see the whole bauble, (it was the only one of me wearing the skirt) but you get the sense of what the skirt is like. I wore the skirt for dinner with my girlfriends about a week ago.