Do your kids do chores? Now that mine are 4 and 6 they are well in the age where they are capable of doing things around the house and most often they are eager to help ( except for when it comes to cleaning their own room but I´ll get back to that one). They love to sort out the laundry with me for piles of different colours and materials. And hand washing dishes for some weird reason is very appealing to kids and mine also love to wipe surfaces, especially if there is a spray bottle in use too ( I only give them a natural solution, no hard chemicals). They bring their used clothes to the laundry hamper. They also help me fold towels from the dryer and help to fold ironed napkins, kitchen towels and pillowcases.
They can´t take out the trash yet as we live in a building and the trash boxes are in the courtyard and our staircase has a locked door on that side that is very heavy.  But they do put their trash in the trash bin. And they are supposed to bring their plates in the kitchen after dinner and help me offload the washing machine. They love to set the table and just last week Cotton Candy came asking me for cocktail sticks just before dinner and she had made cute little flags with the sticks and wrapping paper for everyone´s table setting.
Bubble Gum is often asking potatoes for dinner just so she could " wash off the dirt" as she says. Meal prep is one of their favourites to do I think. I like to give them an easy task while I cook, like tearing up the lettuce for a salad etc.  Cotton Candy can whisk a great omelette now and I really should give her more to do too like chopping things for salads. She has a small children´s knife from Opinel but I saw a bit bigger knife for kids at Tokyokan that I´m considering getting for her. Bubble Gum is not allowed chopping yet as I´m fairly sure she would end up with a band-aid in her finger ( she is mummy´s girl in that sense too…) but she loves to help and just the other night she grated carrots for a salad.
I think what most appeals to them in chores are either doing them with me or in the same room with me. They like to be together and helpful. When it comes to collecting after themselves, say a "lovely little" mess of Sylvanian families in the nursery floor, it´s a whole different story. Then I hear whining and " I´m too tiiiireed". But their room must be cleared every night. Not to the standard of perfection but just so that it´s nice and comfortable to sleep in there. So we put on a song and help them out to find correct places for everything.  A long standing favourite is " a spoonful of sugar" from Mary Poppins but now my girls have their own playlist on Spotify with pop songs too. When we are dancing and cleaning together it´s just so much more fun. They also make their own beds most mornings ( they often remember to fold their pj´s under the pillow too. I sometimes do remake them after they have left out the door ( shh, they don´t see the difference).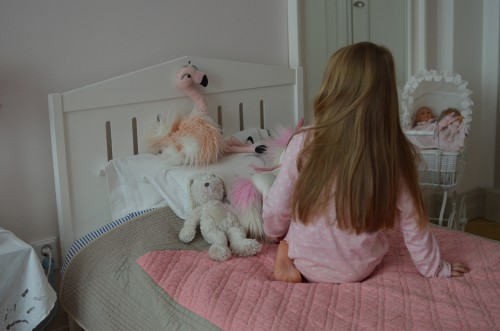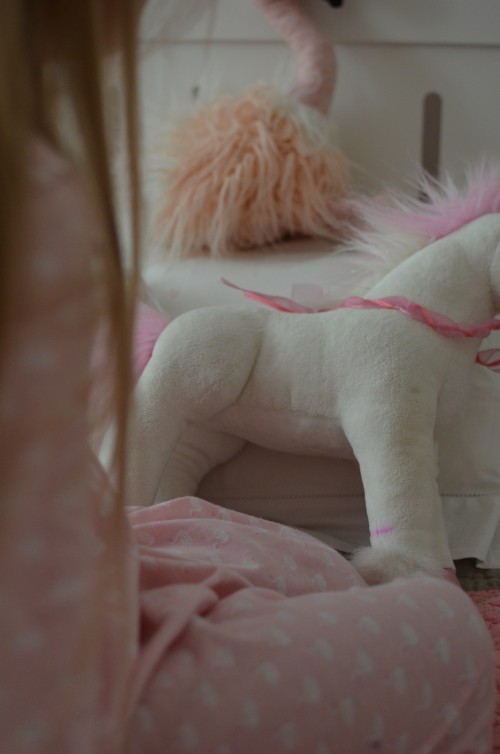 To get my kids to participate in chores I have noticed a few basic ideas that help.
♥ First of all is teaching by example. It´s obviously essential in all child rearing but especially when it comes to a tidy house ( or looking presentable ). If you don´t do anything around the house you can´t expect them to do it either.
♥ Second is doing things together. Most smaller kids just want to be with their parents. They don´t really care if it´s play time or folding towels. As long as you do it together.
♥ Giving them very precise tasks also helps in our house. If we ask them to clean their room they immediately start the " but I did not play with that" or draw or whatever it is that they think was not part of their responsibility in the room ( they share a room). So I tell one girl to put everything from the floor to the dresser drawers where they belong and the other to collect all pens and papers and books for instance. 
♥ To make the previous work you must have designated areas for their things. If they don´t know where something belongs or it does not have a proper place then cleaning is very hard for them. I love baskets and the dressers we have with a lot of drawers for legos, palace pets, barbies, Schleigh animals, weird things they love that I have no idea where it came from etc.
♥ Add the music I mentioned earlier on the text for some speedy rhythm, your hands to help with one task ( I always choose clothes so I get to sort the dirty to laundry and fold the clean just the way I like it) and you have a winner combo.
I´m curious. What chores do your kids do and at what ages?
Lattemamma
p.s. I have days when I get home from work and am very tired or I have a bad day. Then I may just pop the girls in front of the evening cartoons or ask them to get their iPad out. Some days I have no patience for them " helping" me as I want to get everything done as fast as possible and we all know it´s not happening when a 4 year old is washing potatoes like each were a little baby. I think we are allowed that too. And if my kids are obviously very tired from their day I don´t make them do chores either. They are still small and even us bigger girls sometimes need a break not to mentions the little ones. So let´s not be too hard on ourselves with these things. And you know there is nothing like breaking your own rules and having take out in front of a movie on a school night every now and then. Our favourite "tired day" thing is to get out our pick nick blanket and disposable plates and cups and eating something like hotdogs on the living room floor. In the end you just throw the dishes in the trash and fold the blanket.