These muffins are gluten and dairy free but you can absolutely make them which way you like as I used an old simple muffin recipe and switched the regular flour to gluten free baking flour and milk for a nut milk option.
Banana Breakfast Muffins
2 ripe bananas ( mushed with a fork or so)
2 tbls honey
1 tbls sugar or  even better… coconut sugar
2 eggs
3 tbls vegetable oil ( I often use sunflower for baking as it has no taste
3/4 cups mylk ( or milk)
but anything from coconut to olive oil really works as long as you are ok with the taste)
1 tsp cinnamon
2 tsp baking powder
2 cups flour of your choice ( you could substitute some of it with rolled oats or granola or both)
some Granola sprinkled on top ( optional)
1. Beat the eggs a little in a big bowl. Add the mylk ( almond, coconut, soy, oat…)/milk, honey, sugar, bananas and oil. Mix well.
2. In a small bowl sift together the flour, cinnamon and baking powder. Fold in to your liquid gently until just incorporated well. Do not over mix as that is the key to a nice and fluffy muffin. ( Fluffy Muffin sounds like a name of a pooch in the deep South does´t it?!)
3. Use a scoop to make 6-8 big muffins in muffin tins. You can " decorate" your muffins with some banana slices or dried banana or use granola like I did. I love this Finnish granola I find in a store called Anton & Anton. It´s a dark chocolate and hazelnut granola from Frangipani but you could use any brand really. You could even fold some in to your muffin batter for a nice texture and some extra crunch ( I would have but we only had a little bit left). But I´m telling you this granola is so delicious so if you get a chance try it out!
4. Bake for about 30 minutes in a 180°c oven.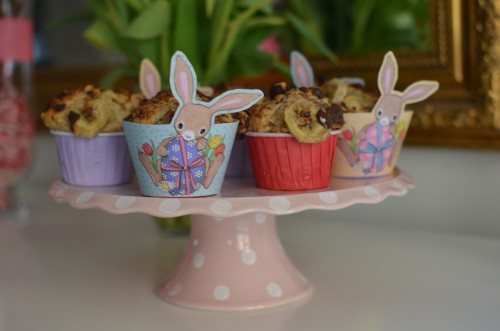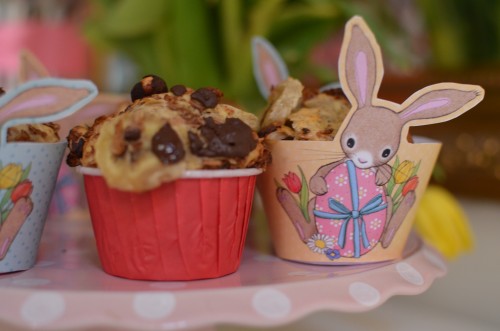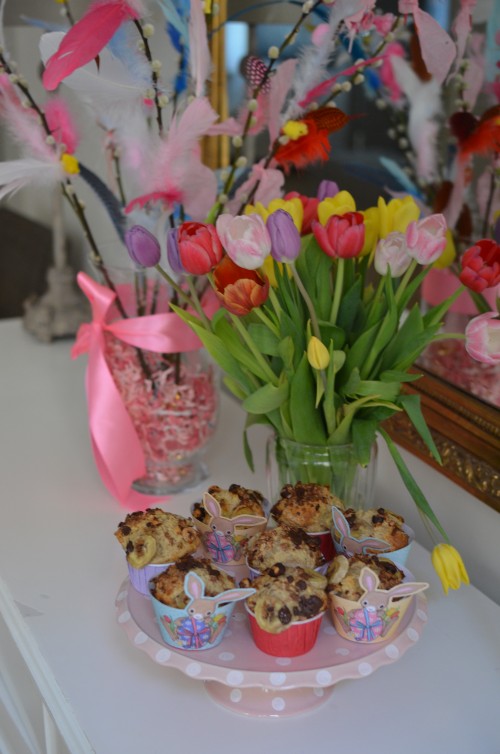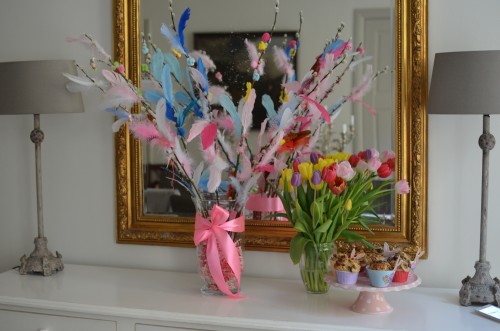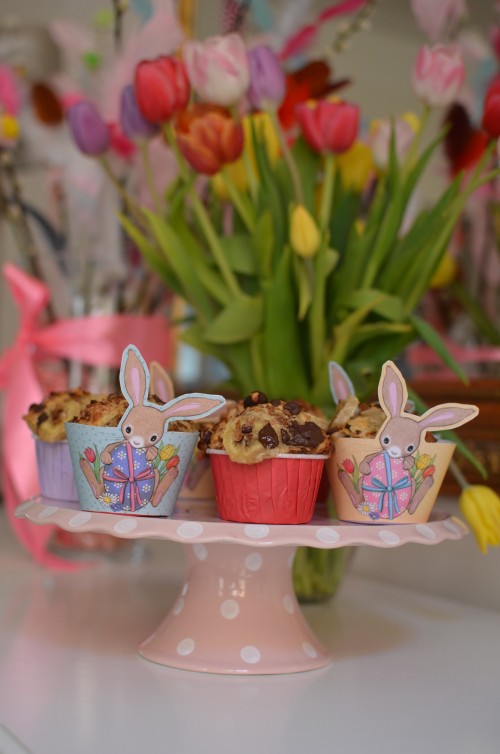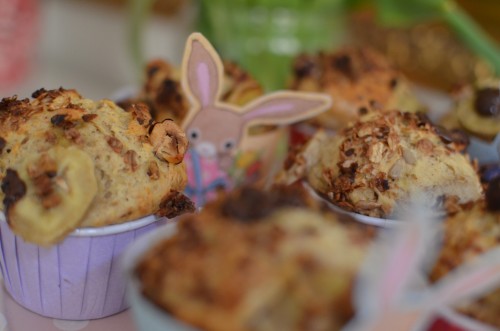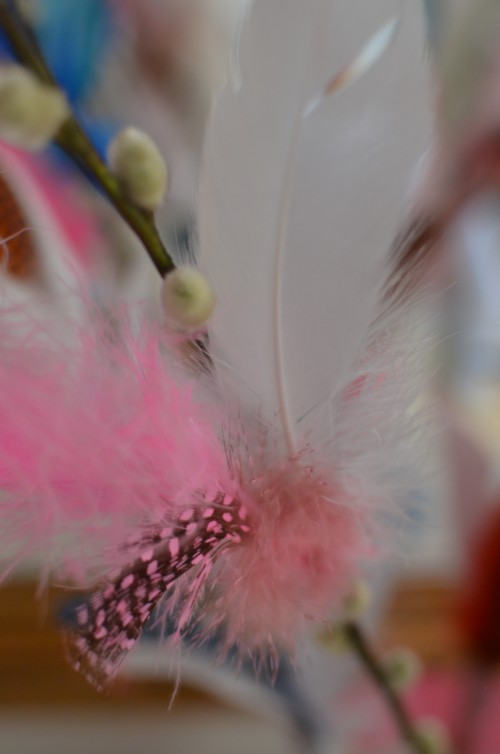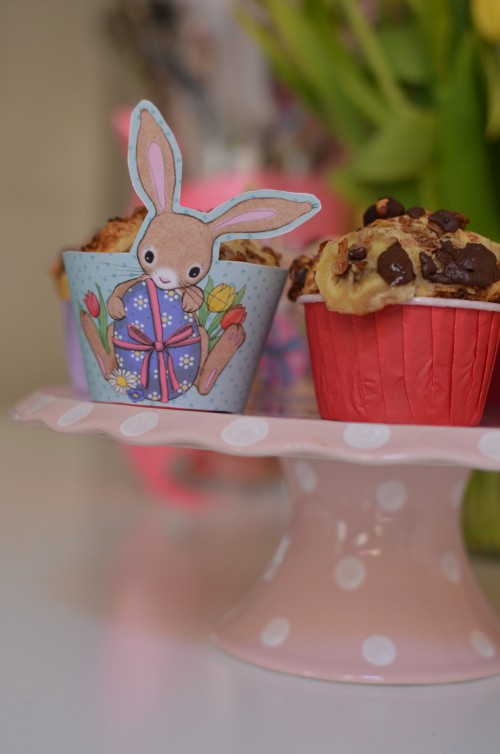 We used the free printable Belle & Boo cup cake wrappers for these as they were an Easter week breakfast muffin. You can find them on their web site here. Cotton Candy and I baked these on Monday night while Bubble Gum was in ballet with her dad. When they got home she stopped on her tracks at the foyer smelled the air and said " I can smell you have been baking without me". She is so adorable. Then she sat on my lap right there for a long time pursing her lip until I promised her she would absolutely be a part of the next baking project. 
I just used an old recipe I keep for basic muffins ( From Marie Claire´s Kitchen book) and change the ingredients a little as it´s such an easy one. But I "pinterested"  ( no more google, I just use Pinterest if I´m looking for some recipe) banana muffins and found a few recipes that sounded really good. Like this and this. 
A few weeks back we tried a blueberry and oats muffin recipe that was sugar ( and honey) free and it was not that good ( weirdly enough my husband liked them a lot). So I like the honey and the coconut sugar although this is a breakfast food and the banana makes it even a little sweeter. But instead of the banana you could absolutely use grated apple and/ or blueberries or whatever you like. Throw in some nuts or seeds too and if you are in the mood maybe a spoonful or two of peanut butter. Whatever rocks your morning boat and makes life a little easier. What I love about a breakfast muffin is that it´s almost like having porridge and fruit in the morning but a bit better. Besides it´s a " project" to bake with the kids the night before AND then you don´t have to cook in the morning. If you like yours warm put them in the microwave oven for a few seconds ( muffins also tend to freeze well). If you are having a busy morning you can just crab one and eat it on your way to work, school or kindergarten. But we like to light up some candles and eat by the kitchen counter in silence. Each to their own!
Have a fabulous day!
Lattemamma
p.s. Don´t you love how I sneakily added photos of the pussy willow branches we decorated with the girls on Saturday. All that colour is giving me so much energy!