As a mother I have always believed in a mama´s instinct. We are very quick to judge others if they do things differently than what we believe is right but I always thought that as children are different and us parents are different we should all just trust the magic of being the parents to our children and stop caring so much about what others think of our decision. I nursed my children for as long as I felt was important for them and also for me as a mother ( 11 months and 15 months… for some this is long for some a short time) and I did get judged by my mama friends about it. Did I care? A little bit but then I thought it was not the relationship between them and their children but the one I was building with mine. Do I think that someone fails as a mother if they nurse longer or if they don´t nurse at all. No. It´s not my place to even speculate and my opinion in the matter does not matter anyway.
When I was a child and felt upset or could not fall asleep I asked my mom to stroke my back and it always helped. If I was very upset I would not hesitate to ask her to do it today and I´m sure it would make me feel better but obviously I have grown and learned different ways to soothe. So when my girls ask me to cuddle them or stroke their backs I never tell them no. If it makes them feel better then I feel that as a mama it´s my privilege to be there for them. So they have learned that kissing and hugging is part of their life and if they need someone to stroke their back to fall asleep after a restless evening then we will be there for them. I believe in a world like we live in today people could be judged for many things but not by listening to their kids whisper about the day they had whilst stroking their hair before they fall asleep. Yet we get judged.
When my girls were babies I used to give them baby massages after their bath and then do their baby "gym" movements. Just rolling their arms around their little bodies ( the movement is called a butterfly), pulling them up slowly to a sitting position by their hands and pushing their little knees softly towards their tummy. They loved it and until today they both sometimes ask to get a baby massage after their bath, be dressed in their pj´s and do the baby gymnastics. I think it´s so cute and I know that maybe in a year or two this moment will have passed. They always pretend to be babies ( " I´m 0 years old" ) and like me to tell them stories about how they were as babies, what they did and what they liked.
What I guess I´m trying to say is that I have always felt my girls needed a soft touch just the kind I grew up with. Knowing we are there for them and they don't have to be big girls yet as they are not. They can still be our babies every now and then if they feel the need to and they can rely on us being there for them physically as well as for mental support. We don´t " baby" our kids all the time and we do expect things from them that are somewhat age appropriate. They are independent girls growing up fast ( way too fast in my eyes as I´m sure all mothers will agree with me) but we can let them be little every now and then.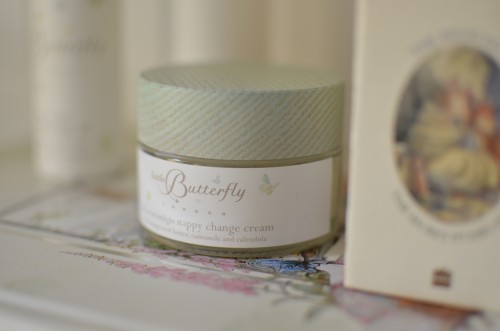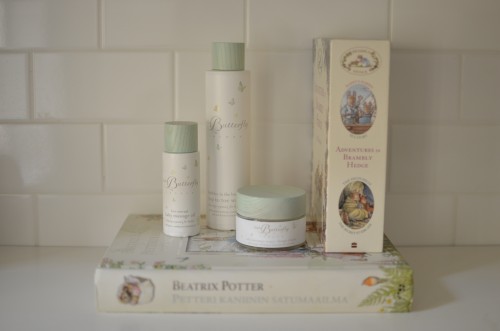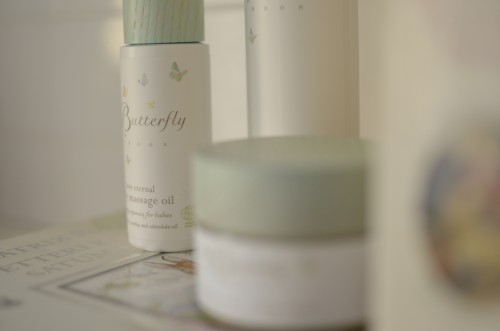 I got products from a new children´s organic body care line called Little Butterfly London to test from Jolie. Thus far we have tried the baby massage oil ( worked on my "0 year olds" too) and it felt great and if you don´t tell anyone I actually tried the nappy cream first on my dry hands and then on my face & neck ( it´s super rich but not the white sticky kind at all) and I have to be honest, it was really good. I´m not going to tell you to buy it as face cream ( neither will I) but I can say you can safely put it on your baby´s butt as my face is better for it. We also got the washing liquid but haven´t tried it yet. As a mom of 4 and 6 year olds I guess the bath milk and body lotion with the top to toe wash would have been the products we would use the most. Maybe we will try them later on. The jars & bottles are dainty and pretty, perhaps a little girly but that is well by me.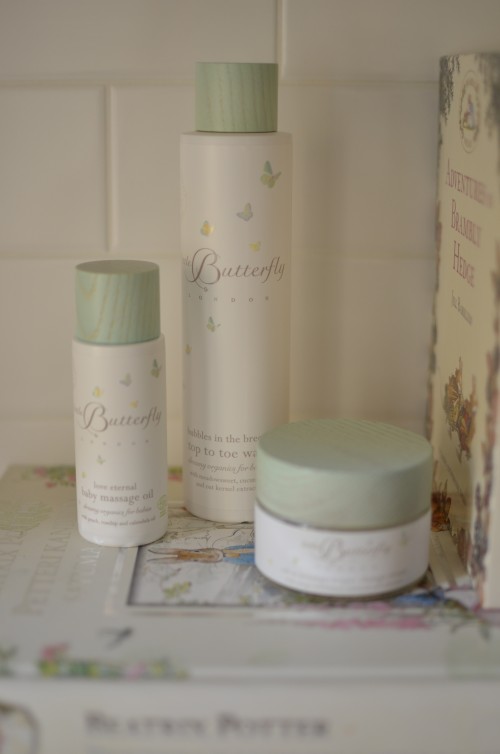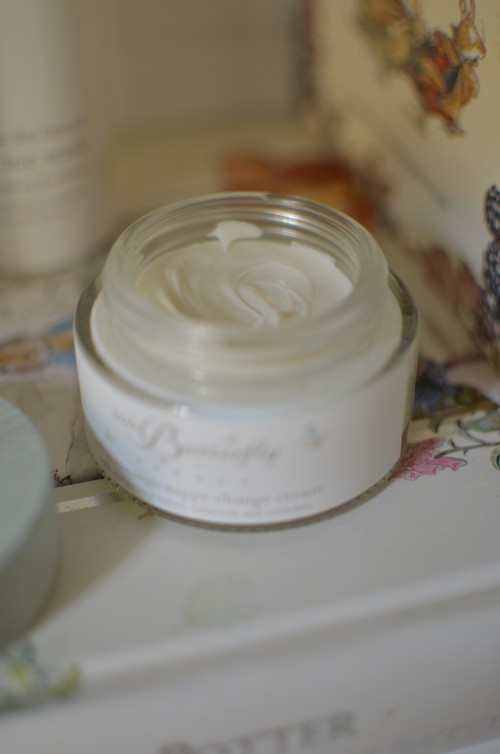 Let´s be the mothers we want to be to our children they way we think is best for them and for us as a family. Let´s not judge others if their child obviously needs her own space and time at bedtime or if they need company to fall asleep. Let´s not judge the mothers who could not nurse or would not nurse but also not the mothers who nursed for longer than 6 months. Some of us work, some are home with family, some of us need more alone time, some could not be apart from their children. Some children need structure and tight rules, some lenience and space to create their own. Children are different and parents are different. Families are different. But we all need a soft touch every now and then.
" Mama, can you do the butterfly again? No mama… you have to say butterflyyyy, butterflyyyy when you do it just like you did when I was a baby… Like that."
– my very own little butterfly-
Lattemamma
The products were a gift through the blog and we really liked them so I wrote about them. As always I only write about the things I like and think you might like too.