Oh Paris you were wonderful as always. I asked Cotton Candy her highlights of the trip. She enjoyed many parts of it but these were some things she loved the most. I will share some more photos and my thoughts soon but here are her favourites…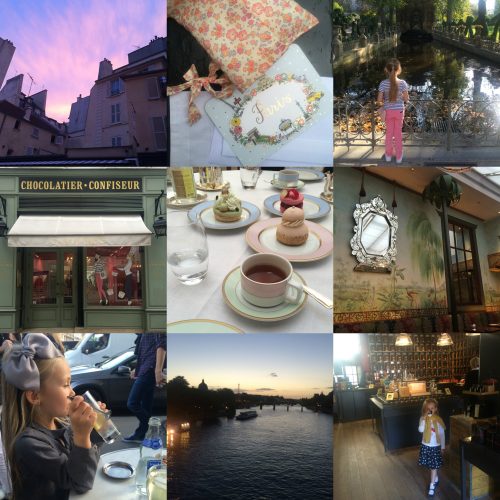 Going out in pj´s and cardigans in the night to get Nutella crêpes from across the street form our house. ( I would like to add for the record that she was in her pyjamas not me).
Going to the old school Damman tea shop in Marais at Place des Vosges ( where they have tin jars of tea all the way up to the ceilings) to taste and smell their wonderful teas. She chose a caramel-toffee rooibos tea for her sister and herself as a night tea and they chose a Christmas tea with her grandmother to drink after Christmas dinner.
Going to a very old taxidermy shop ( from 1831). It sounds quite horrible and we would not buy taxidermy animals but it´s like an old school display or museum gallery. She found "Hedwig" ( Harry Potters owl) and spent a long time looking at all the bugs and butterflies. There is a snakes & bats skeleton on display too and some very pretty corals too. The compartmentalised lobsters and crabs were very interesting too. Some of the animals were quite scary just standing there ( in her opinion) like the hyena. You can see photos from Deyrolle here.
Having a rainy day lunch with tea at Ladurée where she chose three pretty pastries from the display and we shared them for dessert. We all had different teas in small silver pots we tasted from each other and it was also a good moment to remember all the tea party manners we have learned. She told my mom " a lady never clinks her spoon against the tea cup" and showed her how she stirs her tea nicely. Later on she drew the beautiful wall paintings in her travel diary.
Picking up chestnuts in Jardin de Luxembourgh. She chose a bunch with my mom to take home and put on display on our coffee table for Fall. She also loved choosing cards for her sister, a friend who just moved to Australia for forever ( so sad but they hopefully can become pen pals now), her grandfather, and other set of grandparents and we sat on the park bench writing and drawing on the cards.
Dinner at Ralph´s was one of her favourite evenings. First we had aperitifs on the terrace of Deux Magots where she chose an old fashioned lemonade. But the best part was the bathrooms at Ralph´s where they have golden sinks and red roses. She is so obsessed with them. She asked to go to the bathroom twice! And she told me it´s like being a princess with such pretty restrooms and the candle lit courtyard where we had dinner. And so it was! Perhaps it´s not a very French experience but the food is always great and the atmosphere & service is always impeccable. It´s absolutely one of my favourite restaurants.
Choosing her candy day treats at the Grand Epicerie after we ate some fantastic sushi for lunch there. It´s so much fun to choose something from a different country! French candy felt like a novelty…
Standing on a bridge just after sunset and watching the Eiffel light up with sparkles. A little kitch perhaps but we love things with some magic and sparkles so we do not mind. I tired to say something to her and she told me " Shush mommy, I´m making wishes now!" So we all took the time to send our wishes to the night sky.
Waking up early on our last day and sneaking out to the sunrise in search of a boulangerie to sell us fresh croissants and pain au chocolate to enjoy with our morning coffee. There were people washing the pavements and restauranteurs piling the chairs out on to the terraces. We could smell the pastries baking in the air and we walked the streets hand in hand. The sky was lighting up with pretty pink hues. It was one of my favourite moments of the trip too!
Lattemamma