Purkan viisivuotisjuhlat olivat suuri menestys. Hän oli toivonut jotain yksisarvisteemaista. Oikeastaan ihan alunperin hän olisi halunnut viedä ystävänsä Linnanmäen hattarakouluun, mutta Lintsi sulkeutuikin päivää ennen synttäreille varattua päivää. Onneksi ystävälläni oli hattarakone jonka saimme lainaan ja näin saimme yhdistettyä myös hattaran tähän teemaan.  Ihana juhlatarvikkeita myyvä nettikauppa Juhlahumua oli lähestynyt minua yhteistyön merkeissä ja kun katselin heidän kaunista ja kattavaa valikoimaansa läpi niin päädyin sitten pastellinsävyiseen sateenkaarenvärien kirjoon juhlien värimaailman suhteen.
Veljeni suunnitteli suloisen yksisarviskutsun Purkalle ja samalla teemaan sopivaa leikkirahaa, viitosia tietenkin, joilla vieraat saivat ostaa hattaraa ja muita namuja kojusta jota pitivät Hattara ja hänen koulukaverinsa yksisarvisiksi pukeutuneina. Ostin sävyihin sopivia namuja tarjolle, mutta alkuun tarjoiltiin ensin hodareita ja vihanneksia. Ne sopivat mielestäni hyvin hieman karnevaalimaiseen tunnelmaan. Jelly Beans namuja saa ostaa väreittäin tosi laajasta valikoimasta Roobertin herkusta ja osan nameista toin New Yorkista kun kävin työmatkalla. Ohjelmassa oli kiinnittää oikealle yksisarviselle häntä, nimittäin hattarakojun myyjien asuissa oli sopivasta tarralla kiinnitettävät irrotettavat hännät. Muuten ohjelmaksi riittikin kojusta herkkujen hakeminen omilla pikku seteleillä. Pari tuntia vierähti aivan siivillä, lopulta tytöt ihan vaan leikkivät lastenhuoneessa.
Valitettavasti päivä oli todella harmaa, synkkä ja sateinen joten "valokuvaajan taitoni" olivta taas koetuksella.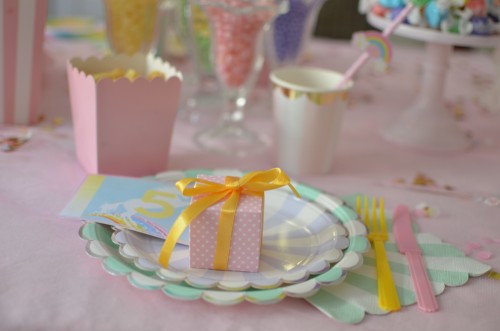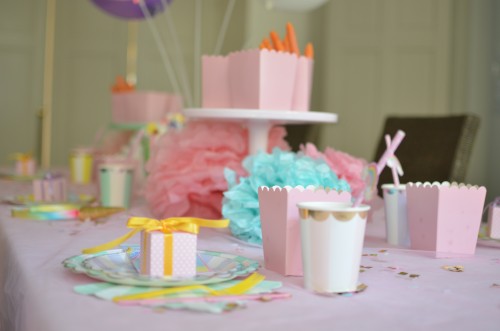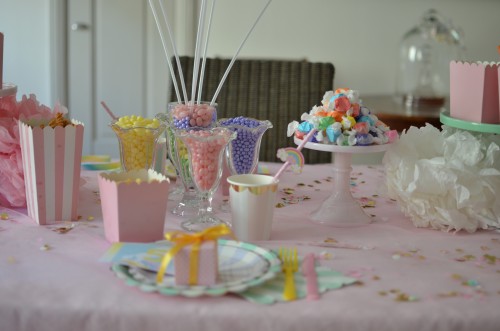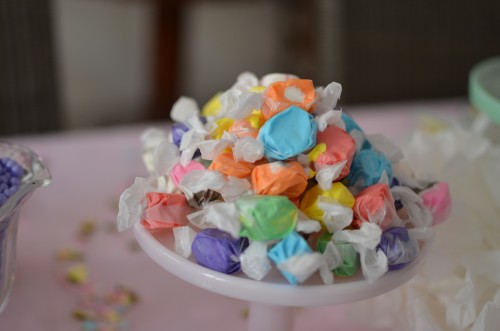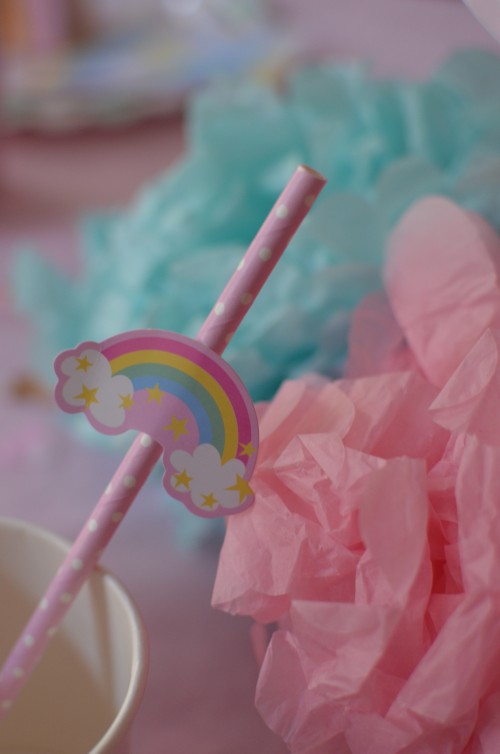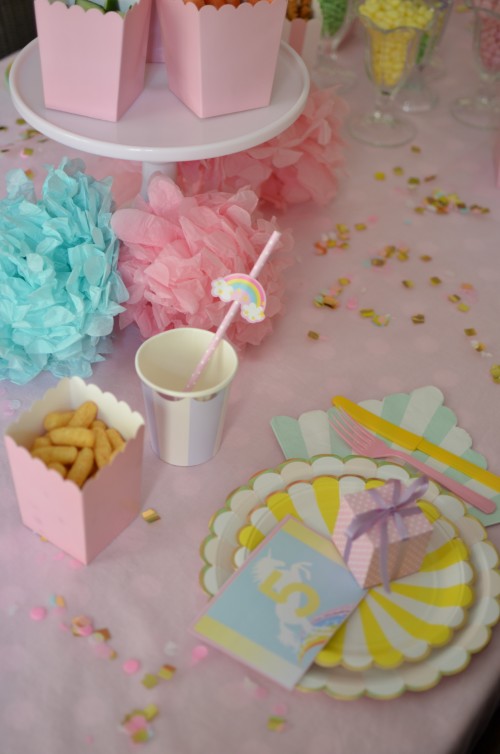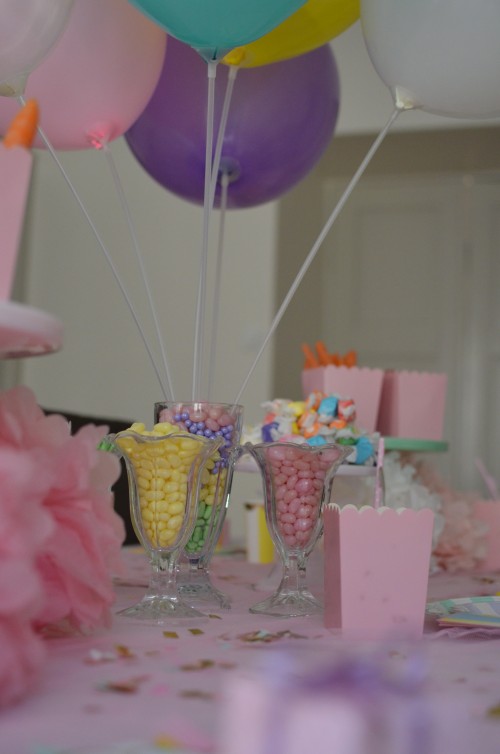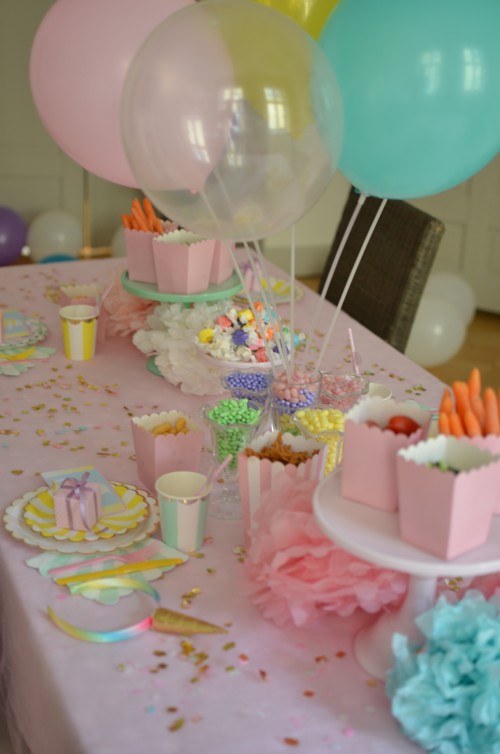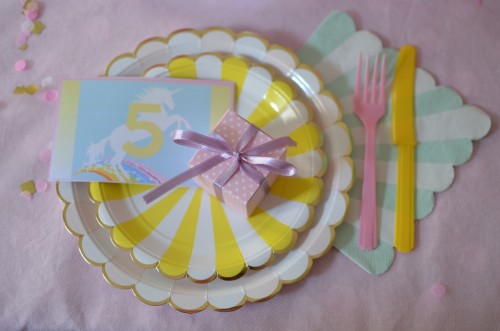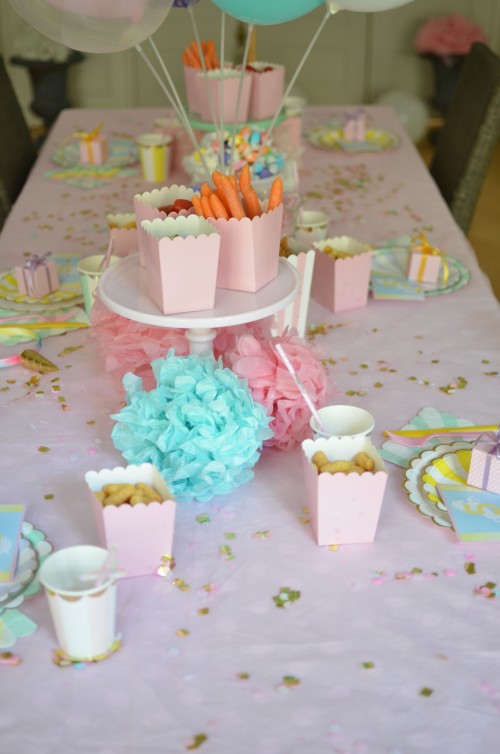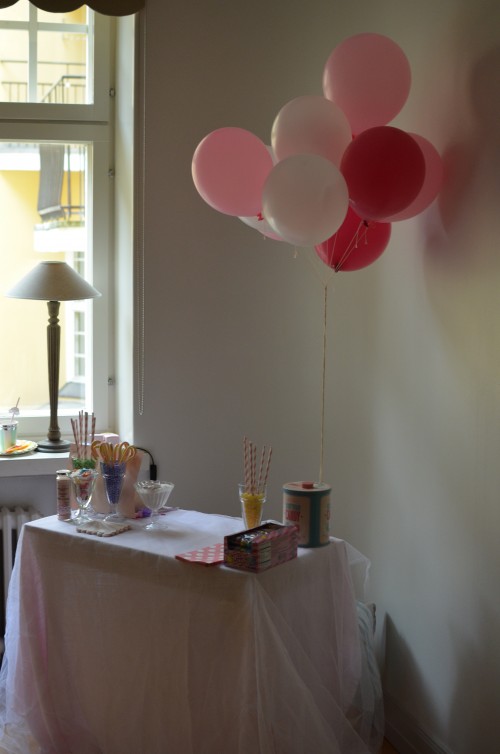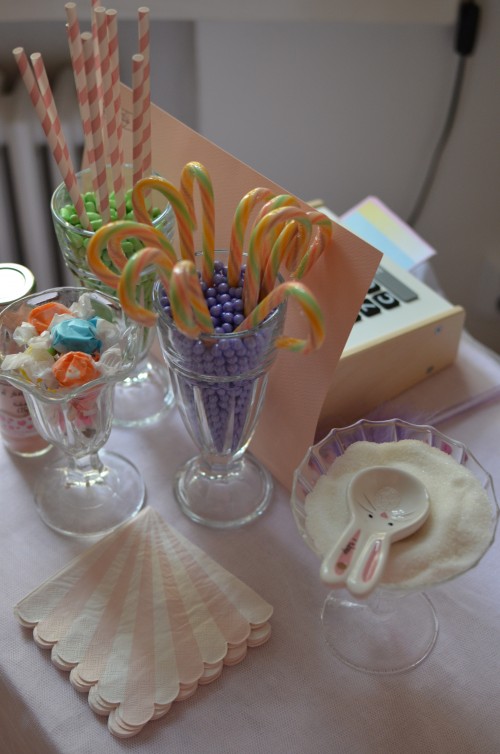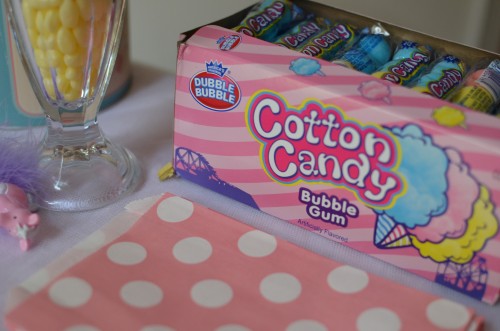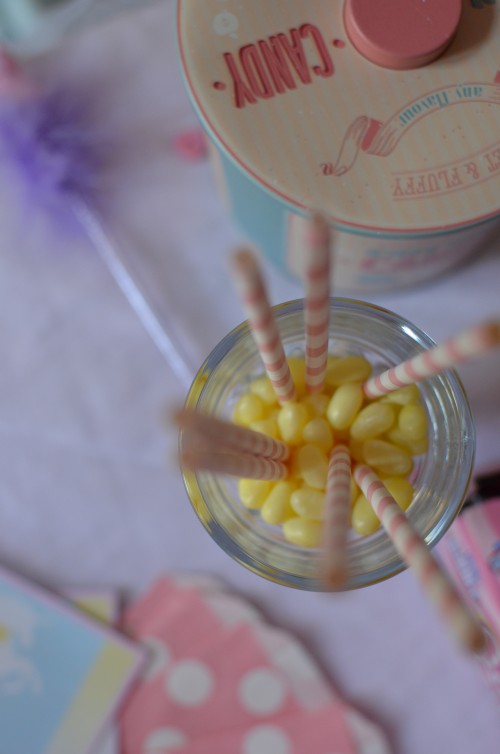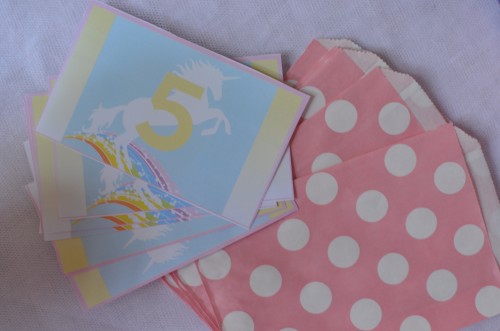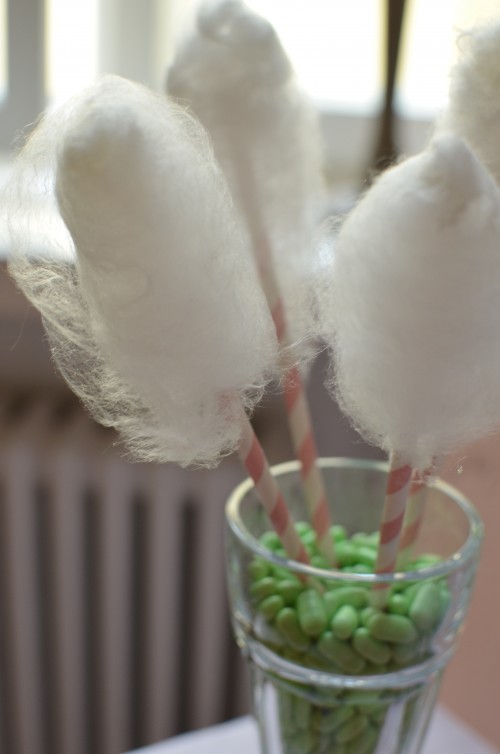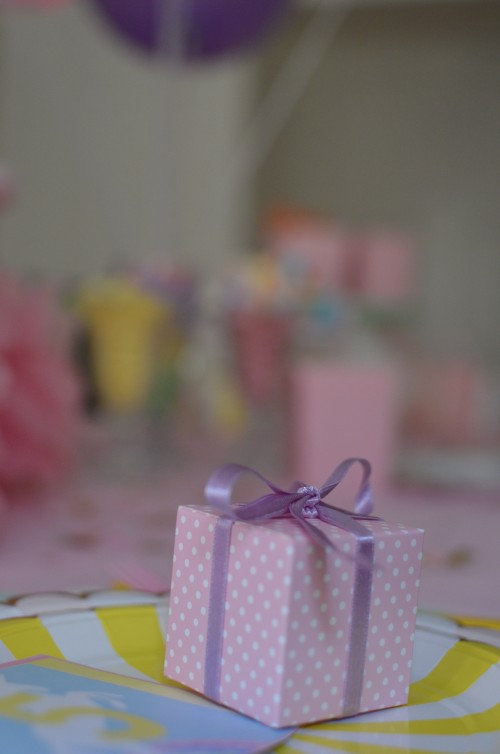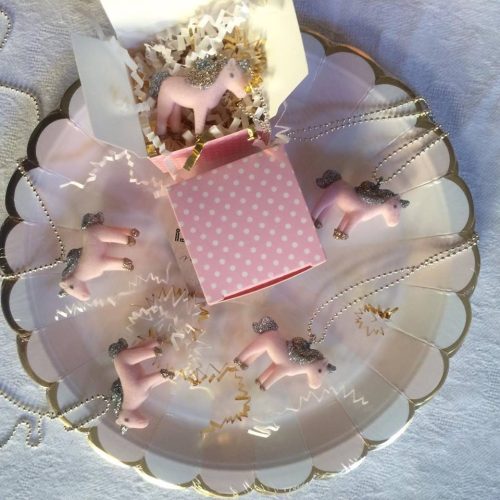 We had Bubble Gum´s 5th birthday party at our house a few weeks back. It was such a fun party with 5 little girls as guests. Our theme was unicorns and rainbows. I did a blog collaboration with an online party goods store, Juhlahumua, that has the prettiest collection of anything party related from balloons to plates and pom poms to garlands and beyond. We served the kids hotdogs and veggies and then we had a cotton candy booth where they could buy gum balls, candy canes and obviously cotton candy with play money my brother designed to match the invitation he also made. Cotton Candy and her friend from school ( who happens to be the big sister of one of the little party guests) were working at the booth dressed as unicorns. The girls were excited and I think they had a great time. We found cute little unicorn necklaces that Bubble Gum gave out as party favours with balloons and cotton candy flavoured gum balls. We played pin the tail on a real unicorn ( as the outfits had detachable tails) and that was the only activity on top of the cotton candy booth. Not much more is needed when the girls are given free hands to do what they want. We originally planned on making unicorn horns for everyone as a craft but figured it was not necessary. A lot of playing was going on in the girls room and two hours went by way too fast if you ask them. It was the best idea to ask the bigger girls to help as they were nicely bossy to the girls to keep them in order but also proudly big sister like helping the little ones find the bathroom etc. I got to be just an admirer of all the shenanigans. I think it was the most hassle free party I ever hosted.
Lattemamma
Juhlissa oli Juhlahumun hurmaavasta valikoimasta ruoka– ja kakkulautaset, isot– ja pienet servietit, vaaleanpuna-valkoraitaiset paperipillit joihin teimme hattarat, aterimet, pahvimukit, pilkulliset paperipussit johon pikkutytöt tekivät karkkiostoksia ja kaikki ihanat ilmapallot ( meillä oli erivärisiä ilmapallomixejä)! Juhlahumusta löydät myös mm. silkkipaperisia pompomeja ( itselläni oli niitä jo varastossa), sekä popkornirasioita. Lautasia ja mukeja oli turkoosina, keltaisena, vaalanpunaisena ja vaaleanlilana. Yhdistelin niitä ristiin ja yllättäen tuo piparkakkureunuskuvio ja serviettien reunat olivat mielestäni todella kauniit.