Me teimme jouluaattona tytöille Shirley Templet eli klassiset alkoholittomat cocktailit. Niihin sekoitetaan perinteisesti grenadiinia ( granaattiomenasta keitettyä makeaa kirkkaanpunaista siirappia jota saa ainakin joistain Alkoista. Helsingin keskustassa Stockan, Arkadian ja Kasarmintorin Alkosta ainakin) sekä inkiväärilimua ja drinkki koristellaan cocktail kirsikalla. Me teimme omistamme ruusuisen version maustamalla ne ruusulimonadilla ( löytyy myös mm. Alkon alkoholittomalta osastolta).
Looking for a mocktail for New Years? Inspired by the fantastic Celebrate Everything-book we made Shirley Temples for the girl for Christmas eve´s cocktail hour and they loved them. It would be a great New Year´s drink too! I made them with a rosy twist and I must say it was fabulous. The girls asked for seconds on Christmas Day so I even got some photos for you. Shirley Temple is probably the most iconic non alcoholic cocktail and there are tons of recipes online for it but here is my rosy version.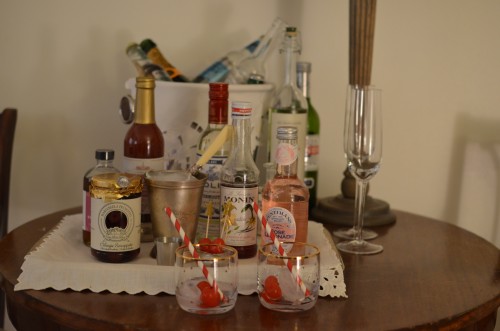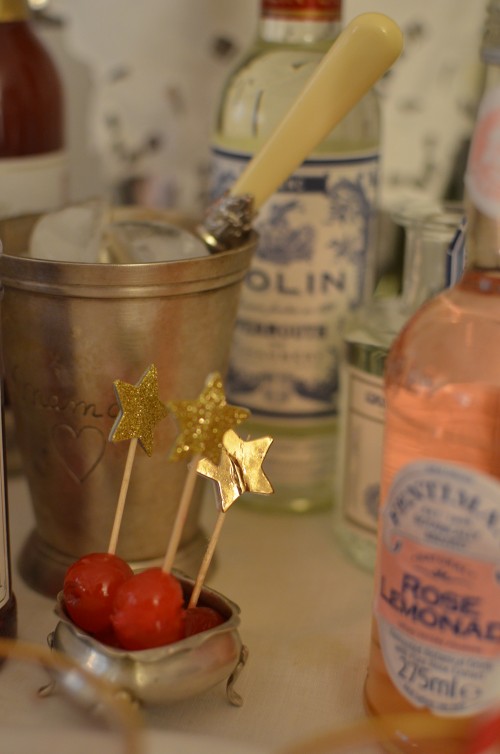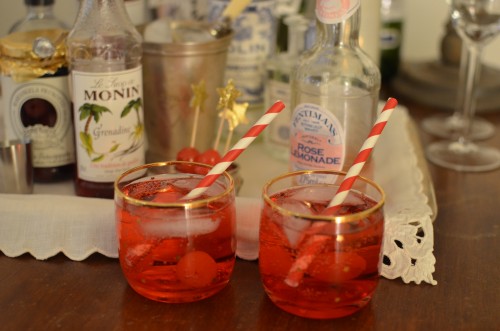 Shirley Temple
2 cl grenadine
10 cl Fentimans rose lemonade ( you can also use the original ginger ale or a lemon-lime soda)
2 cocktail cherries ( maraschino if you can find some)
a few cubes of ice
Mix it all together ( some recipes add orange juice too) and you are ready to sip a timeless classic cocktail ( that is super sweet and icky but delicious too, especially if you are five).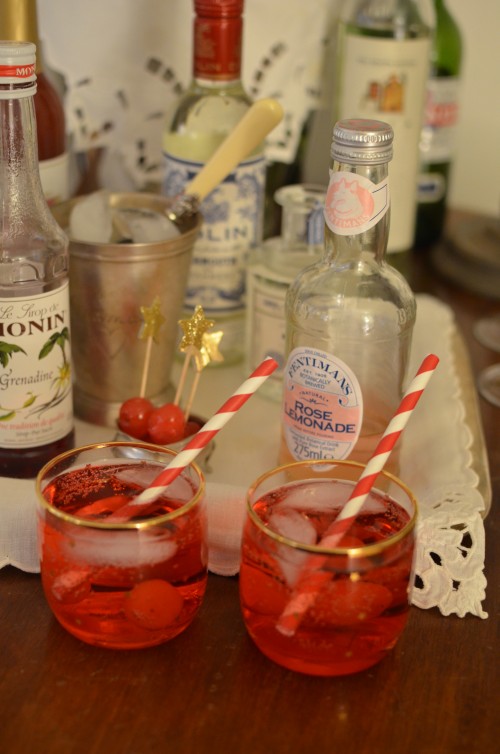 Enjoy your mocktail! And have a great second last day of this year. I´m taking the girls to the movies today to see the Trolls. I have a short holiday now which we had planned on spending skiing, but add some influenza ( not our family) to the combo and we have a few days to do fun things in the city instead. Skiing in the spring slopes then, we don´t mind the sunny & snowy weather anyway.
Lattemamma
p.s. A disclaimer. We may have a cocktail and a glass of wine with dinner but I would not want my kids to see me drunk so cocktail hour in our house is vary rare and it involves that one cocktail not three. I grew up in a house where my dad never drank anything alcoholic and my mom had the occasional glass of wine with dinner and I´m so thankful for it. Just saying this so you don´t think these mocktails somehow promote anything they don´t. Everything in moderation and with class I think.