How was your Christmas? I know we are all heading in to the new year with enthusiasm and I should have had time to make this post for the days between Christmas and New Years eve, but I didn´t. So here are a few photos from my phone from our Christmas Eve.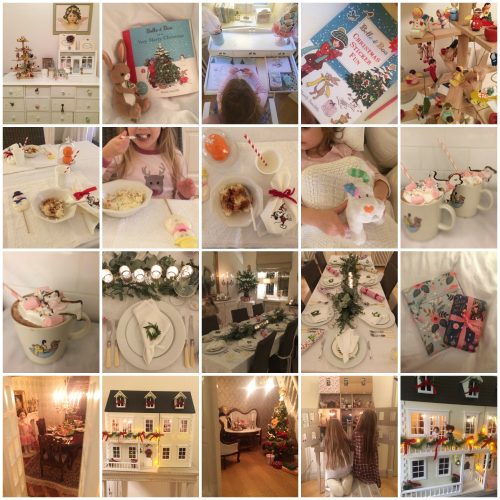 We started our day with hot cocoa and gingerbread cookies ( we added some pink mini marshmallows too) and a fire roaring. The girls found some Belle & Boo treasures from their Christmas stockings. For lunch we had some rice porridge and tangerines. And we obviously watched the Snowman and the Snowman & the Snow dog which is Bubble Gum´s favourite movie. Then we headed for the Christmas sauna.
Our Christmas flowers were just foliage. Eucalyptus and spruce sprigs. The very green and white decoration got a little colour from Liberty Christmas crackers. My brother and I cooked dinner with a highlight of a gorgeous organic turkey. We started with raw cured white fish and -salmon, roe with smetana and chopped onion, potatoes and toast and also some foie gras. With the turkey we served a green salad with pomegranate seeds, some thin carrots with a honey-butter glaze, string beans quickly baked in the oven with parmesan and a mustard flavoured fresh pea dish. Our dessert was a success too. We had home made saffron ice cream with white wine, saffron & cardamon poached pears ( that I cooked the day before and had soaked in the fridge overnight) and thin & crispy almond cookies.
The dollhouse was an incredible success. I will take pictures of it for the blog but my brother wants to finish of a few little structural details first ( he has gone skiing so that will not happen in the next few days). It looks incredible though and I must admit it was so much fun filling it up the night before. Going through all my old treasures. I sent pictures to my childhood bestie and we went down the memory lane remembering how we used to play with it and which were our favourite furniture.
Have a good day!
Lattemamma