For Cotton Candy´s 7th birthday for her friends we decided on a pyjama party theme. First things first, I booked the cleaning lady to come the morning after. Kids don´t really mind if your house is not spick and spam but if you decide to serve popcorn with sprinkles and have confetti on the tables you´ll wish there was someone helping you out the next day, especially if you have the grandparents coming for birthday cake. Well that was all besides the point but a fairly good party planning hint to make your life feel a little easier.
So to the actual party… We wanted to serve breakfast foods, such you would serve after a great sleepover, so we had different cereals with milk and almond milk, stacks of pancakes with the choice of maple syrup, butter, cinnamon sugar or whipped cream and jam. We had fresh fruit & berries and we had non dairy smoothies too. And we had hot chocolate with mini marshmallows. The girls had laundry sack jump-racing and then they got some popcorn  for watching Willie Wonka & the chocolate factory- movie ( as one would when on a sleepover). The dress code was pj´s and we asked everyone to bring their sleepy toy too. I had originally planned that they would have decorated pillow cases but as I could not find decently prized ones sold separately anywhere fairly close to my house ( I don´t have a car!) I decided against it in the end. So we made bookmarks for bedtime stories as the craft. Everyone got a small scented bath & shower gel as a party favour. It was a fun party!
( I need to apologise for the awful pictures. It was a really gloomy day…)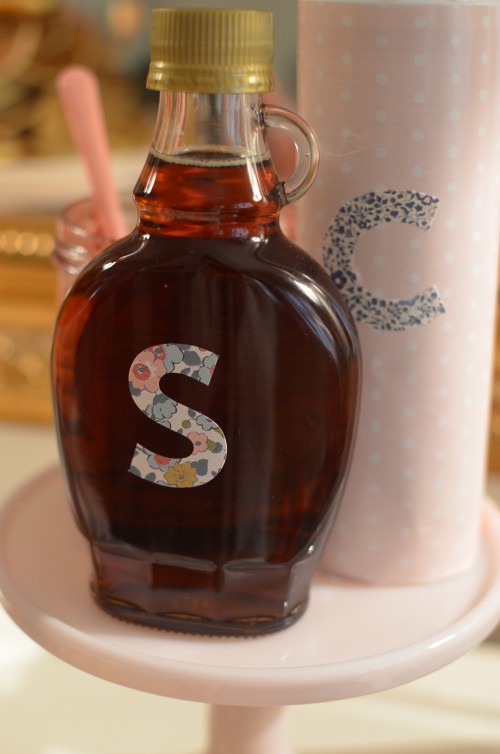 I used some Liberty print stickers for decorating some bottles like the whipped cream & the maple syrup.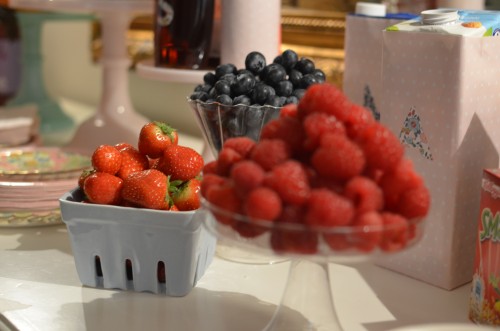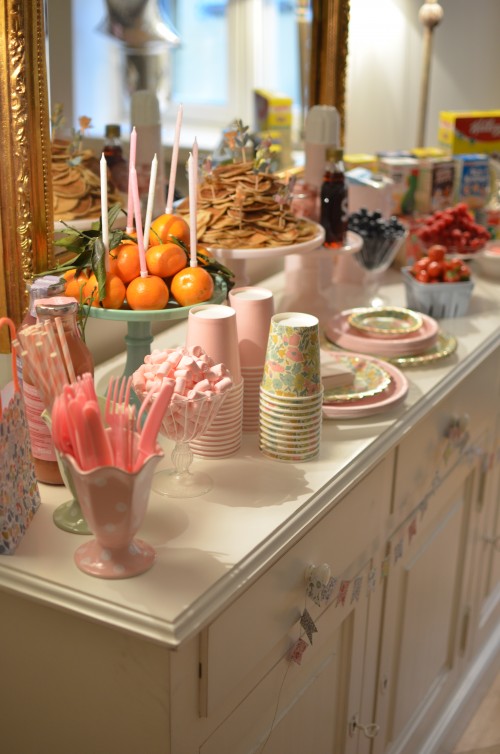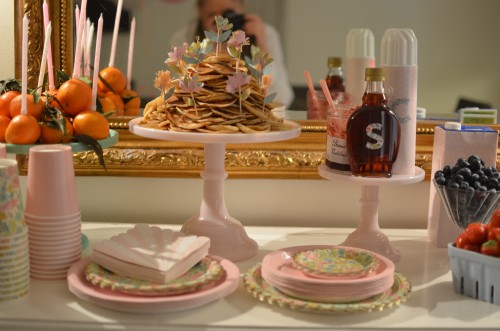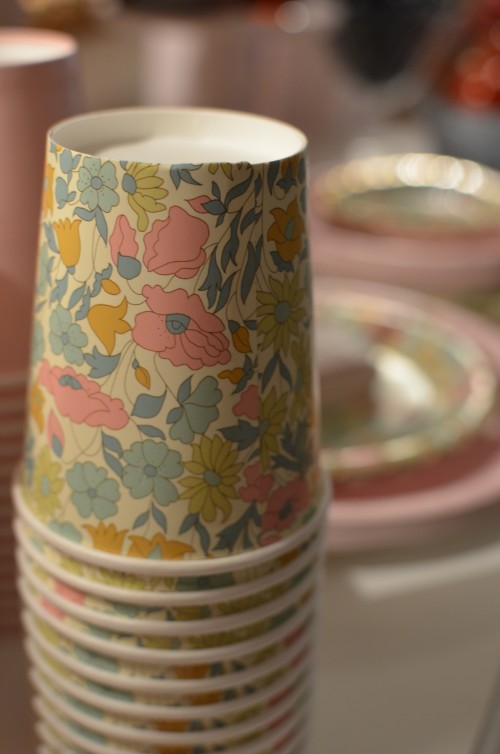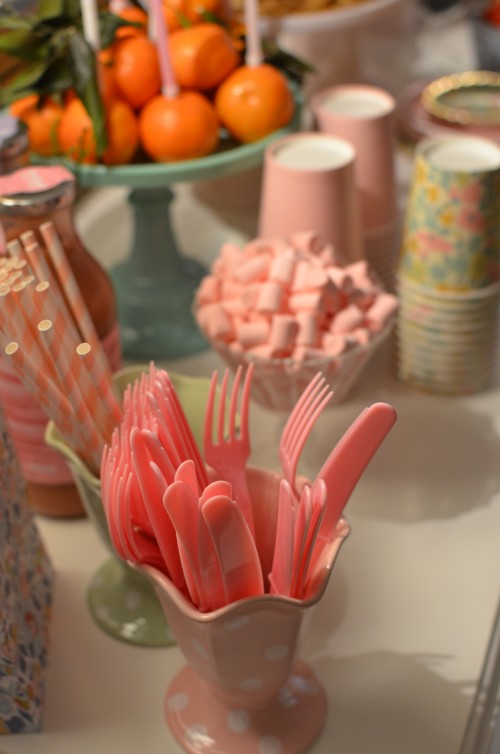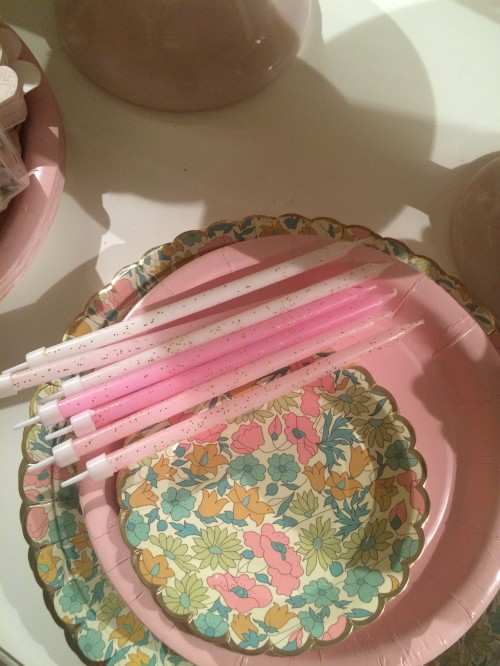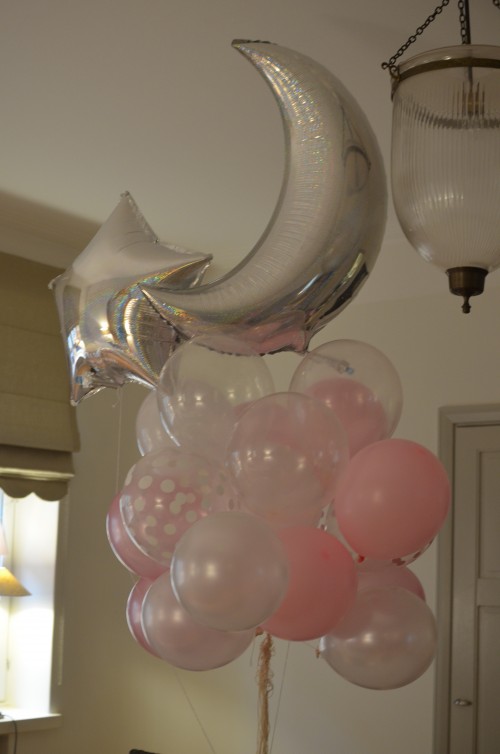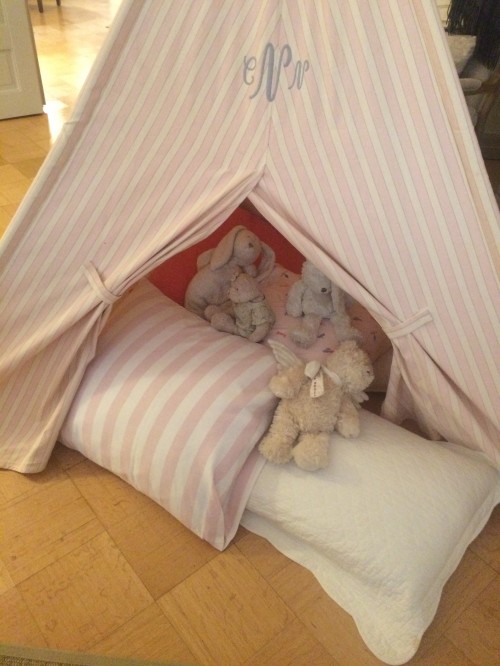 Tältä näytti Hattaran seitsenvuotis kaverisynttäreillä jo viime vuoden puolella. Teemana oli pyjamabileet. Tarjoilimme aamupalaruokia kuten pannareita, smoothieita, muroja, hedelmiä, marjoja ja kaakaota. Juhliin kuului myös pussihyppelyä pyykkipusseilla ja tytöt katsoivat Willie Wonka & the chocolate factory leffan syöden samalla poppareita ja vähän nameja.
Tytöt askartelivat itselleen kirjanmerkit ja saivat juhlista mukaansa pienet herkuilta tuoksuvat suihkugeelit. Juhlat olivat oikein hauskat!
Lattemamma