Smoothie bowlin
by Sofia - in Random
I must admit I have not been so intrigued by the smoothie bowl thing. I´m not saying I´m opposed to it in any way, but have not been too ecstatic about it either even though they do look pretty online. But I wanted to make one to try to feed for my girlies who usually love smoothies and I thought that this would be a handy way to add a new dimension to the breakfast routine. This one is a super simple bowl but you can find plenty of interesting sounding smoothie bowls on Pinterest for instance.
Purple bowl ( makes 2-3 portions)
2 bananas ( one can be frozen)
2 beets ( peeled, raw or cooked & cooled)
2 dl of frozen blueberries
 a dash of water or mylk ( coconut, oat or almond for instance)
Put it all in a blender and then transfer your thick smoothie to a bowl and add toppings. I added toasted coconut flakes, gluten free granola and some blueberries on this. Feel free to add nut butters, dates and what not to your smoothie bowl. This is just a simple one to get those purple foods in to those little bellies.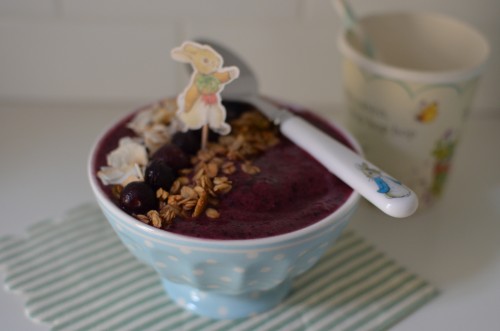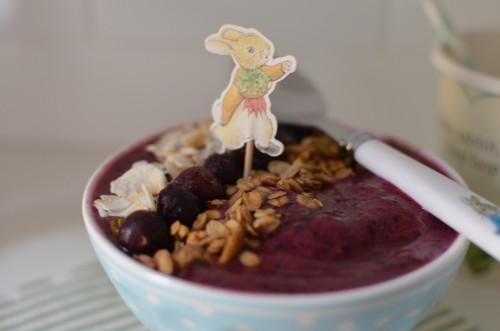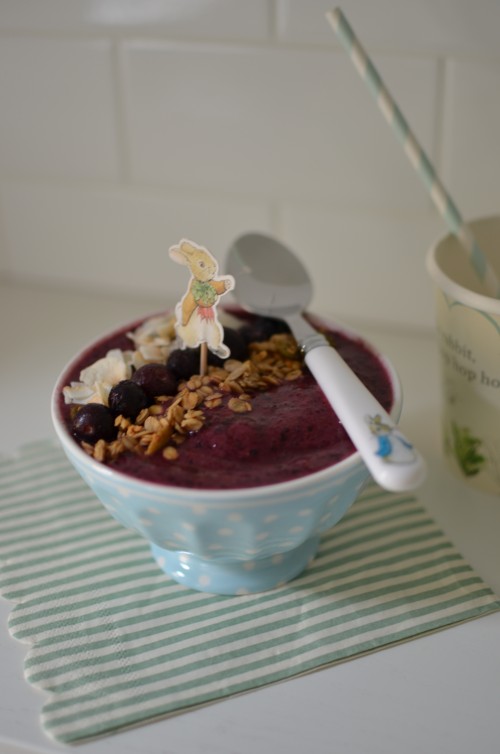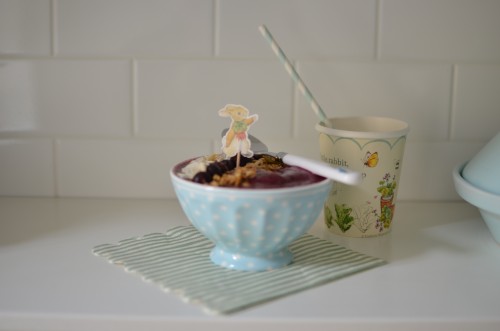 Purple foods are apparently going to be the next health food trend in 2017 according to Whole Foods. Purple foods tend to be nutrient dense in antioxidants, they are anti-inflammatory and help detox the body. Now my question is… Does red wine count as a purple food?
Have a great weekend!
Hyvää viikonloppua!
Lattemamma
The cute Peter Rabbit acessories ( napkins, paper cup, pick & straw) are from Ombrellino.