I have a wish list for my girls. It´s very dreamy and I know you will bring a few of the things on it and some will just remain pretty dreams…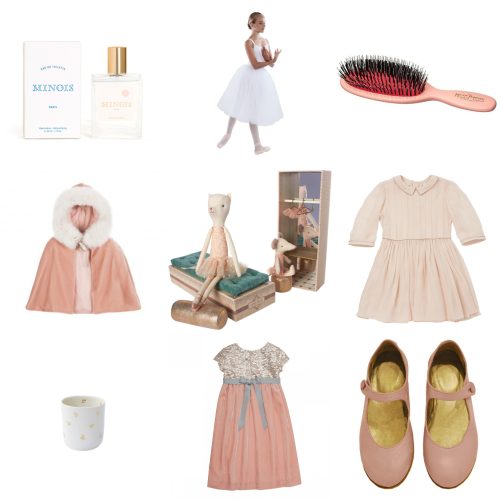 The brand new fragrance from Minois Paris would be lovely spritzed on curled hair when getting dressed for a festive event.
One little ballerina is getting a new ballet leotard and tights from Repetto but this long tulle dress would be dreamy with the rest.
We would love a new hairbrush and nothing would beat the Rolls Royce of brushes, the Maison Pearson in pink. The brand is available in Helsinki in Prologue.
This velvet cape. So unnecessary in Finland but oh so so dreamy.
The little Maileg ballet studio with a cat & a mouse will be in one of our parcels this Christmas. We got ours from Nona K.
This silk dress from Marie Chantal would be very elegant yet understated for school festivities and other holiday parties too.
These Alix D. Reynes x Bonpoint porcelain cups will look so cute on our breakfast table for those cinnamon sugar dusted babyccinos but it would also be lovely as a toothbrush holder or for pencils. Or for keeping the important little trinkets like that very special friendship necklace and the bubble gum scented lip balm safe on the nightstand.
This Bonpoint Couture dress is divine. Sequins, velvet & a bow. What more does a girl need.
The perfect shade of blush pink mary janes with a golden insole from Marie Chantal are pretty much the party shoe to have.
So Santa I have been pretty good all year and so have the girls. Oh, and I like my present wrapped in pink silk paper that rustles, pretty boxes and with big bows on top.
See you soon Santa! 
love,
Lattemamma