My girls have been asking for me to do them a cooking school and we finally got the whole thing started the weekend before last. As you may know we have plenty of kids cook books for inspiration, but obviously it does not have to be a kids recipe. We found this one in one of our latest acquisitions the American Girl cookbook by Williams & Sonoma. It turned out so delicious!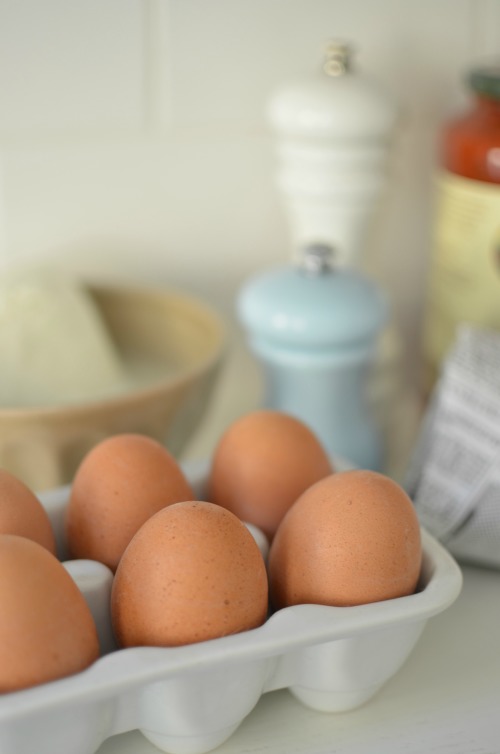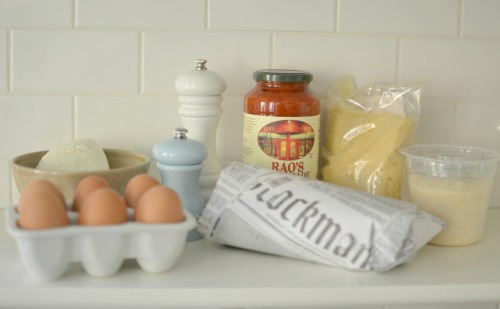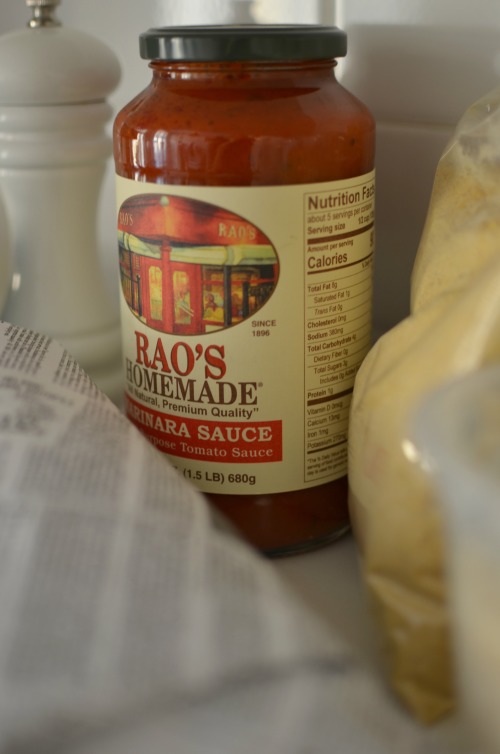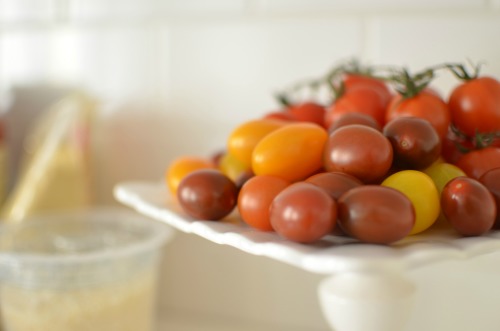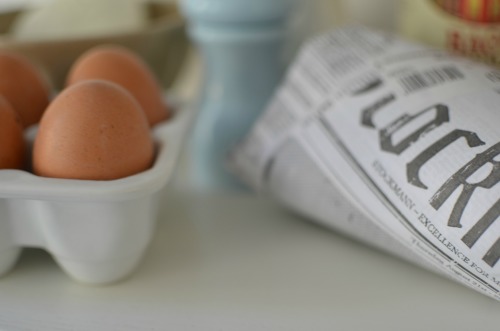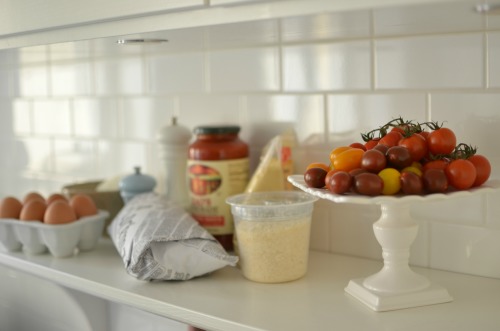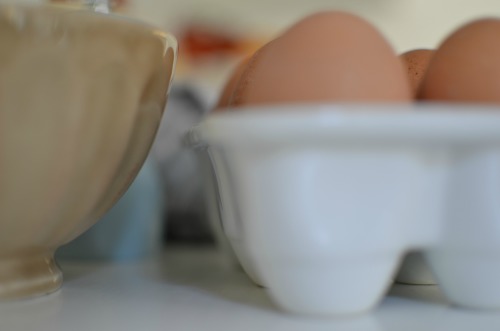 Chicken Parmesan
Olive oil for greasing
6 small boneless, skinless chicken breast halves
Salt to taste
1 cup all-purpose flour
3 large eggs, beaten
1 1⁄2 cups plain dried bread crumbs
1⁄2 cup grated Parmesan cheese
1 pound fresh mozzarella cheese, cut into thin slices ( we used 2 whole buffala ones)
3 cups homemade or store-bought marinara sauce ( We used Rao´s, it´s our favourite)
Pour olive oil onto a rimmed baking sheet and use a pastry brush to coat the entire surface. Place 1 chicken breast half inside a zip-close freezer bag and pound with a meat pounder until it is 1⁄2-inch thick. Transfer to a large plate, and repeat with remaining chicken breast halves. Season chicken breasts on both sides with salt.
Preheat the oven to 400F. Put flour, eggs and bread crumbs in three separate shallow bowls or baking dishes. Line up the bowls in that order from left to right. Stir the Parmesan into the bread crumbs. One at a time, coat chicken breasts on both sides with flour and tap off the excess. Dip flour-coated chicken into eggs, turn to coat, and allow the excess to drip off. Finally, dip breasts into bread crumbs and turn to coat both sides, pressing so that the bread crumbs stick. Place on the prepared baking sheet in a single layer.
Bake 15 minutes. Remove the baking sheet from the oven. Using a wide metal spatula, carefully turn chicken breasts. Continue to bake until golden on both sides, about 15 minutes longer. Remove the baking sheet from the oven and set aside. Leave the oven on.

Lightly grease a 9-by-13-inch baking dish with olive oil. Pour in 2 cups marinara sauce and spread it into an even layer. Use a spatula to arrange warm chicken breasts in the baking dish, overlapping them slightly, and pour the remaining 1 cup marinara sauce evenly over the top, then lay the mozzarella slices on top. Bake until cheese is melted and sauce is bubbling, about 20 minutes. Remove the baking dish from the oven. Let cool 10 minutes and serve.

For a vegetarian dish you can use Eggplants instead of chicken. We served the chicken parm with buttered spaghetti. This was so so good!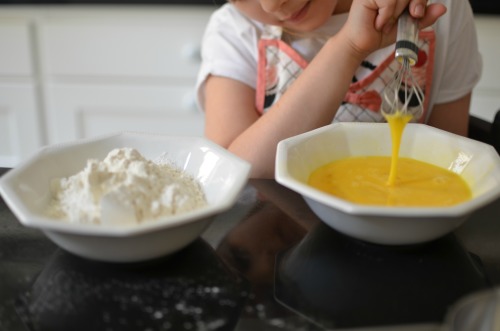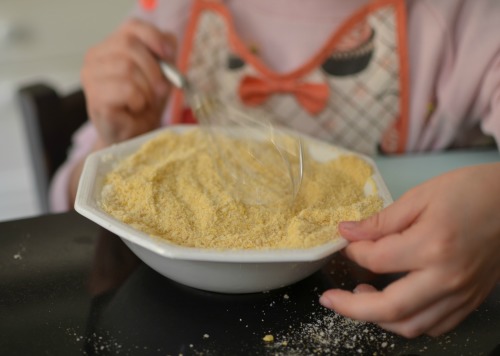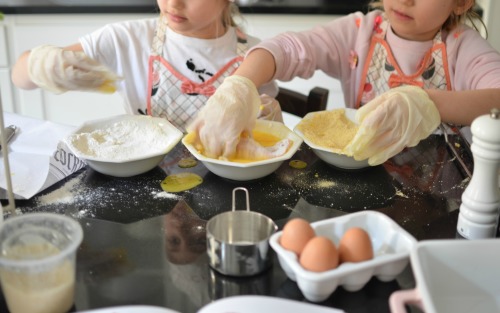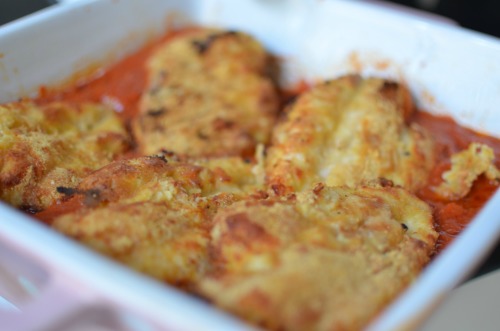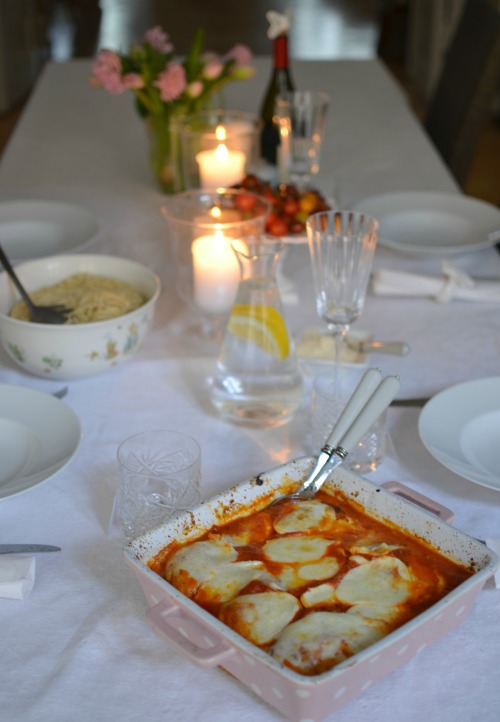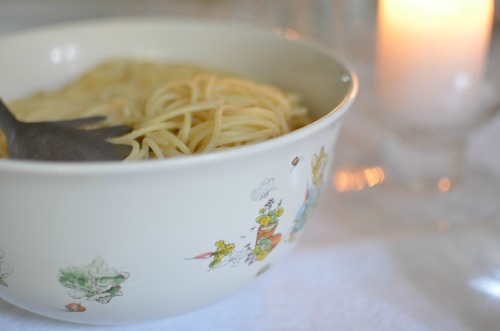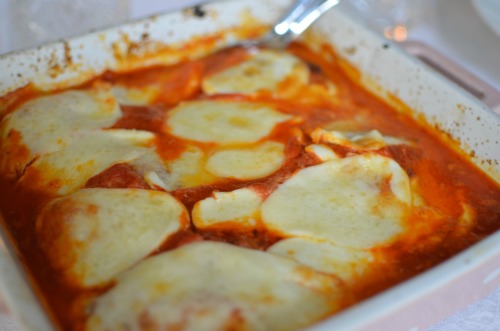 It takes a little time but boy it is delicious. And very rich. Not something we would eat weekly but definitely something we will make again!
Have a yummy day,
Lattemamma