In between
by Sofia - in Random
 I hope you had a wonderful Christmas and still get to take a few days off and relax.  We had a lovely Christmas spent with family & a few friends who are like family. I shared a lot of it on Instagram and have saved the stories under Noel. The children´s holidays continue another week and a half so lot´s of cuddling time awaits. Lots of books. Lots of outside play. And the girls have promised to do a bit of house moving themselves on this holiday. They pack up their dollhouse. All the tiny things must be wrapped in silk paper and stored in shoeboxes for the move. Maybe before we redecorate it in the new home we can fix the lighting to the rest of the rooms we have had waiting for a few years now.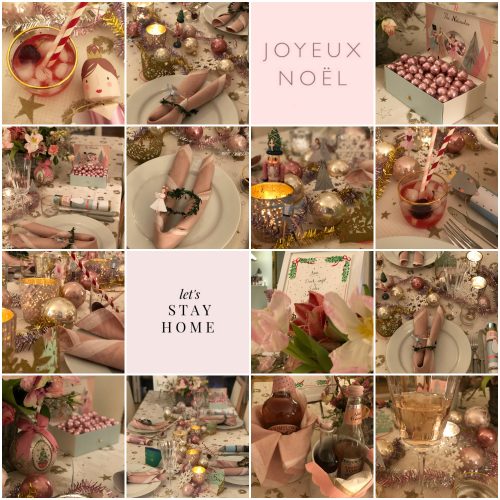 A few pictures of our Christmas dinner. We spent it with just our family of four after having a big family dinner at my parents on Christmas eve and then followed by a large brunch on Boxing Day. Our new tradition from last year is to keep a day in between for all to relax and after we took candles to the graveyard that night we put on our nice new Christmas pj´s and had dinner in very relaxed outfits. Pyjamas and champagne sort of an evening. I set the table more to the girls taste, it was magical and whimsical and fantasy like. As I said here it would be, Christmas truly was very pink and over the top. Next year I´m pretty sure I will aim for elegant and classy.
Olihan joulusi ihanan tunnelmallinen ja rentouttava? Itse ainakin olen saanut nauttia lempihetkistäni täysillä, lahjojen paketoinnista, aamukahveista takkatulen ääressä, kuusen koristelusta, ihanista iltaisista glögihetkistä lasten joulukirjojen äärellä, joulupurosta ja jolupullan tuoksusta, lumiukko elokuvista ja tietenkin perheestä ja lähimmistä ystävistä. Miten ihanaa aikaa joulu aina on. Saa suunnitella kattausta ja tarjottavia, leipoa ja koristella pipareita, miettiä sopivat lahjat jokaiselle. Koti hohtaa puhtaana ja siistinä ja kenelläkään ei ole kiire mihinkään. Vielä muutaman päivän nautimme kodistamme juhlahunnussaan. Uuden vuoden jälkeen alkaakin sitten hieman erilainen joulun pois pakkaaminen. Sen lisäksi nimittäin pakataan laatikoihin koko meidän ihana ihana kotimme ja muutamme hetkeksi vuokralle. Onneksi sitten ennen ensi kesää ja toivottavasti jo ennen ensi kevättä meillä on ihan uusi koti johon pääsen purkamaan tavaroita varastolta. Joulun pakkaan toki takaisin silkkipapereihin, laatikoihinsa ja suoraan uuden kodin vintille odottamaan ensi vuotta. Sieltä se sitten taas löytyy ja etsii uuden paikkansa uudessa kodissa. Sitä ennen nautimme kuitenkin vielä näsitä rennoista välipäivistä ja koulun lomasta. Toppaamme vielä viimeiset piparit maitoon tai aamukahviin ja sytytämme iltaisin tai vaikka päivällä takkaan tulen koska klapeja on vielä jäljellä, eikä niitä kannata tietenkään muuttaa. Onneksi uudessa kodissa on myös toimiva takka meitä odottamassa.
Ihanan leppoisia välipäiviä,
Lattemamma