Everything is covered in beautiful beautiful snow here in Helsinki. It just makes things look brighter and I love how the snow mutes all the sounds outside. The city is a little quieter and a little lighter. 
I have spent my days sorting and packing and trying to keep my eye on the big prize that awaits in the end. Although, but not surprisingly, the renovation finishing date has been moved up a month. Renovating a house from scratch is quite a project even if you don´t do the actual work yourself. And trying to renovate an old apartment to fit the era it was built in requires quite a lot of sourcing and studying. Luckily we have had plenty of help from my brother. But I feel like I mostly flip through the web sites of so called building pharmacies for remakes of late 1800´s knobs, light switches, cornice moldings, lamps and little accessories like toilet paper holders and bigger ones like bath tubs. I feel like whatsapping my friends about exciting things about the new house, or to decide between a round or an oval knob that look very very similar, all the time and then stop myself. Does this really interest them so much. Seriously. It is where my mind is right now but who really cares which pretty porcelain light switch or socket I found for the place?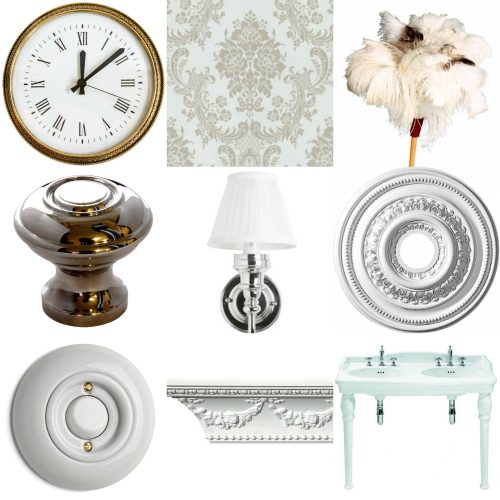 So this weekend I will concentrate on my girls and my friends. Listen t0 what they have going on in their lives and forget about the new house for a while. It is quite literally building itself even if I am not there physically or in my thoughts. So coffee with a friend to start the weekend before picking the kids up, a baby shower for another friend on Saturday and then galette de rois with some other friends onSunday. And the snow begs for some sledding. Oh and somewhere in between I will pack the girls room in boxes. It is my most daunting task so far but also maybe my favourite too. They have all the cute stuff. 
Have a lovely lovely snow covered weekend,
Lattemamma
p.s. Some of the things in the picture are actually coming to the new house but not all. It´s just for inspiration…