So many things are making me happy now. Although I´m going to be honest I´m not very thrilled at not being able to work at the moment because of the shoulder and it does complicate some even mundane tasks but I do not want you to think I am a whiner! I know it could be something serious or something that could not be fixed. At least I have a lot of light shining bright at the end of the tunnel. So enough of that. The good part is my girls are very happy to have mommy home all day. I have more time to read ( I´m just reading Paul Kalanithi´s " When breath becomes air", so well written and touching). I can have coffee with friends in the middle of the day. I can ask my husband to wash my hair ( can´t do it myself at the moment). I can be in pyjamas until noon if I like, at least on some days. Anyhow, it´s not that bad if you count out all the things I can´t do and the pain. Soon I will be as good as new I´m told.
But the happy thoughts. Being able to be present. The light! Who else is ecstatic about the light? The thought of summer house opening season too. We are planning a terrace renovation but if I can be honest with you, as much as I dream of a bigger, better & new terrace I think I could do with a summer of no renovations. Maybe next year! Anyhow I am so happy to know that the opening can be counted down soon. Also as excited ( obviously!!!)  about the other count down. Every day the new place takes leaps now towards moving day. Although I know there are still some pretty major steps to take, like tiling the wet spaces and building a kitchen, I am more than thrilled to see the crown moulding and such in it´s place. It makes a huge difference. But for now I stick to decorating it in my dreams, making lists of what still needs to be done, ordering fabrics and having chairs covered in them and curtains made of them. ( Spoiler alert, I´m only having one curtain made, we will use two old ones and see what we want for the rest of the house once we are settled in). I´m also excited to see the lighting, wallpapers and knobs and door handles arriving. It feels so much more tangible now. So a definite happy thought, all of it. 
Here are some more happy thoughts for you. The " cute for kids" kind…
I have been lusting over this Liberty print collar made by Nona K. So I just had to buy it for Bubble Gum who loves collars and collared shirts. It can be worn in two ways, either the bow in the front or as a ruffled collar with the bow as fastening in the back. Gorgeous either way. The beautiful pink cashmere dress is from Youngest Fashion and you have seen it here before, it´s old, but as good as new even after a lot of use.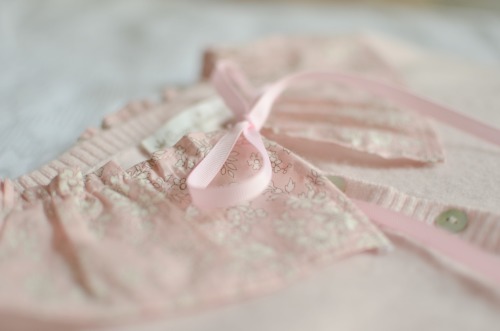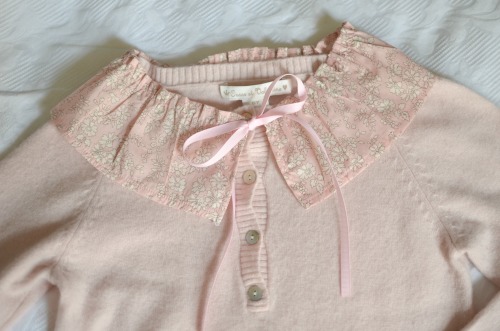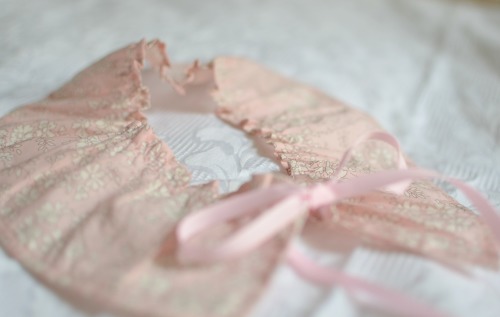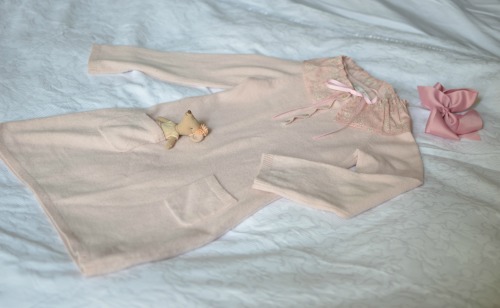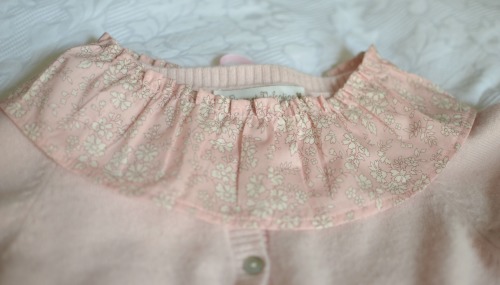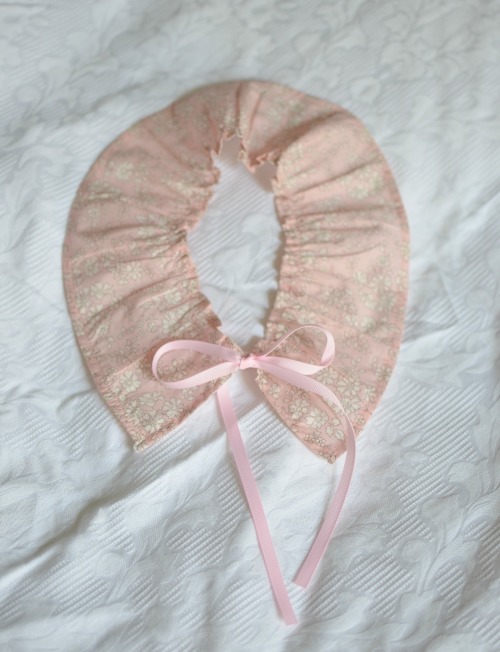 We got some more cute bows from Petite Olivia ( that are now for sale also in Nona K by the way!). I love these antique pink ones so much but we have some other really good ones too that you can see on my Instagram ( cute things on saved stories). My girls wear bows almost daily. They even love these really big ones for school and I think they look mighty cute on them.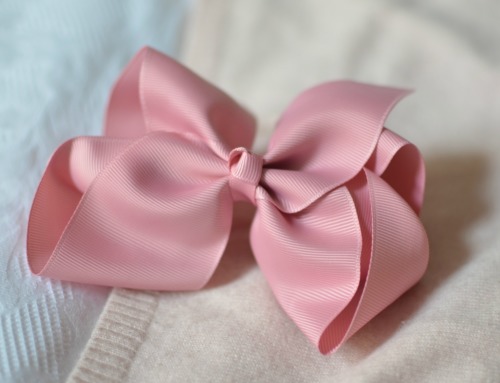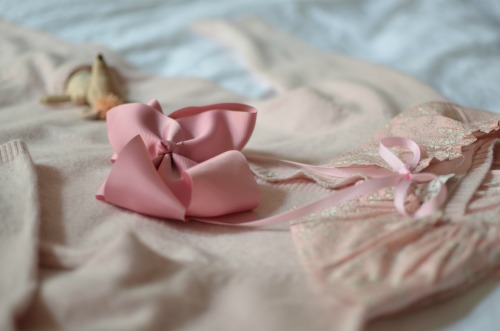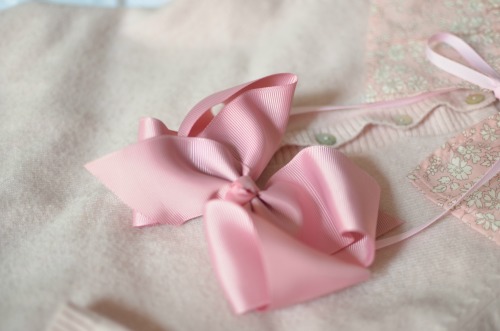 Our new little friend here is called Olivia. She is from Tingeling. We even bought a ballet outfit for this bathing beauty from there. My kids don´t seem to be getting at all tired of the cute Maileg things and truth be told neither am I. Everyone has them and they are all over yet I just seem to still love them.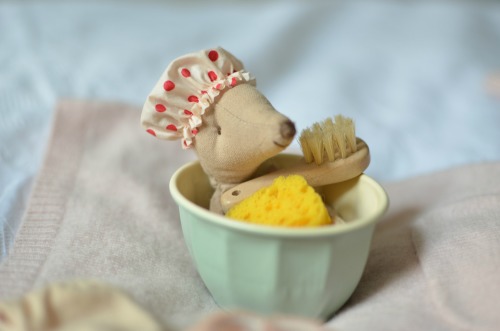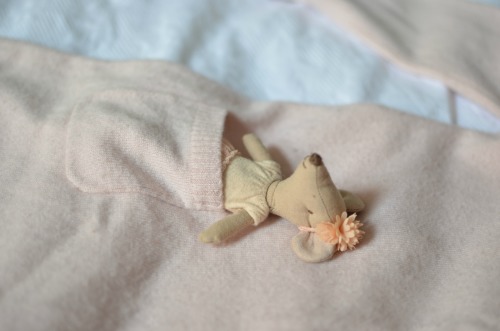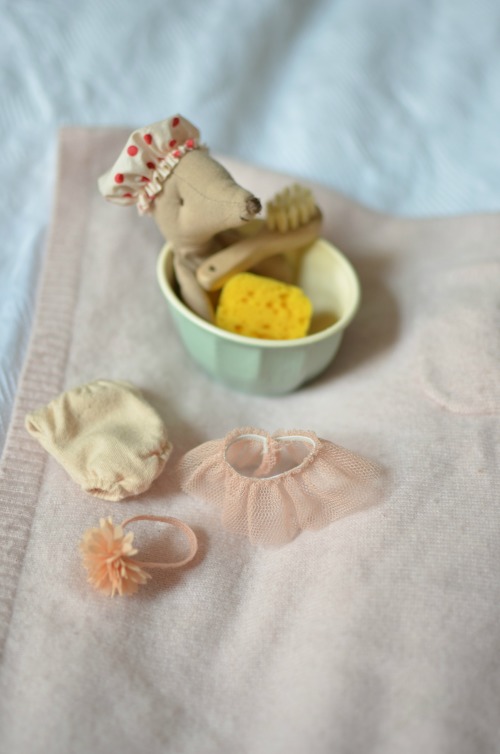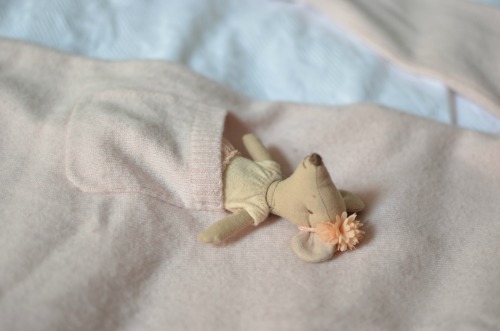 I hope your life is filled with happy thought and even if there is something not really going according to your plans I hope you too can find some small good things in life. Like that first sip of coffee in the morning or that last kiss goodnight. Or the rays of sunlight beaming through your window and the fresh bubbles in your sparkling water. 
Have a lovely lovely day!
Lattemamma
p.s. The bow was a gift from Petite Olivia.