… on our kitchen floor were a thing that bothered me so much in the old apartment. So when we were planning our future kitchen ( which is larger than my first apartment ( which does not say much as it was teeny) and one of the biggest rooms in the house) I said I wanted to really put aside a proper space for recycling. At least in Finland in larger buildings law requires to have a sorting station for different kinds of trash and as we know none of us can close their eyes from this anymore and ignore basic recycling. It is made so easy for us to at least try to do our little part it would be stupidity not to. Anyhow I told my husband that if and as there is space in the new house for having a place for the sorted trash then it is one of the most important things for me when planing the kitchen. In our old place we had space for the bio, glass, metal & mixed trash under the sink but all the rest was recycled in paper bags ( on the floor) and no matter how pretty the bags are ( I always saved nice ones from Dean & Deluca, Williams & Sonoma etc.) it was annoying me to no end. Cartons, cardboard, batteries, light bulbs, bottles, plastic, paper etc. Even if you take the trash out all the time it still needs to be put somewhere for a while. So I am super excited to have a "sorting station" in the new kitchen. Under the sink will go at least bio, plastic, metal & mixed trash and then I will have a whole double doored cupboard for the rest of the sorting. I´m very much looking forward to seeing how it will all work out in the end. But at least now ( I hope) there will not be paper bags on the kitchen floor.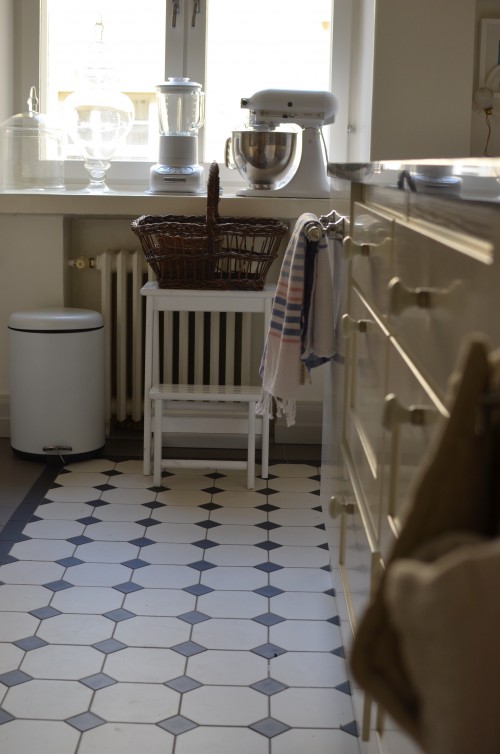 I always seem to have cleared out the recycling bags from the pictures from the old apartment.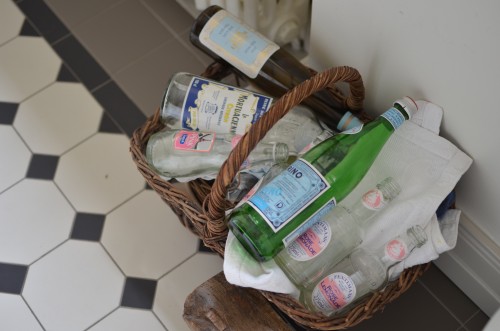 How or where do you do your trash sorting? Whenever I visit a friend I never see these bags anywhere! Was I the only one struggling with this problem? And this may be a silly question for you but now that I think most of us do our grocery sopping in baskets or reusable shopping bags what do you use for your mixed garbage for instance? Shopping with as little plastic as possible and then buying a roll of plastic bags for trash seems idiotic. 
Have a great day!
Lattemamma
p.s. I bought a few of these for fruit & veg shopping. Love them! When I get my things unpacked I know I have a few Bonpoint garment bags like that saved somewhere ( you know how they pack everything in these small cotton bags) so I will use them for my shopping in the future too. They are so lightweight and cute. And we are trying these out at the moment and I really like them! The only thing is if you hate the scent of beeswax candles these are not for you. They have a strong natural scent even after multiple uses & washes. I happen to love the scent and it does not smell in your fridge or get on the food, it´s just on the product itself.