Two things that make me happy but do not completely throw me off the tracks if not applied in life are above in the headline. I know we have had this " conversation" before but it is one of my favourite subjects really, organisation and household "chores". I had my old high school besties over last weekend. We went to see Checkhovs The Seagull in the National Theater and afterwards cooked dinner together and my friends stayed over for an adult slumber party. The best! Two of them visited our new home for the first time and although they did like it a lot and did tell me so the thing they seemed to be most impressed by was my cleaning caddy ( insert a wink smilie and a laughing smilie here to know I am not 100% serious). After I finished cooking our chicken I took the caddy out from under the sink, sprayed the countertops and wiped them clean. No big deal. But the caddy seemed to be such a great idea that I thought I´d share.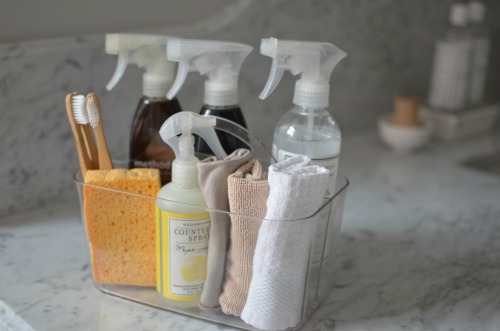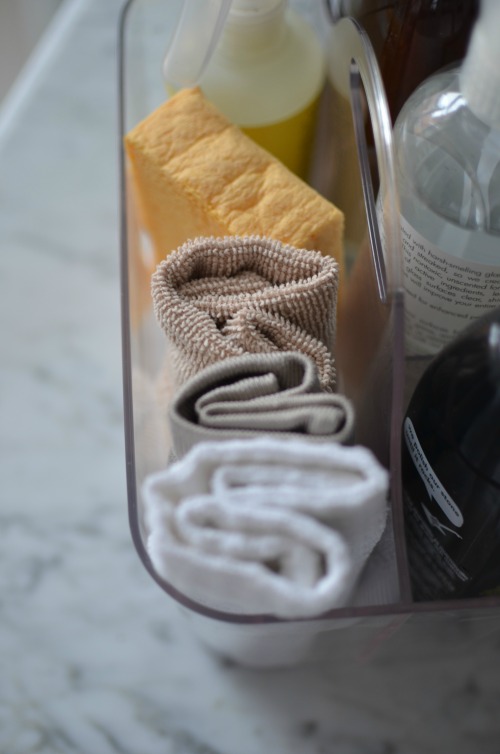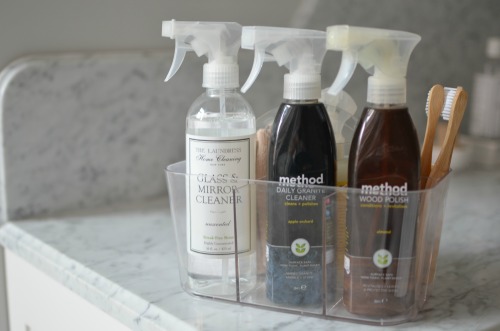 A cleaning caddy could be filled with the items that you find you use most around the house on daily bases or quite often. The kind you use for spills or smudges. I have a cleaning spray for the marble tops, one for wooden surfaces and one for glass and I have a general spray too. A few different rags, a sponge and little brushes. We keep most of our cleaning supplies in the cleaning closet but the caddy is under the smaller kitchen sink.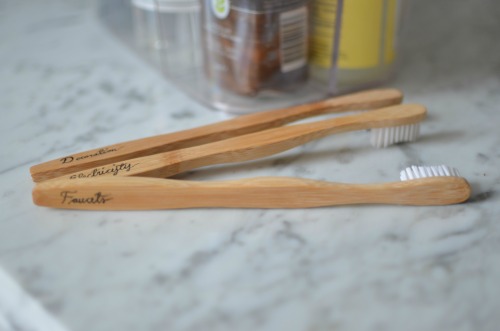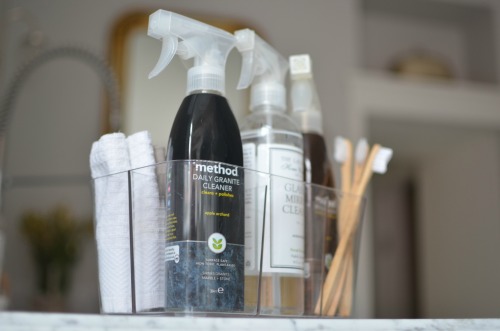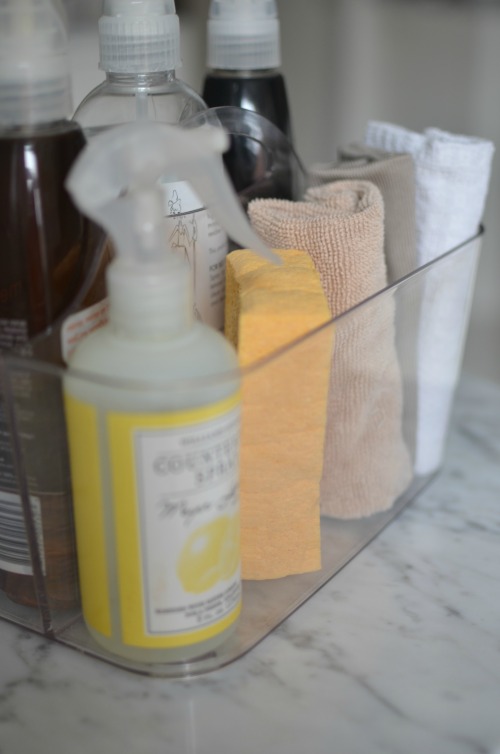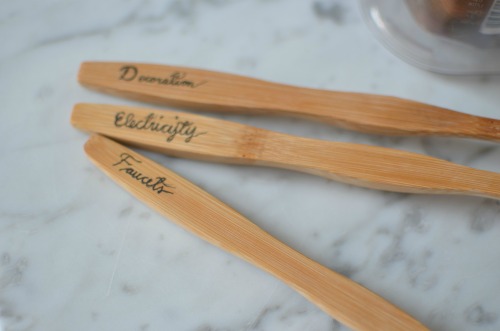 The idea for these came from the Beautifully Organised book that I recommended to you at the beginning of the year. One is used around the base of the faucets, one for electric sockets etc. and one for the nooks and crannies of decorative items.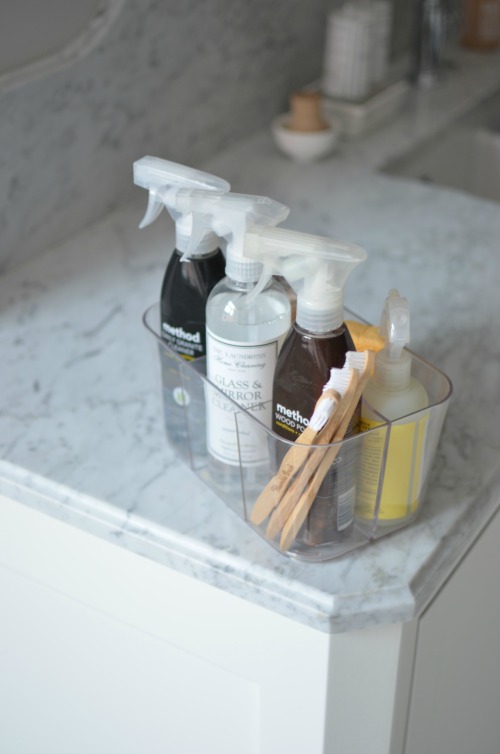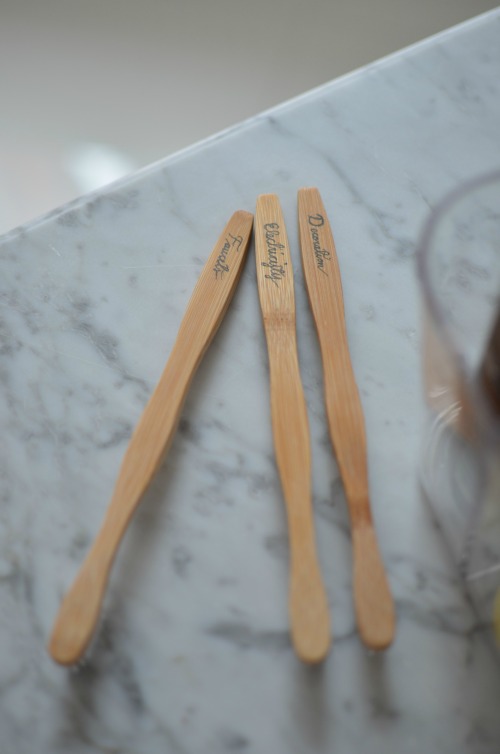 Our house is, in our opinion, a warm and cozy place where kids and adults alike can freely live and play and be. But we do like our things in their places ( I don´t mean the "decorations", they move around weekly) and we do like a clean and orderly home. It´s just the way we are. But it definitely does not mean we don´t relax and enjoy our home or walk around scared something might break. Life is life and it happens. Things break or get dirty. Obviously in a newly renovated home you always tend to be a bit more careful at first as it all looks so nice and perfect but isn´t it like a new pair of shoes or a new handbag? After a while you just forget how nice it was and while you sill take good care of it, you feel it was always meant to be a bit worn. Maybe it is even a little better for it. A lot of people were worried about choosing marble as a countertop material for the kitchen and bathrooms but I have said to everyone that I always loved the worn out old marble floors of hallways in Paris or the café countertops in Italian Espresso bars. I think they need that bit of a lived in look in the end. Of course we use coasters for red wine or sour drinks and don´t cut our lemons on the marble but a little worn is not necessarily bad in my opinion. Even though I like clean I also love antiques and things that are not just so. I guess it adds character. 
Anyhow we have a place for everything as it helps in keeping up the tidiness. As anyone would say I do have a lot of things ( you can't call me the cousin of Marie Kondo) but the things we have we do love and use. Even the cleaning closet & laundry space has things it it´s places. So does the cleaning caddy that is such a useful thing to have. You just carry it to where ever you may need it and it most likely has everything you need. 
Lattemamma
p.s. If you are wondering why the brushes have their purposes in English I must admit I can´t take all the credit for the cleanliness of the house as I am very fortunate to have a professional cleaner coming every week and she does not speak Finnish. We just maintain. Although I´ve noticed that she never uses "my" mini cleaning brushes. She has her own things she likes to do and use.