Lasagne is one of those recipes like bolognese, everyone has their way of making it. It may be your parents recipe or even your grandparents recipe. I love my dad´s bolognese so much and luckily my husbands tastes very similar and now shares the number one spot with my daddy´s. My lasagna recipe is from a cookbook called Gant in the Kitchen. It is one of my favourite cookbooks. Very randomly so, as it is from the interior & clothing company. It has so many classic recipes and some a bit more contemporary ones and they are all so good. One of our favourites is the vegetarian gruyere lasagna. I have made both the veggie version and then I have made a more classic one with minced beef. I have used gruyere but also substituted the cheese for a bit mellower ones like emmenthal & cheddar. And we turn it in to an " alpine" lasagne on our ski trips by using the gruyere and then even adding raclette cheese on top. It has a very strong scent but it is the best thing after a day on the slopes! I have made the tomato sauce from scratch with the juice & tinned tomatoes and I have used store bought marinara that I have seasoned with the herbs in the recipe. It always turns out so delicious. When I serve it with meat I just substitute the mushrooms for minced beef and still keep the aubergine & the carrot in the recipe. They just make a difference. It is a bit more work than your average lasagne but well worth it! Enjoy! I´m sharing it as it is in the book but feel free to use my fast track tricks and substitutions!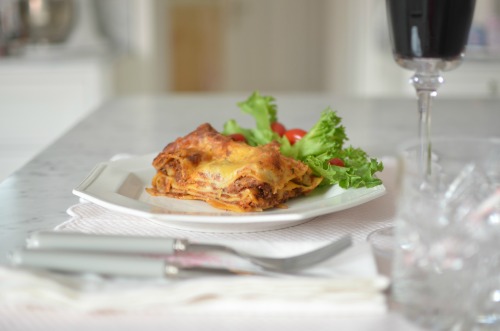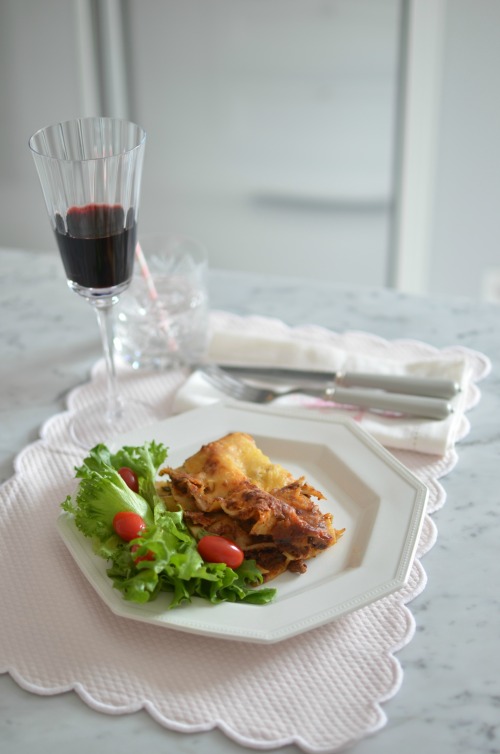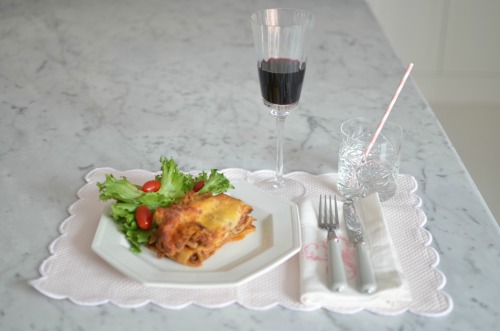 Vegetarian gourmet lasagne
serves 4-6
12 pieces oven ready lasagne
1 dl grated gruyère cheese
vegetable sauce:
1 yellow onion
1 carrot
1 eggplant
400g mixed, fresh mushrooms
6 garlic cloves
vegetable oil
600g crushed tomatoes
4 dl tomato juice
1 sprig rosemary
2 bay leaves
3 sprigs thyme
1 1/2 tbls honey
cheese sauce:
6 dl milk
2 dl cream
50g butter
1 dl flour
2 dl grated gruyère cheese
salt & freshly ground pepper
1. Vegetable sauce: Peel the onion, carrot & garlic. Finely chop each vegetable separately in a food processor. Rinse the eggplant and remove the ends. Finely chop together with the mushrooms in the food processor. Sauté the onion & garlic in oil until translucent. Remove to a large saucepan. Sauté the carrot & eggplant separately in oil and transfer to the same pan. Add the crushed tomatoes, tomato juice, herbs & honey. Simmer for 15-20 minutes until the sauce is thick and the flavours combine.
2. Cheese sauce: Bring the milk & cream to boil in a pan and remove from heat. ;let the butter in another large saucepan and remove from heat. Add the flour and stir until thick and smooth. Return to stove and stir in the milk mixture, a little at the time whilst whisking. Bring to boil and cook for at least 5 minutes. Add the grated cheese & season.
3. Preheat the oven to 175°c and grease an oven proof dish with oil. Layer the cheese sauce, vegetables and lasagne. Top with sauce & grated cheese. Bake in the oven for 30-35 minutes or until the lasagne is soft.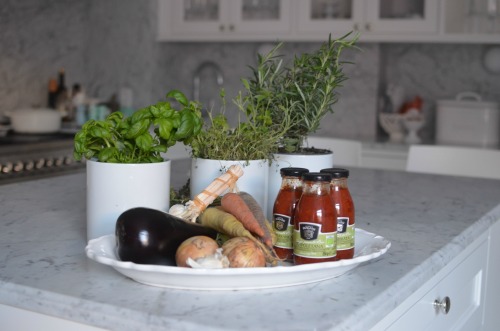 I tried this new brand of tomato sauce. You can find both these organic ones and regular ones from at least Herkku Food Market and some K- markets. I also saw these in Eataly in New York which is always a good sign as they tend to carry specialty brands. These were gifted to me from a friend who imports them ( not a blog collab but I thought still to mention). The arrabiatta is nicely spicy ( I would not use it for the lasagne) but the mediterranean and the naepolitana suits this one very well.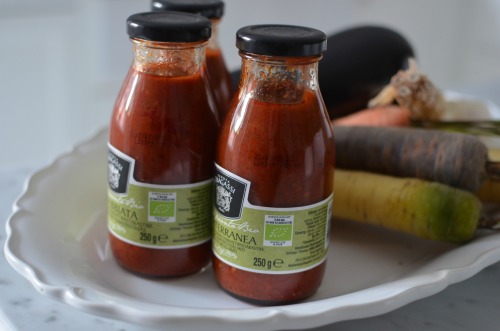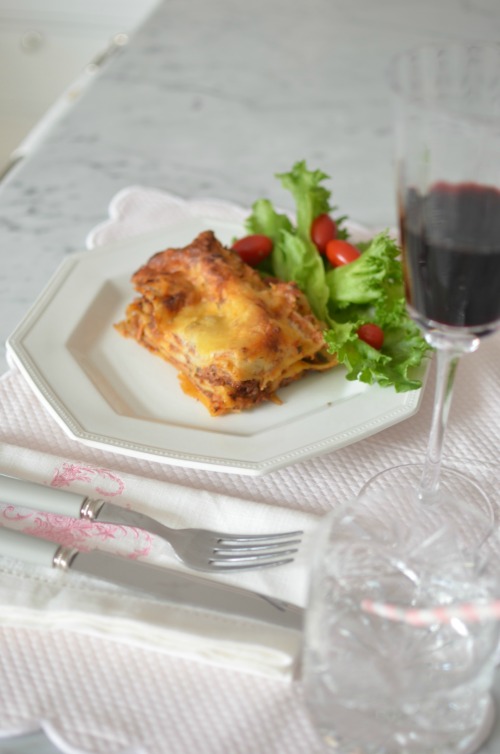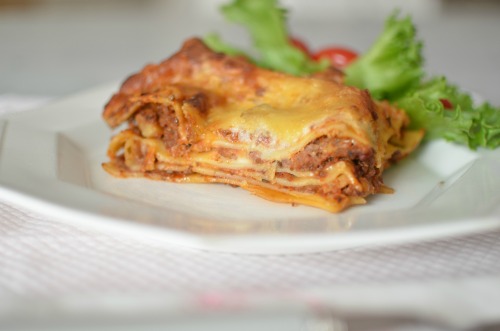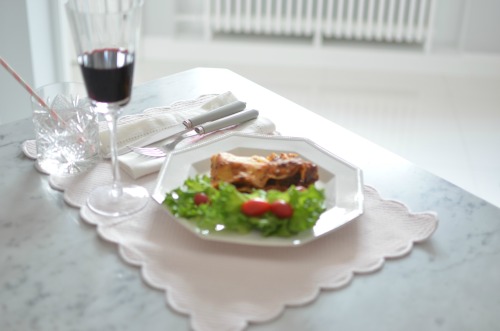 I hope you enjoy this recipe! 
Mukavaa päivää!
Lattemamma