Tänään sitten päästään ihanaan vauvakuplaan lahjavinkkien osalta. Yhdellekään vauvalle en tänä jouluna pääse ostoksia tekemään joten saan vain haaveilla näistä ihanuuksista.
I think when we buy gifts for babies we either buy them thinking of ourselves ( as parents) or thinking of their future rather than the likes of the baby as they are not at liberty to express their specific tastes so much. Obviously we know their likes and dislikes to some degree. But when it comes to presents we can sort of pamper ourselves too when it comes to our babies. Buy them cute outfits we love to see them in or things for the nursery we enjoy. Or perhaps lifelong keepsakes we know older children may not appreciate at a certain point in their lives when they actually open their own presents.
So my wish list for a bébé I don´t have in my life but still love to imaginary shop for.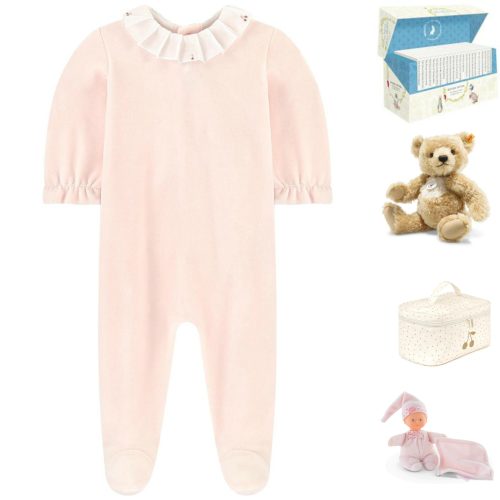 I love a cute onesie that is comfortable enough to nap in my looks great even when visiting someone.
You can never go wrong with a classic book or even a book set. Beatrix Potter is a kids favourite year after year as who would not love these adorable talking animals.
The classic Steiff teddy was already on my other post but it would be a great gift for a special child in your life. The collectible mohair hair teddies are pricy but last from generation to generation and they feel different in your arms, more real somehow. I would know as I worked in a toy shop during my teenage years and I was in charge of the so called " teddy room" and we actually had a whole room filled with amazing collectable plush toys. These are sold in Tingeling. 
A beauty bag is a necessity in everyone´s life and you can keep this one on a shelf as it´s so cute. 
Last but not least a baby´s first doll is always a great idea. Corolle is a classic in my life and this one is from birth onwards so perfect for the newborn in your life as most dolls are actually recommended from 18 months onwards for some reason.
I hope you are finding my gifts guides somehow useful!
Toivottavasti näistä lahjavinkeistä on jollekin ollut iloakin. Toki niitä on ihana itsekin kasailla ja leikkishoppailla. Tosin välillä löydän omille lapsille etsimisen lomassa kaikkea ihanaa jota sitten yritän olla ostelematta.
Lattemamma