Tänään saattekin tuplana näitä lahjaideoita koska unohdin julkaista sen poikien ideajutun keskiviikkona. Tässä siis oma suosikki kategoriani, pikku tytöt. Nyt näitä koostaessani olen kasannut ne hyvin minä- lähtöisesti. Ymmärrän hyvin, että kaikki tytöt eivät rakasta nukkeja ja prinsessajuttuja ja kaikki pojat eivät leiki autoilla. Nämä ovat vaan yleisiä ideoita ja mielestäni pojille voi aivan yhtä hyvin hankkia nukkeja ja tytöille autoja tai ihan miten vain lapsi itse tykkää. Ostetaan lahjat siis saajan mukaan eikä kategorian mukaan!
Oh you guys my favourite category! Seriously I love shopping for little girls more than anything. I wish mine stayed small forever but unfortunately one is already a pre-teen and the other is growing alarmingly fast too. Can I just stick them in the freezer? Just kidding!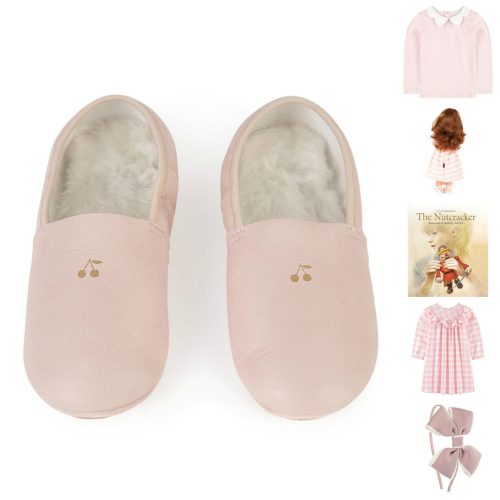 So the slippers are the cutest thing I have seen in a while and I would have immediately jumped at the chance to buy them but they are only left in a size 27 at Melijoe. They are available in other sizes at Bonpoint but not big enough for my girls. If you are so lucky then these are on sale on both sites. They are such a childhood flash back for me, I had something very similar so perhaps it´s part of the charm. But come on they are just delicious and so cozy!
This Jacadi shirt is jersey with a pretty collar in cotton is fit for any princess who likes to dress up a bit. It´s a staple in our wardrobe and they are great quality. So comfy you can wear it do daycare with your leggings or little pants and look adorable yet it´s like wearing any t-shirt. 
A doll is most little girls dream and mine like(d) theirs with long hair to brush and braid. The Götz Sophie is such a pretty classic doll. Available here.
I love a book with pretty illustrations and what is better for Christmas than The Nutcracker. 
This nightgown is the cutest one out there at the moment. I can just see a little girl at having breakfast in one with those little slippers on. Nightgowns and pj´s have a funny way of becoming sentimental for us. My girls have used some my mom saved from my childhood I still remember loving so dearly and mine have kept a few they can´t part with in their box of treasures for possible future generations. 
My girls loved this headband they received as a gift from Youngest Fashion. It´s such a pretty colour and I love that it has a white edge. It adds freshness. You know my thing about head wear and about bows. They add that little something extra to an everyday outfit. It´s like an instant uplift for your leggings & sweatshirt in pr-k outfit. Looks like mommy made an effort and I know many girly girls love their head pieces. 
I wish you a great weekend! 
Ihanaa viikonloppua!
Lattemamma