Kohta olemmekin jo joulussa. Eilen koristelimme nukkekodin havuköynnöksin & kranssein ja laitoimme heille kuusen, paketit ja piparitalon sun muut jouluherkut esille. Nukkekodin sähköistykselle kävi jotain muutossa ja se yksinkertaisesti aina unohtuu korjata. Sen oikeastaan muistaa vasta näin talvella kun nukketaloon kaipaisi ylimääräistä valoa iltaisin. Mutta tunnelmallinen siitä tuli siltikin. Leivoimme myös Lucia pullia, tämä resepti on erinomainen. Sunnuntaina myös pienet torikauppiaalta tilaamani puksikranssit pääsivät roikkumaan olohuoneen verhotangoista. Vähitellen joulu asettuu taloon.
Olen kuullut monelta, että joulumieltä ja koristeluita on kaivannut erityisesti tänä vuonna ja toiset taas ovat todenneet, että joulumielen löytyminen on ollut vähän hakusessa. Molemmat ihan yhtä ymmärrettäviä! Itse huomaan, etten ole ihan yhtä innokkaasti kaipaillut mm. kuusen koristelua kuin vuosi sitten jolloin halusin ehdottomasti laittaa sen jo kuun ensimmäisenä päivänä. Mutta kyllä täällä silti kynttilät palavat iltaisin, sain vaihdettua syksyisemmän tammenterhokranssini kimaltavaan jouluiseen johon lisäsin vielä punaisen samettinauhankin jotta se sointuu kauniimmin naapurin tonttu-ja käpyasetelmaan joka ihastuttaa meitä samalla tasanteella. Instagramissa olenkin jakanut pieniä kurkkauksia meidän pieniin jouluisempiin hetkiimme ja tallentanutkin niitä uudelleen katsottavaksi.
Tänään yksi idea hauskaan ja ainakin varmasti lapsille mieluisaan kattaus- tai pakkausideaan. Nämä Darcy Millerin talot voi koristella itselleen mieluisiksi ja lapset voivat vaikka värittää ne tai josko näiden printtaaminen onnistuisi akvarellipaperille niin nehän voisi vaikka maalatakin. Itse en ehkä laittaisi näitä jouluaaton kattaukseen, mutta näistä saisi kivat "paikkakortit" vaikkapa joulu aamiaiselle tai jollekin muulle joulunajan aterialle. Lapset ilahtuisivat varmasti jos pöytää koristaisi myös punavalkoiset karamellikepit tai jotain muuta vastaavaa. Itse teetin meille vaaleansini- valkoruutuisen arkipöytäliinan joka sopii itseasiassa mielestäni hyvin punavalkovihreän rennomman kattauksen kanssa. Siihen nämä mökit sopivat mainiosti siis pienenä lisänä.
These are perhaps not something you would have on your actual Christmas dinner table but perhaps on Christmas morning with the kids or any other more casual occasion. They also fold in to boxes so you can use them to give a gift but I think they make fun place cards with a little led tea light inside for a comforting glow. They are by Darcy Miller Designs and available as a free printable here. And if you want to have your kids involved at the decorating you can always ask them to colour these and if they are bigger, to cut & glue too. If you use them as place cards you can just add a name on the roof either by writing it before assembly or by adding one of the " banners" that is included in the printable. And I cut some of  the windows out with a paper knife before assembly just to let the light shone through.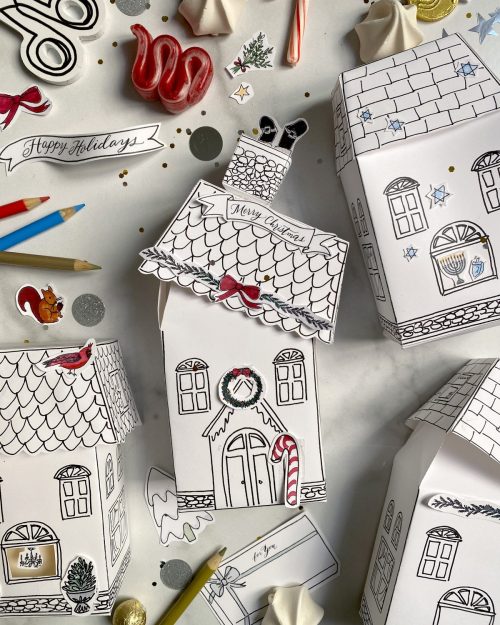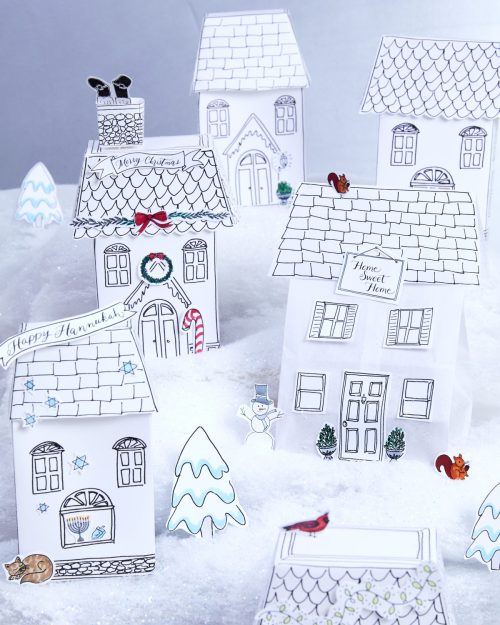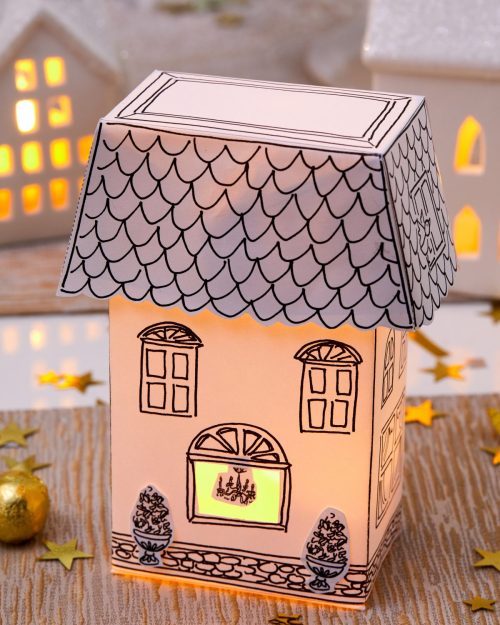 Hope you like them for a little something extra cute. There are so many meals eaten during the holiday season it´s fun to set them apart a little. I have a classic table setting of Astier de Villatte dishes and my Cire Trudon candles planned but our daughters always enjoy something a bit more fun so these can light up a cuter, more casual setting. The best part is they are very inexpensive as it only takes a printed paper and some glue to make these so you don´t feel bad about discarding them in the paper recycling bin after the holidays. We all have enough stuff to hold on to.
Have a lovely start of the week!
Ihanaa alkavaa viikkoa!
Lattemamma