Maternity part one
by Sofia - in Shopping
I thought I would venture outside of my own needs and share some lovely maternity clothes with you. I actually stumbled upon a pretty maternity label on Instagram and it drew me down a rabbit hole. I have been pinning some favourites on Pinterest and I hope I didn´t get some friends too excited about the possible prospect of me doing it for myself.
When I found out I was first pregnant, now 12 years ago quite exactly, the maternity clothes scene felt a lot less abundant and the online shopping game was not as strong either. So much changes in what feels like such a little time. But my philosophy for maternity wear has not changed as much. I would still buy very good basics, just a few classic pieces. And some super comfortable loungewear. I would also get a few pretty tops and a dresses. Then I would focus on accessorising nicely and perhaps finding some pieces that are not maternity but fit a bump and can also be used afterwards like certain types of cardigans or poncho´s. Also shoes are important. Some women like me can wear their old shoes throughout pregnancy, some go up a size. Probably a pair of very comfortable, supportive but good looking sneakers could be on your shopping list if you don´t have a pair. I used heels a lot less and loved ballerina shoes instead. Or choose a shorter and a bit chunkier heel that has more support. Use scarves, jewellery and hair accessories to show off your personal style and bags are obviously a constant.
Here is my extensive list of some pretty maternity clothes that are on the market now. I would pick and choose the key items I feel like I would use the most. I hope some of you will find this post helpful! I have included clothes from different price points. Maybe most of you will find they would rather put the money towards a chunky cashmere cardigan and a pair of Chanel flats that can be used forever and buy the maternity jeans for less. I would. You only wear them for less than a year. But I would probably buy a nice, good quality maternity button down to wear often and a pretty dress that fits nicely and makes me feel like a super maman au lait.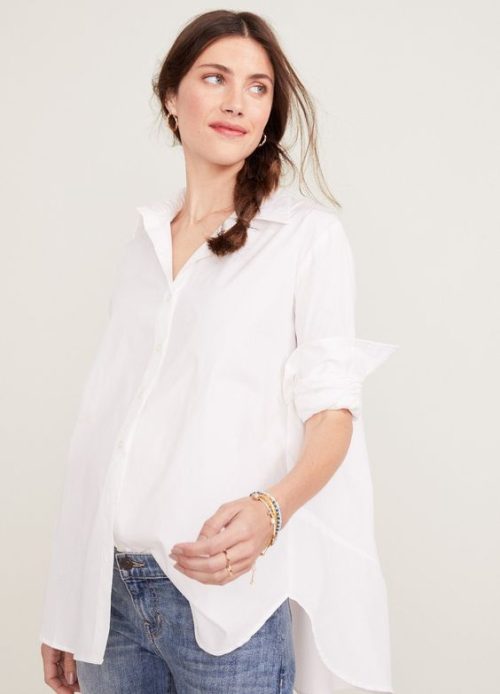 I love to wear a button down shirt. Many normal pieces can be worn with a belly but a button down shirt is not one of them. I would splurge on at least one good shirt like this Hatch model in white and/or in stripes. The light blue one is also gorgeous.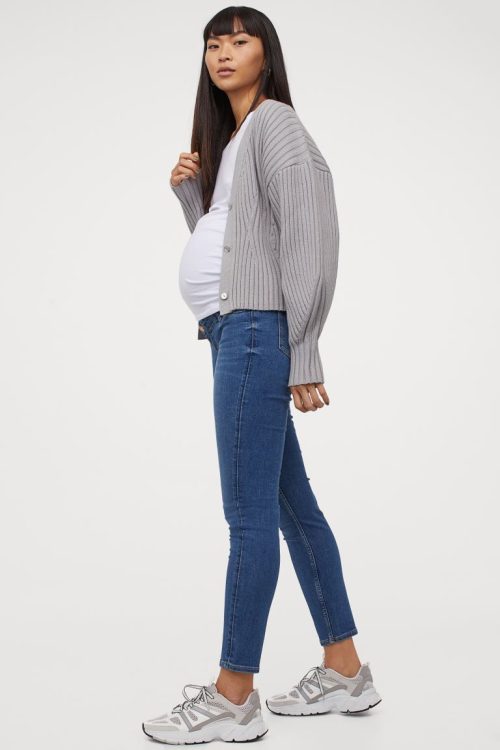 I would pair it with some very classic middle blue jeans.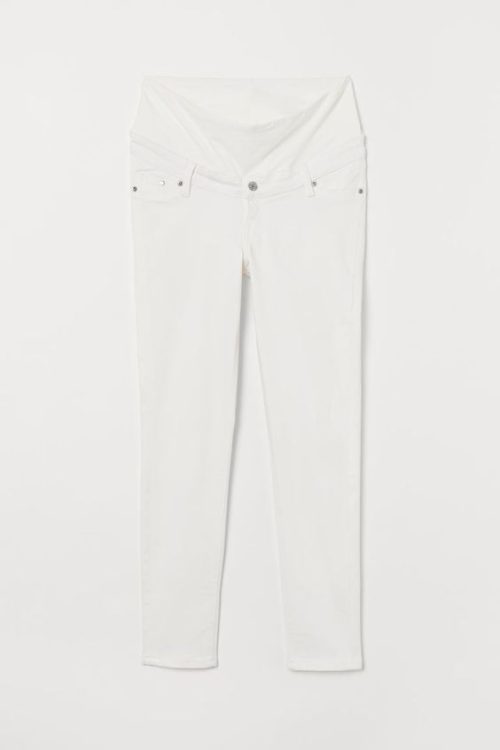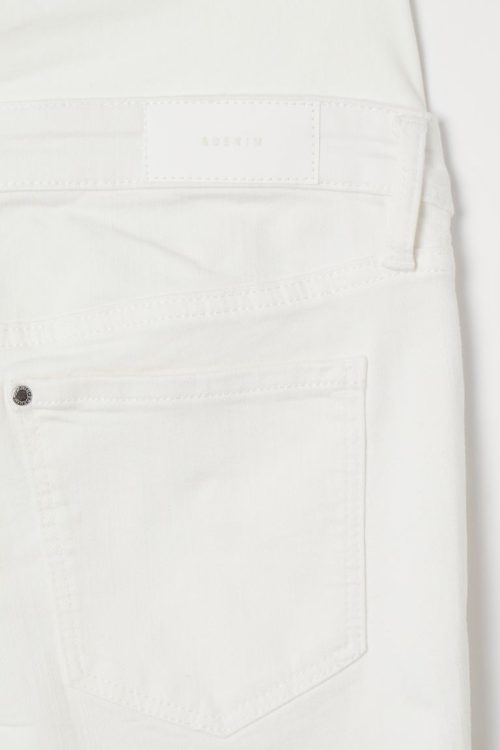 Or some white jeans for Spring and Summer. This whole look would be great with sneakers or loafers and with some bracelets, earrings or whatever it is you like wearing. For colder days also some ankle booties would look great. Or white Converse or Superga for the summer. I think this would definitely be my starting point for a maternity capsule wardrobe.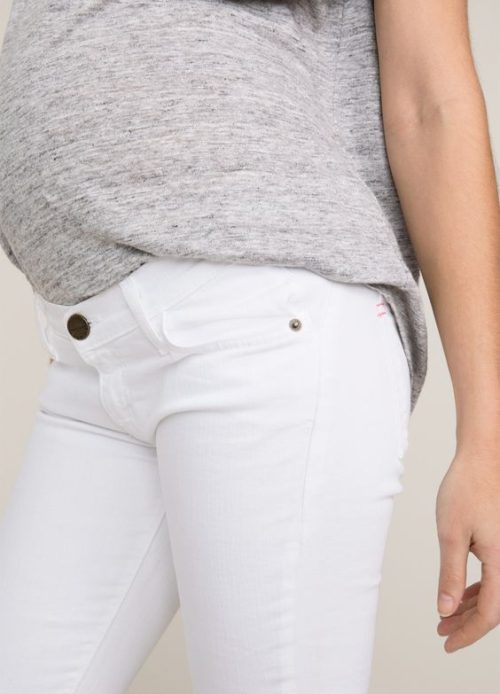 Hatch also does a white maternity jean but for me the under the belly style did not work. It´s a body type thing.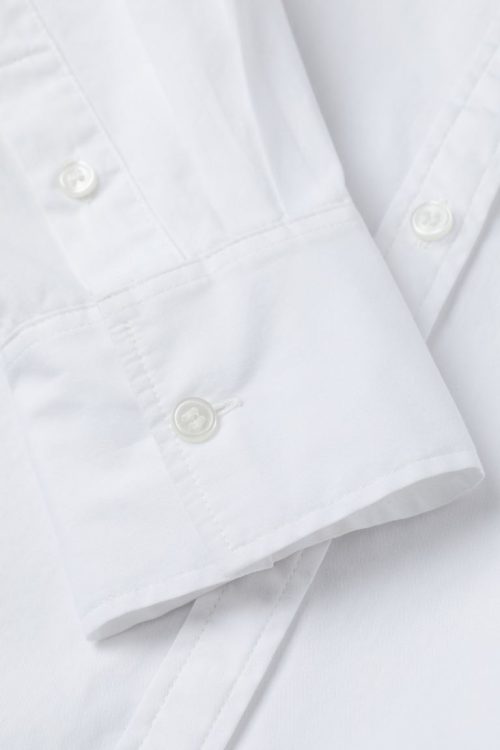 These shirts are a more budget friendly choise for a similar style.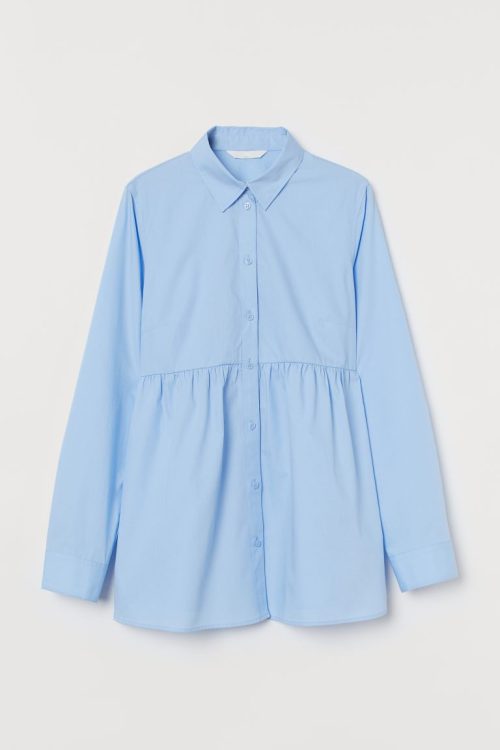 This is a lovely colour and style. It would look lovely also with some other pastels or with bright red accessories.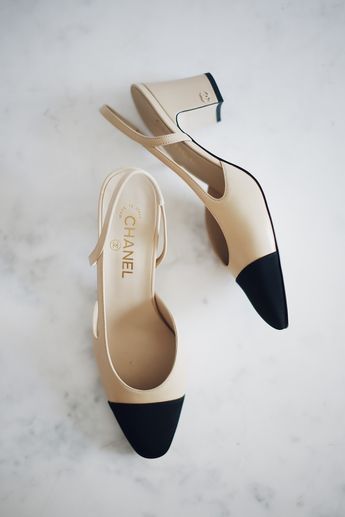 Now this is the dress that drew me down the rabbit whole. If I was pregnant this would definitely be on my shopping list. It also comes as a top but I love the dress. I would pair it with my Chanel slingbacks for a dressier occasion or comfortable ballerina shoes for a lunch on the town. It is definitely a splurge but I find it very versatile and I would use something like this quite a lot. By the way the pictured slingbacks are my favourite shoe and they are so comfortable and look great with almost anything. So if you have been a super high heel girl before then I suggest you look in to these when you become a mother. I´m not saying to never wear slim high heals again, not at all. But these are a great option for not only pregnancy but for carrying a baby, especially carrying toddler and beyond.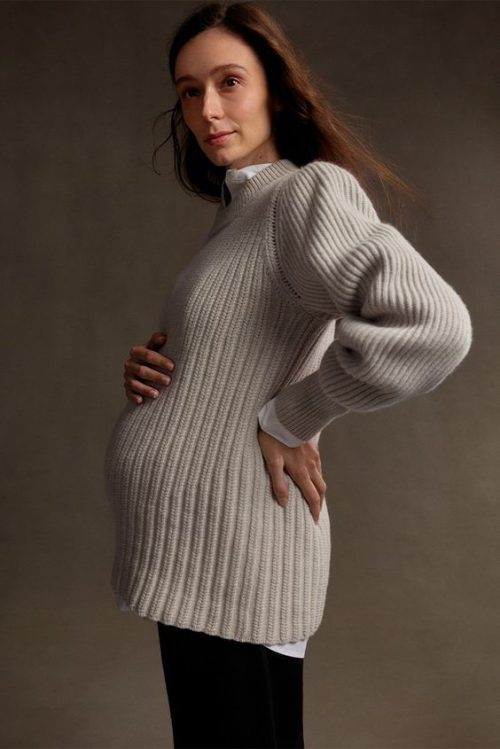 This knit from the same brand also has me swooning. I was heavily pregnant twice in late Fall so this would have been lovely. In all honesty I probably would rather get some knit I could use after pregnancy and not a maternity one as this is also a splurge. But it is so pretty I could not not include it here. Or perhaps this would be great forever.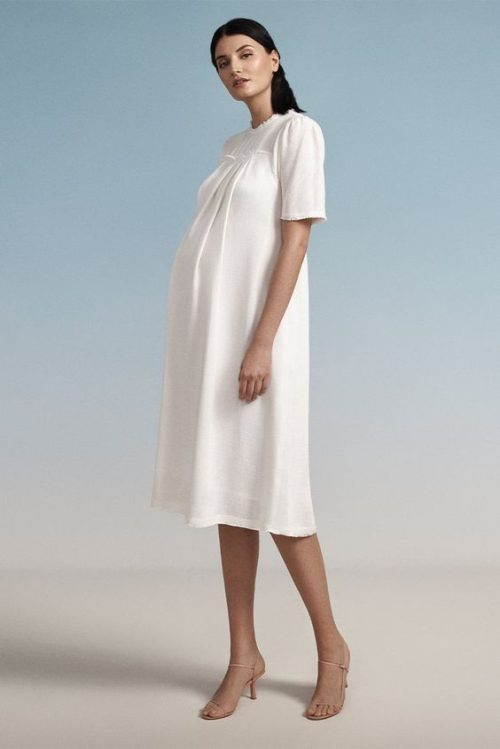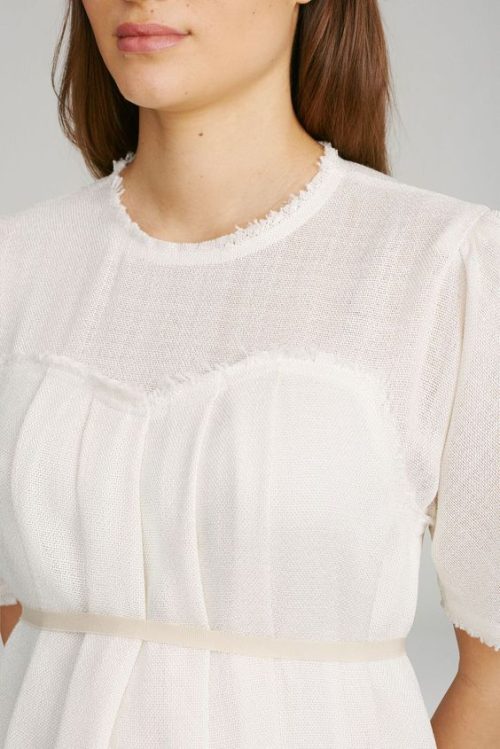 Lastly from Frances Hart this occasion dress. I think this was gorgeous with or without the belt and would be prefect for any occasion ( other than someone else´s wedding) and I think it would still double as a Christening dress for the mama if it happened soon after birth. But can you see this also as a lovely baby shower dress for a fancy shower.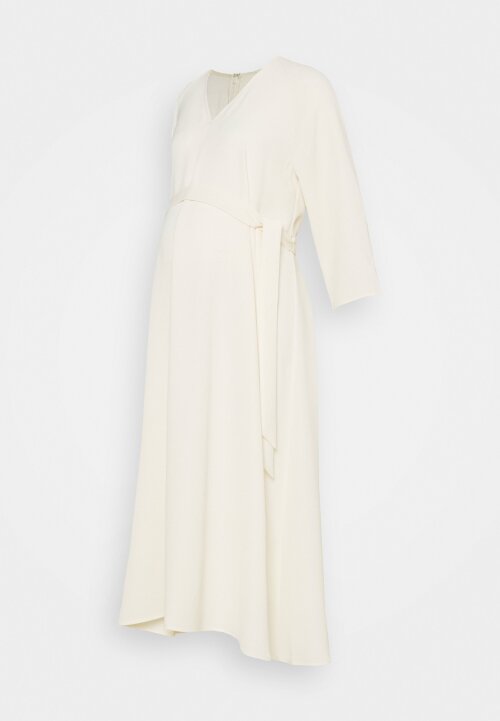 Another creamy white dress choise. The colour is called almond milk.
This type of knit works really well with a bump, wether maternity or not.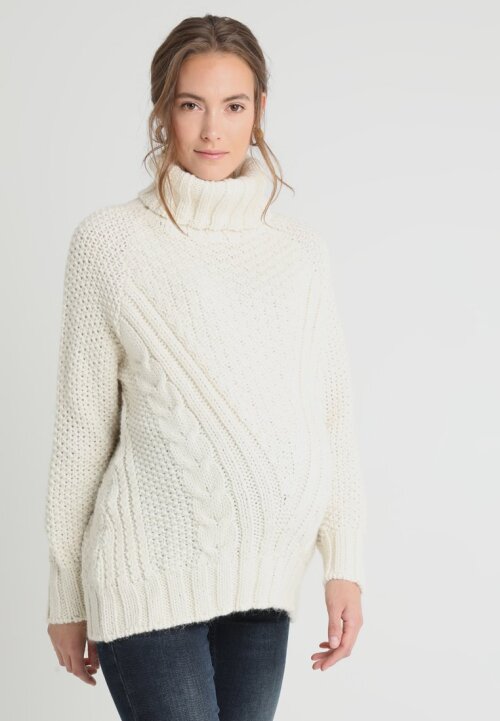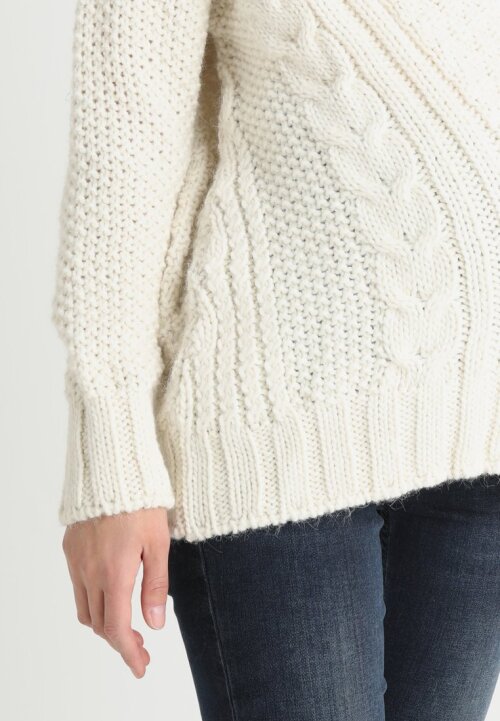 This one is also nice and cozy looking. Not as fancy as the earlier one but a fraction of the price.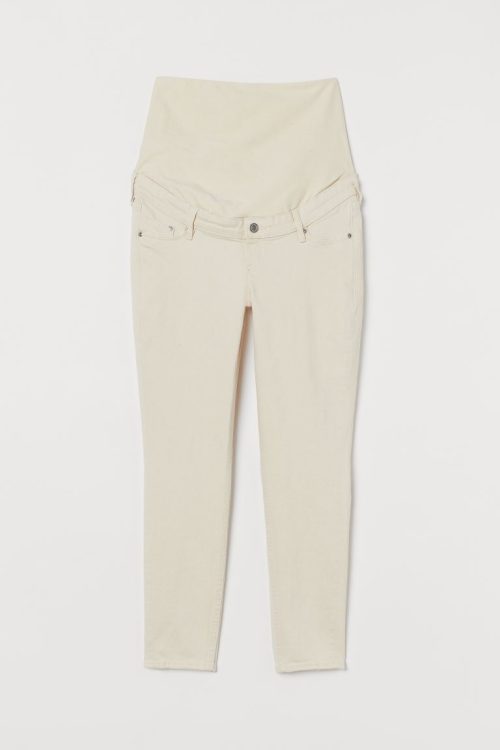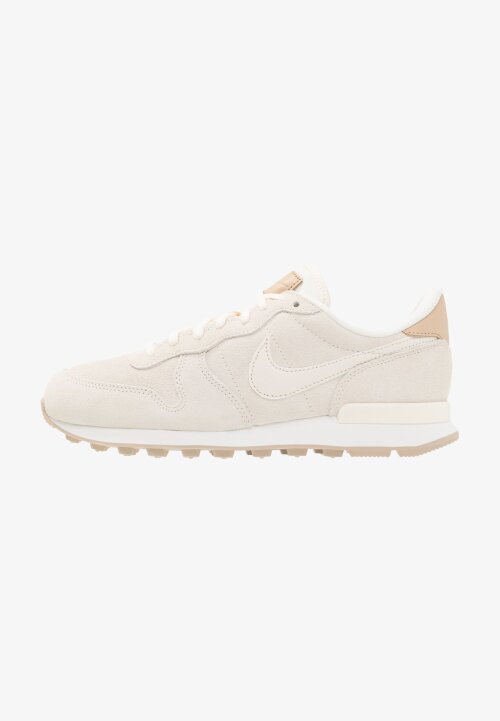 I would do a "winter whites" look with a cream ankle jean for Fall with sneakers. I am actually contemplating putting these in my shopping basket anyway. I think they are just such pretty basic sneaker.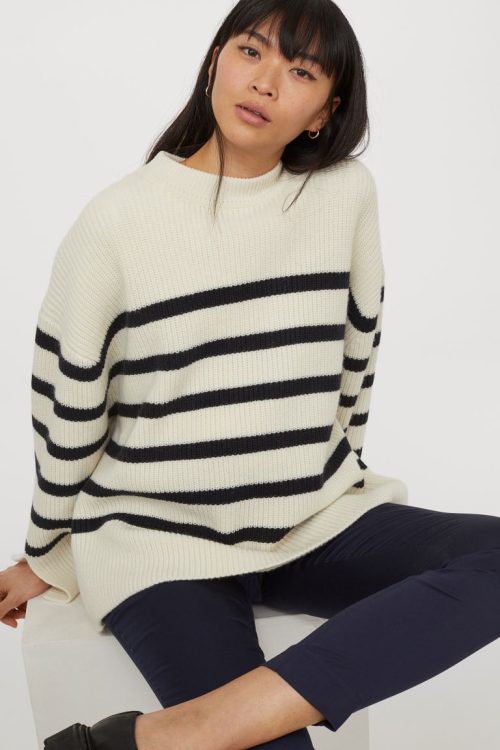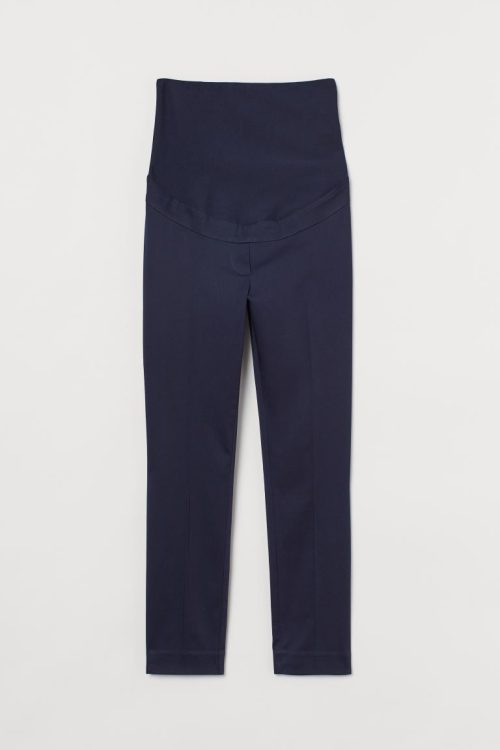 I would not be me if I had not found you a great looking pair of navy maternity pants. These also come in black for those who prefer. I would wear these with everything from the button downs to knits a striped shirts, white t´s etc. A navy pant looks a bit more put together than a jean in my opinion. Especially with a classic loafer.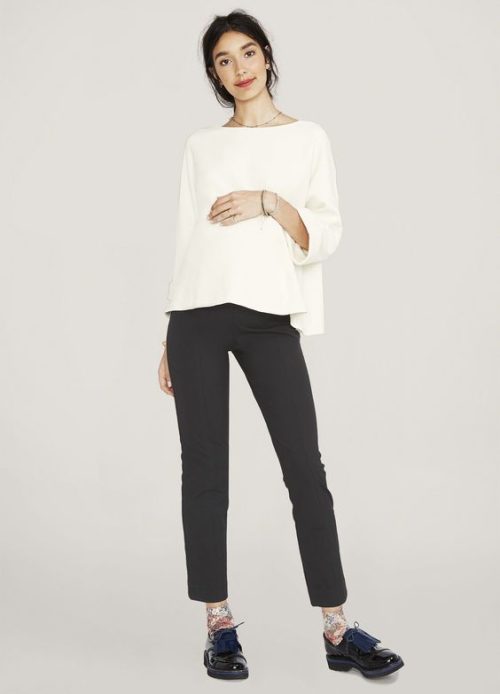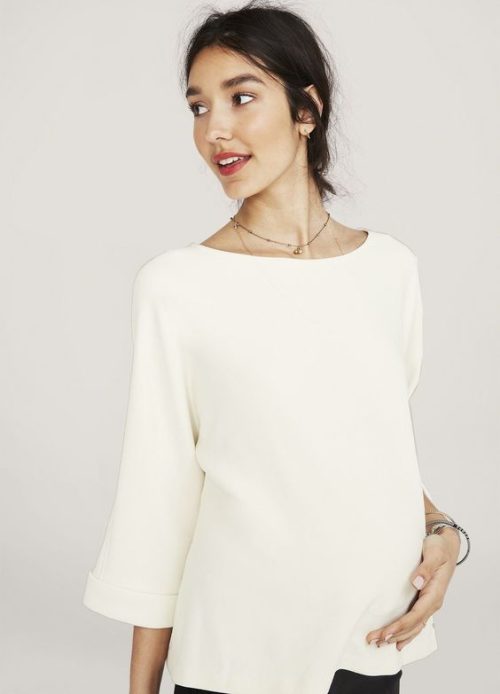 I love this elegant top and it would look very classy with the navy pants.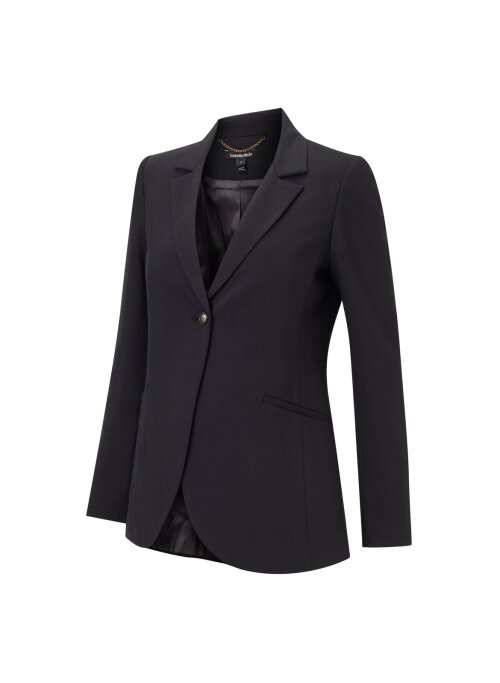 For those who require a business look, this maternity blazer looks very sharp. But a good choise if you don´t have to dress super sharply but want to add a bit "smart" to your look is either wear your normal blazer open or draped over your shoulders. Obviously if you wear a suit to work every day then I would invest in something like this, a pair of matching pants and a matching skirt and just alternate with a few blouses or shirts.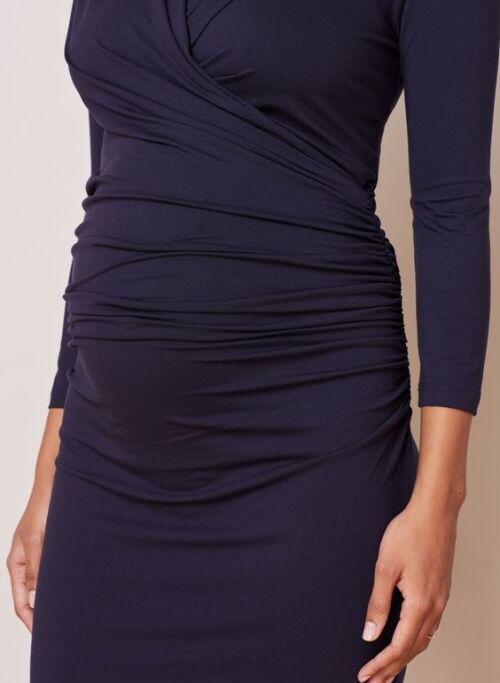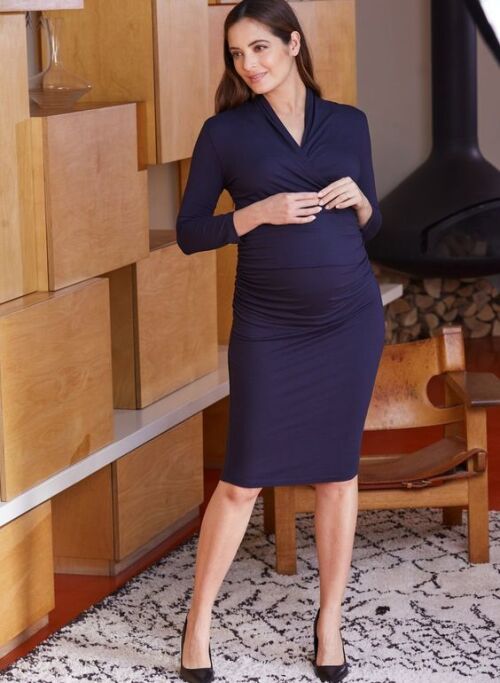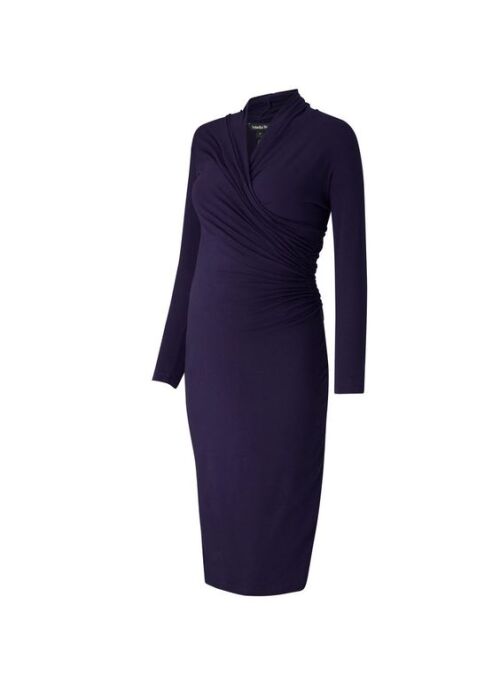 And while we are on the subject of navy… this lovely Isabella Oliver dress is a maternity classic and these are great quality, I borrowed a few from a friend when I was pregnant. Also this comes in black too.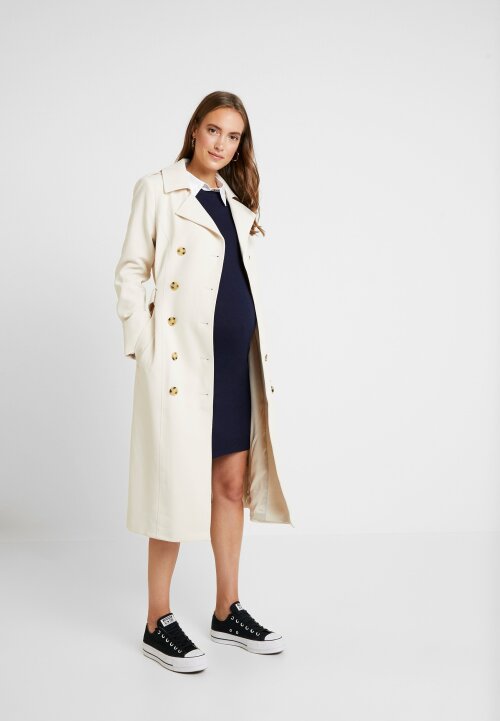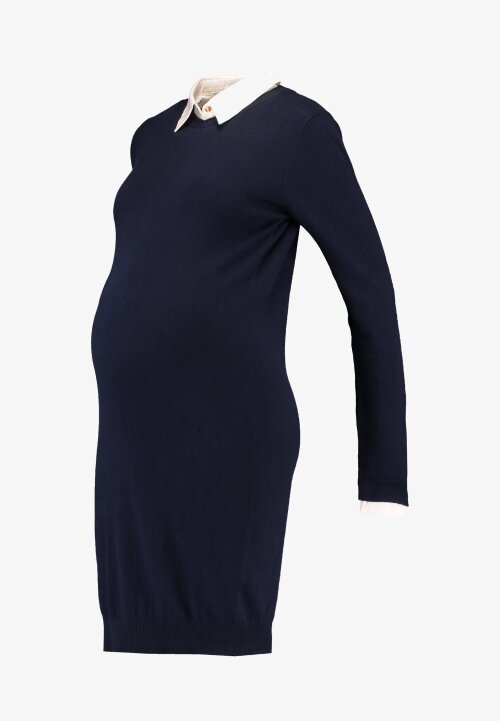 This a lot more casual navy dress would be great with navy tights too and perhaps a boot.
I used my own Burberry trench while pregnant as I have a wider model but if yours is very fitted and you would love one then this looks good and the price point seems great.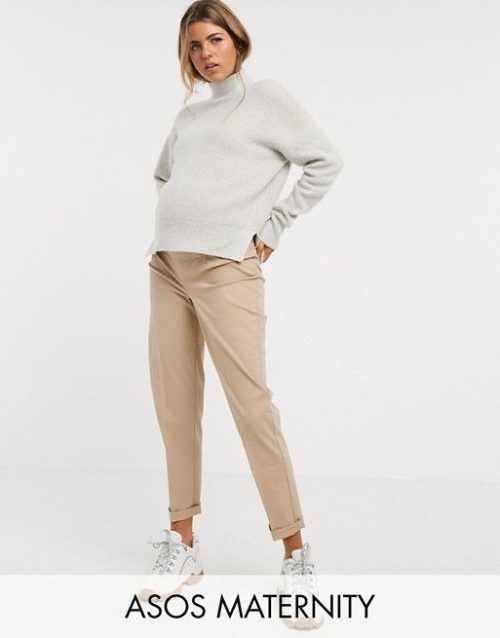 Asos also had a good looking basic chino.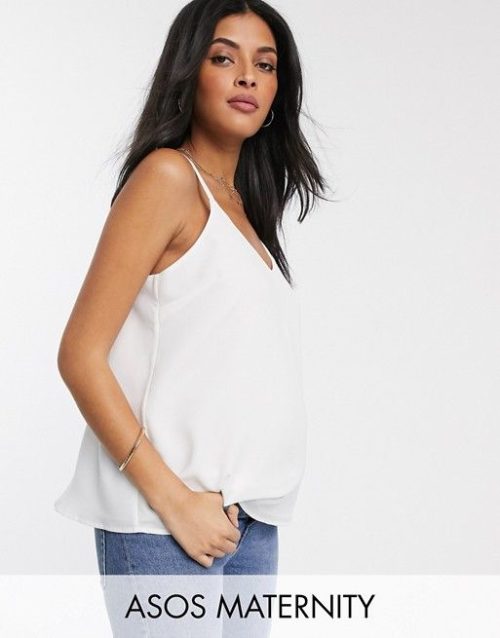 And a basic white camisole to wear under a cardigan or a blazer for a more dressed up look than a t-shirt.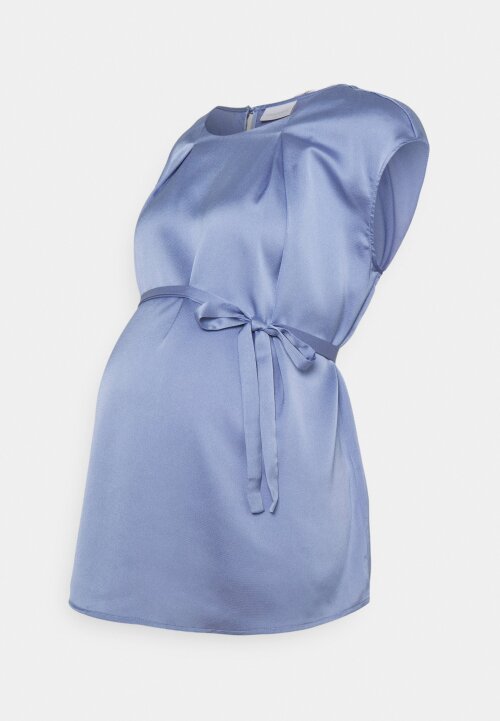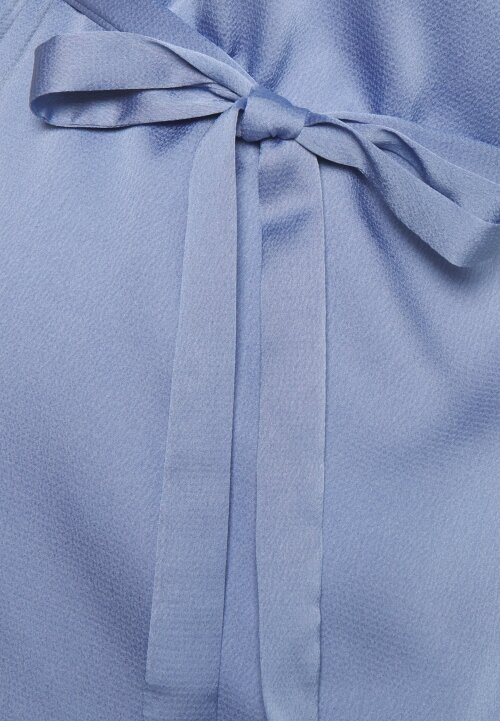 Here is another dressier top. I am loving the colour at the moment.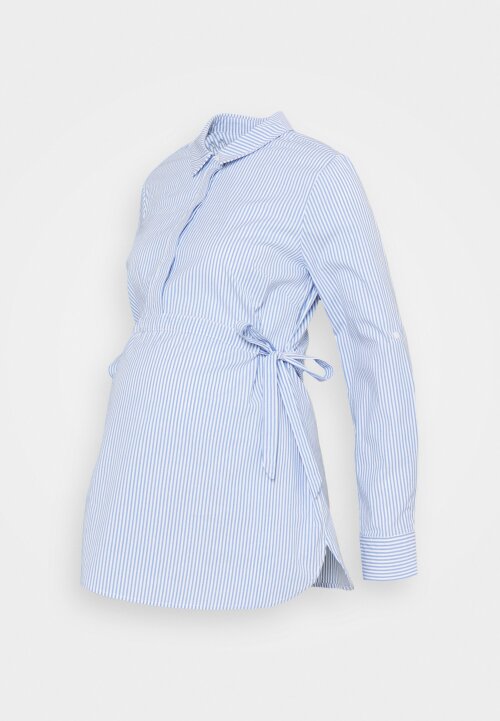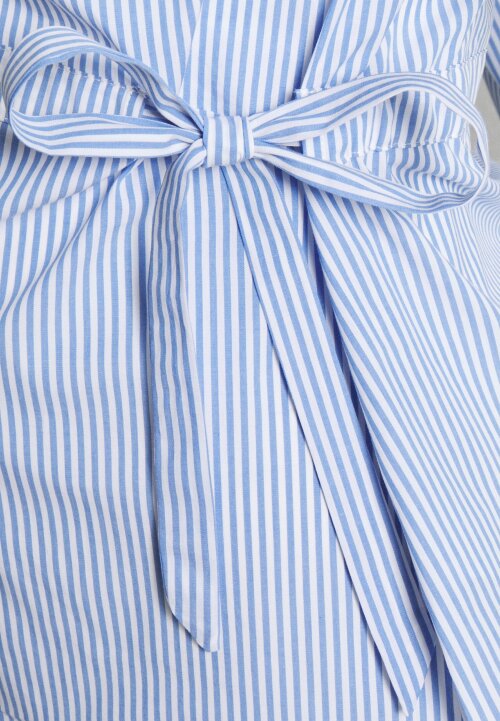 This one is also a lovely looking striped shirt/tunic.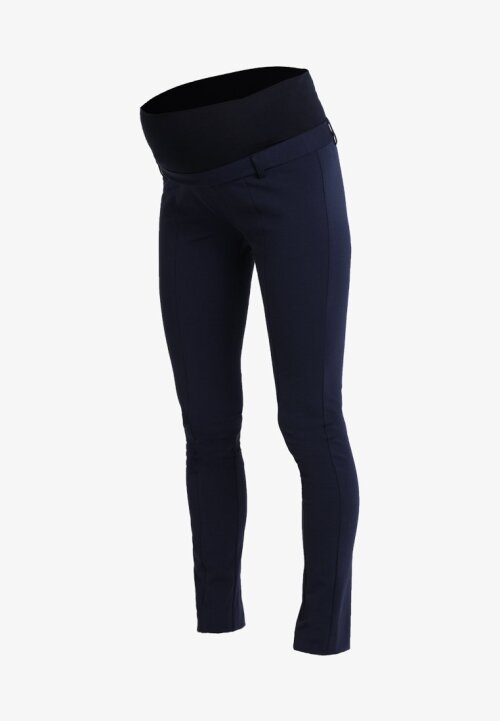 And another navy pant that looks comfortable.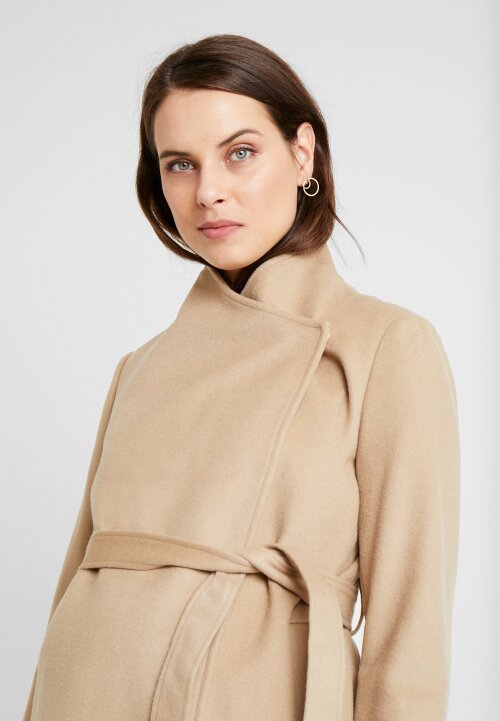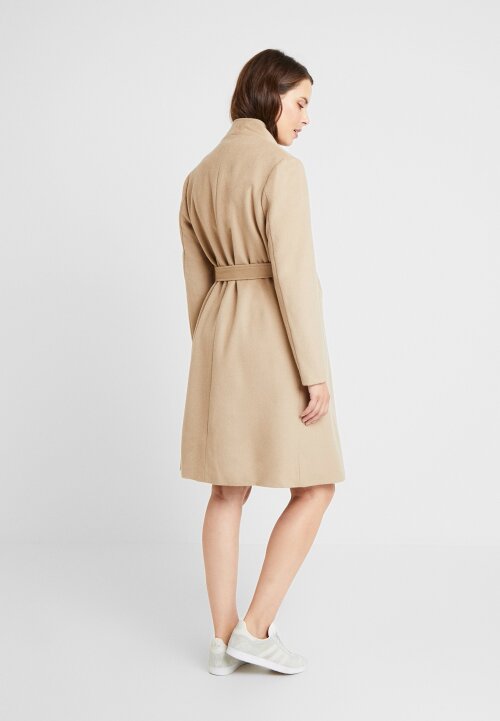 If you feel like you would need an actual maternity coat then I think this looks quite nice.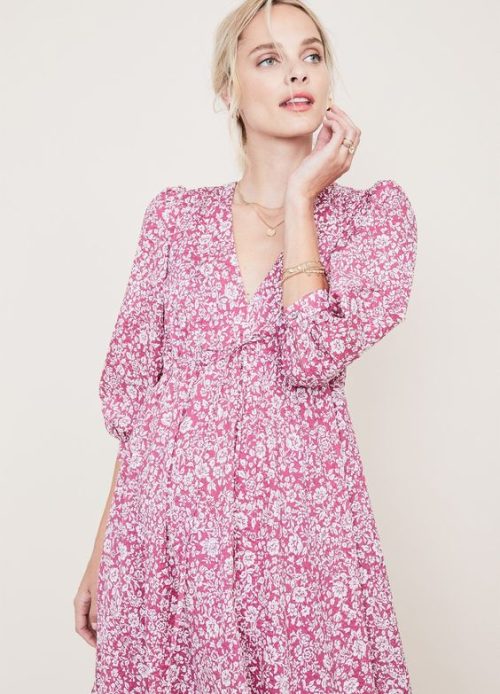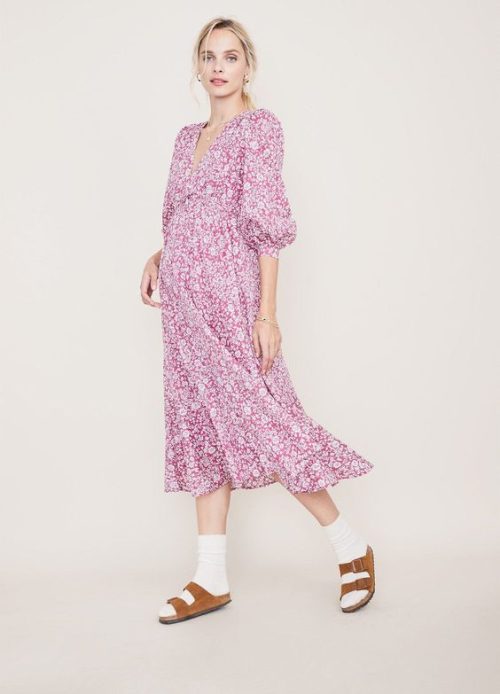 A pretty floral dress is always a great choice. I would wear mine with white Superga´s though and sans the socks.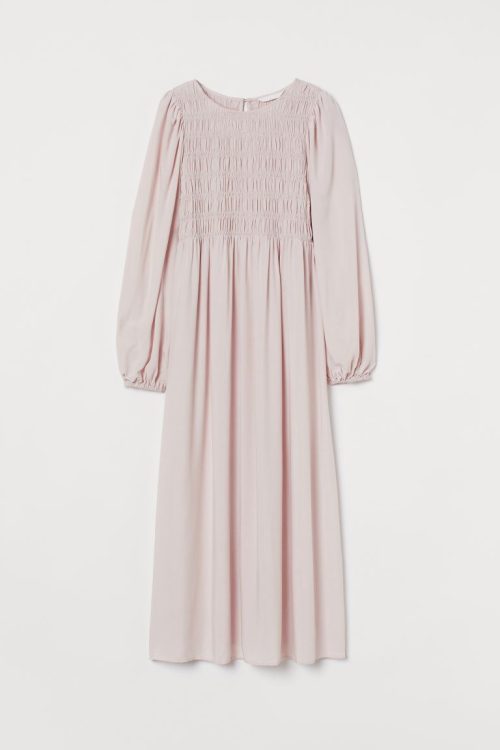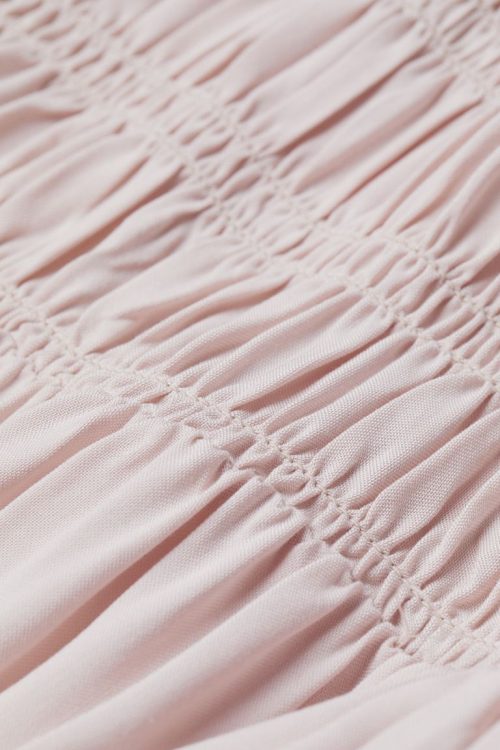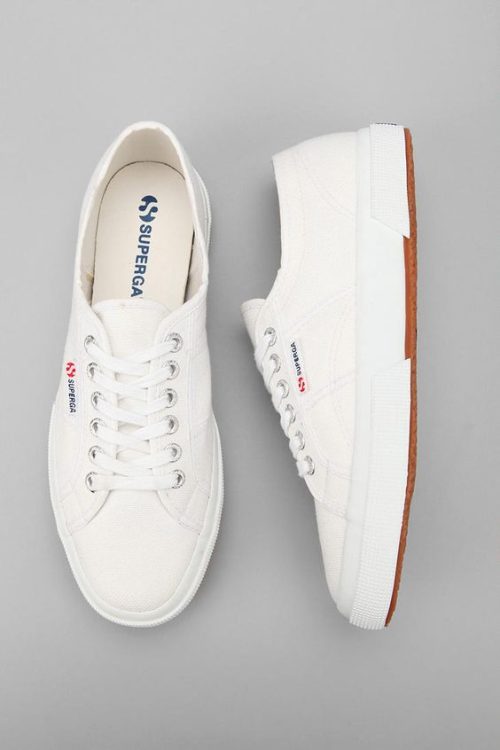 And I believe  a dress like this one would be super comfortable. I would wear it with the white Superga shoes or an espadrille and pair it with a market basket and maybe even a straw hat. Not as it is styled on the original page.
I have so many more styles to share but this post is getting too long so I will do another one with the casual home wear and swimsuits, t-shirts etc.
I hope you are finding this post helpful!
Lattemamma