A great long weekend behind and as promised a few pictures of Paris. The spring was so much more advanced there. Everything felt so lush and green. The weather was not as bad as promised and it actually only rained at a few occasions. But we had umbrellas and trench coats so we were well prepared. Three nights is not a very long time so we did not get up to too much. But it was enough time to visit the lovely Marais from where we always stay which is the St. Germain area. We also did our usual strolling around the streets and popping in at our favourite shops here and there. I had a lovely and very sunny morning run at the Luxembourg garden and we had some great dinners with wine and a lot of laughter. We also walked down rue st. Honoreé on the right bank. It hosts all the big fashion labels amongst some other boutiques. It´s always a Paris "must" to go to the Chanel shop on 31  Rue Cambon. It´s the location where Coco Chanel used to entertain for social events in the apartment upstairs to the boutique that was her very first ( she herself lived in an apartment at the Ritz very close by).  Another favourite to see here is the Hermès store. They have a new one on the St Germain area but this is the one we always like to visit for some reason. And a lovely lunch at Ladurée right around the corner is never a bad idea.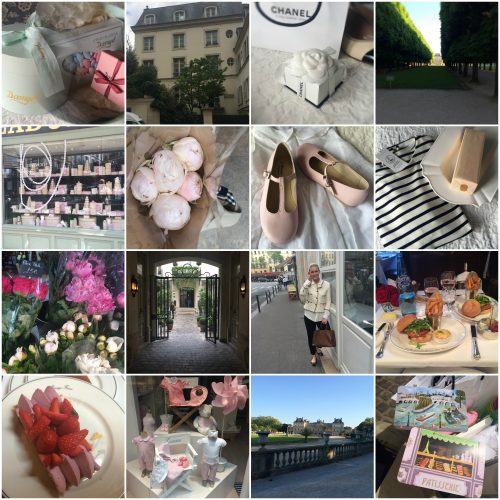 Some photos from my phone. From left to right and top to bottom…
*Damyel is a gorgeous little chocolatier in Marais at rue Rochier. We bought some chocolates and pretty pastel jordan almonds just to be able to purchase one of their gift boxes, a big, light turquoise hat box. *The houses in Paris always make me wonder how it would be like to live here or there and what my little apartment would look like. *I was a lucky girl and got a little early birthday present from Chanel. *The beautiful rows of lush green trees on my morning run in Jardin de Luxembourg. *Ladurée is doing a collaboration with the famous Japanese pearl brand Mikimoto. Pearls and pink macarons, what is there not to love in the combination. *I bought myself these peonies you already saw on the blog. They get prettier day by day. I love peonies when they are fully open. *We found a few little things for the girls like this white linen dress from Cyrillus and these softer that soft t-front leather shoes from Rose & Theo. They are the prettiest little girl shoes I have seen in a while and as soft as gloves. *For myself I found a pretty white serving plate that I could not resist although I really did not need a new one. I also got a new basic stripy long sleeved shirt from Petit Bateau because I wear them almost daily. In that pretty pink box is a rose water from Santa Maria Di Novella. It is the loveliest natural rose water with such a pretty scent. Perfect for a morning routine if you want to wake up feeling like a princess. *Peonies oh how I love them. *The little archway leads to hotel Relais Christine. It is a gorgeous hotel on the left bank hidden on a little side street. *That´s me going out to dinner. *Our dinner at Ralph´s, turkey burgers with rose wine. I know it may not be quintessentially French but more of an American thing but the place is gorgeous, food is good and the service is impeccable. And it´s not overly prized either. Other nights we ate at local bistros. *My dessert from our afternoon tea at Mariage Frères. This mille feuille topped with a violet cream and fresh strawberries was by far the best dessert either my mom or I had tasted in a very long time. It was divine. *A little window display of Bonnichon from our night walk. My sister in law told me that in French window shopping is called "leche vitrine" which quite literally translates to "window licking". I thought it was funny and so accurate. Bonnichon makes me want to have more babies just to get to dress some little person in these cute things. *Another photo from my morning run. I could not help but stop every now and then to snap a quick picture as the park basking in morning light was just so breathtakingly gorgeous. *Postcards sent home from Paris.
Muutama kuva ja ajatus Pariisista. Siellä on yksinkertaisesti aina niin ihanaa ja kaunista. Joka kerta haaveilen hieman pidemmästä matkasta lempikaupunkiini. Haaveissani olisi asua siellä vaikkapa kuukausi ja kierrellä kaupunkia lasten kanssa. Ehtiä käydä eri kaupunginosissa ja ihmetellä museoissa. Ehkäpä vielä joku päivä…
I wish to rent an apartment in Paris one day for even just a month to truly explore the city with my family, especially with the girls whom just love Paris like I do. And I hope they will want to travel there with me when they are all grown up just like I always have with my mom.
Have a chic day!
Lattemamma
 p.s. If you click on the photo collage twise you see the pictures a bit bigger…