Past bubbles
by Sofia - in Random
Kulunut viikonloppu oli täynnä onnen hetkiä. Kauniita puheita ja ilon kyyneleitä sekä paljon naurun remahduksia polttareissa. Parasta oli kuitenkin aamuinen hetki yhteisessä sviitissämme kun istuimme kaasojen ja morsiamen kesken isolla sängyllä pyjamissa ja yöpaidoissa. Ikkunoista näkyin Helsingin kattojen ylitse kaunis aamu. Me joimme huonepalvelusta tilaamiamme latteja ja kävimme läpi ihania hetkiä edellisestä illasta. Hyvät tyttökaverit ovat maailman tärkein ja ihanin asia!
Viikonloppuun kuului myös tyttöjen meikkipään leikkimistä ( sain "upean" meikin ja " rentouttavan" kasvohieronnan), tanssiesityksiä olohuoneessa, leffan katselemista namipussin kanssa ja tietenkin äitienpäivä jonka vietimme mm. Linnanmäellä laitteissa pyörien. Aivan fantastisen ihana viikonloppu takana, mutta olen kyllä onnellinen kun pääsen vihdoin palaamaan ihan normaaliin arkeen.
Phew, last weekend was so full of action I´m actually glad it´s over and I get a chance to "rest" in the everyday life of me. We had an amazing bachelorette party filled with pretty balloons, manicures, macarons, flowers, champagne ( we even had a fabulous champagne tasting) and so much laughter and a few happy tears it was emotionally very fulfilling. Even though the whole party was fun my very favourite moment was the morning after when we were in our adjoined suites, just us maids of honour and the bride before brunch. We were sitting on the big bed in our nighties and pj´s, drinking lattes from room service and going through all the lovely conversations and speeches from the night before. Best girlfriends are just the most precious thing in life. 
And then there was mothers day. I got gorgeous roses and coffee to bed along with the cutest home made card that said " The best thing about my mom is that she is nice and bakes well. And that she lets me bake with her.". My heart. I know you fellow mamas got similar cards and are just as proud of your beautiful children. I think we just all think ours are the prettiest and smartest things in the world. And let us. Right? We had breakfast at my parents house and then moved on to the amusement park for a season premier with my parents in law and the girl´s uncles, aunts and cousins. Fun rides and spinning in the carrousel is just perfect for mothers day! We did this the year before too and it seems like a nice tradition to continue. Bubble Gum had finally reached the threshold of being over 100 cm tall so she could go to all the rides she had to skip last summer. Her first choice was the haunted house! She was absolutely terrified. I had to hug her really close and got to be her protective mom. It made me laugh a little when she came out and actually stuck her tongue out to the stupid house. I think she was just relieved to have made it out alive. After the fun we ate burgers and fries and ice-cream. Just an all out fun and relaxed day.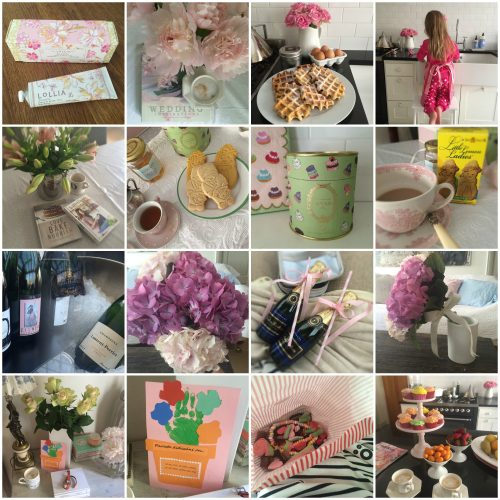 Here are some photos from last weekend ( and a few from the past week or so). *One night last week we decided to have a tea party with the girls and ate the biscuits we bought in London in January. It was about time! That tea, the Ladurée house blend tastes a little like panettone cake. *As said the bachelorette party was filled with bubbles. The classy kind. And pretty flowers. *My mothers day card and roses are pictured here too. *On Saturday after the brunch I went to buy a birthday present to one of Cotton Candy´s friends with the girls. We then bought a bag of candy for us and watched a Hannah Montana- movie ( little girls choice). *The cupcakes are actually from a few weeks back when I baked some for the nomination of a friends baby girl. These were the left overs. *Oh and the cappuccino in one of the top photos! I have a new Nespresso Latissima Touch machine I will tell you all about soon. Love it!
Now to balance out those bubbles and burgers and all that sugar I think this week gets to be filled with something completely different. I grave fresh things and fresh air.
Have a great one!
Ihanan freessiä alkava viikkoa!
Lattemamma