Saltkråkan
by Sofia - in Random
Well not quite…
Saltkråkan or Seacrow Island is a children´s book by a Swedish author Astrid Lindgren that was originally a script for a tv series in the 60´s. It has been running again this summer and a reader asked if our life on the island is anything similar to the life on Saltkråkan where a family goes to spend a summer on an island and get to know all the people living there and the lifestyle. It is and it isn´t. There are many many similarities really starting with the scenery, orange life vests, hammocks and the red and white summer villas. We don´t have our neighbours that close by though so we are just a bit more isolated I guess. But there is a bigger island close to ours where people actually live all year round and it reminds me a lot of Seacrow Island. 
I feel like I have shared a lot of our life on the island here on the blog and what we do there but if you feel like reading more  about it here goes…
We often wake up in the morning to the sound of silence. No alarms and no city noise. Think cars, neighbours, construction… none of that. There are morning dips to the sea. We bring towels and soap too as there is no shower. It´s the most refreshing start for the day! Beats a cold shower any day! On beautiful mornings we might have breakfast outside on the terrace and if it´s grey and rainy or windy we eat inside. We might even light the fireplace and toast our bread in there with a halster on a specifically dreary morning. If the weather is pretty we head outside to lounge on the rocks and swim in the sea. If it´s windy we put on a jumper and head outside to explore and beach comb to find treasures the sea might have brought our way. If it rains we put on our rain gear and wellies and head outside to explore… You get the drill. There is no bad weather on the island. We do have a tv but who wants to watch tv if you could be outside finding squirrels and ladybugs and sea glass. If the wether is really dreadful, windy and rainy and stormy we might just opt to stay inside to read books and draw and watch some movies. If the girl´s cousins are there ( we all have summer houses on the same island) they might come by or the girls go to their house. So we either have a house full of kids or no kids at all. When that happens I take out my book and enjoy the moment. The girls get to play outside by themselves but they are not allowed on the cliffs alone ( for safety reasons you probably understand). We often skip lunch as we have late breakfast but we do tend to have some afternoon coffee together with either some sandwiches or a sweet thing like cake or buns. Or we snack on fruit and berries.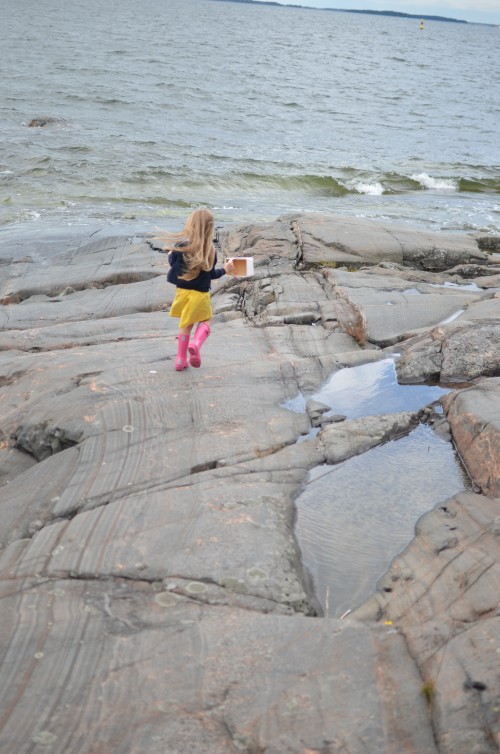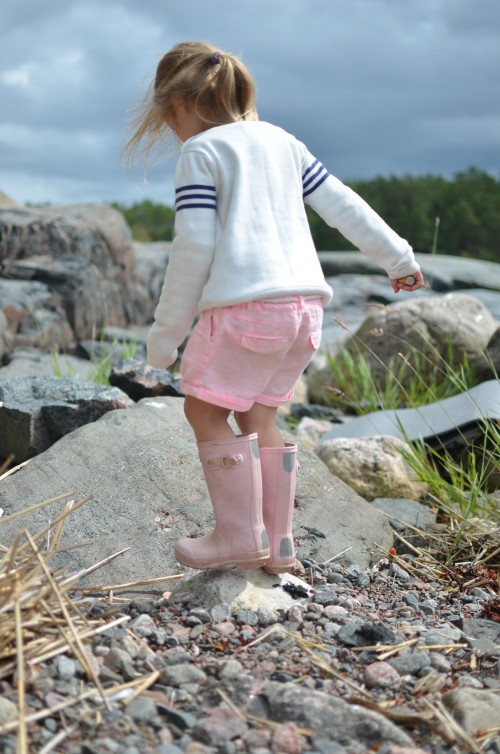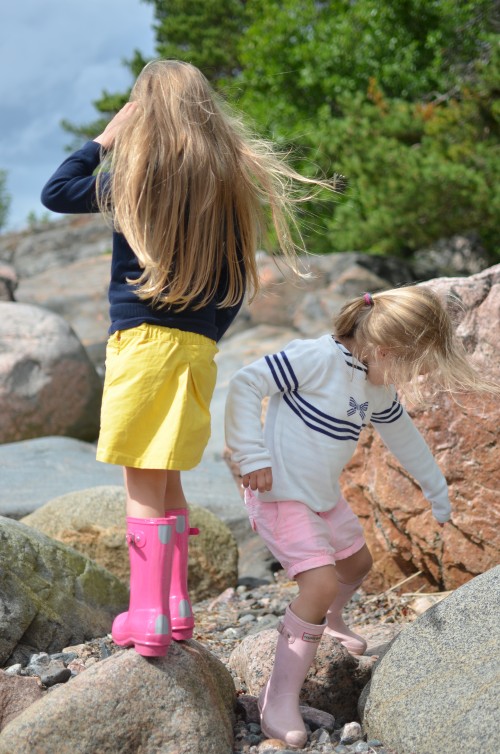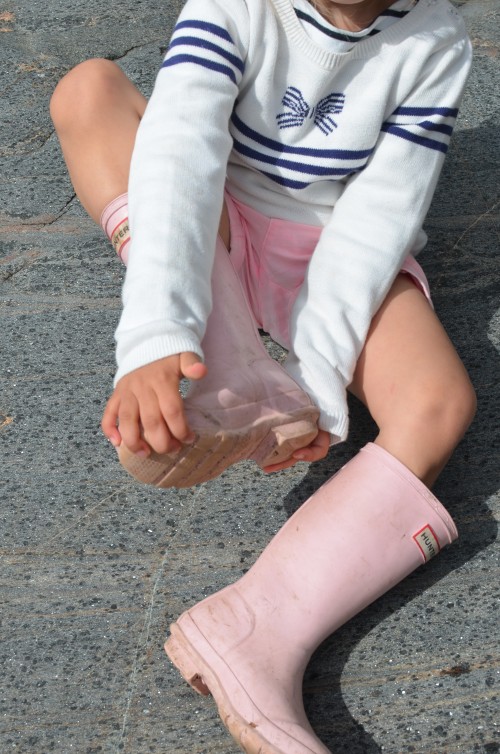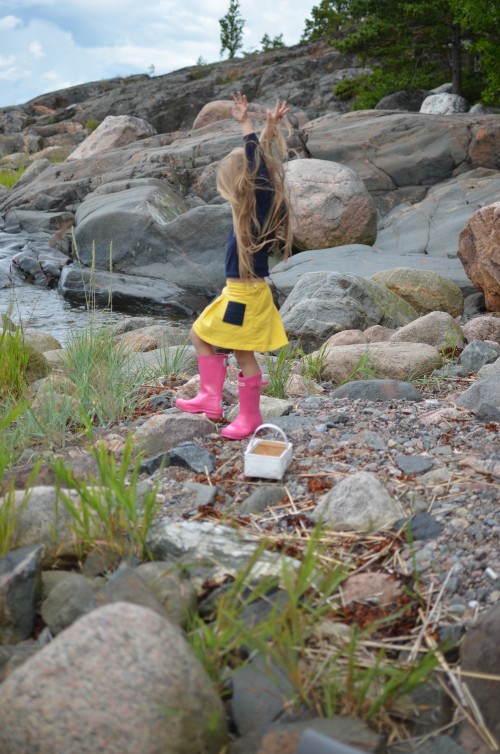 Later we start heating the wood burning sauna. It´s one of my favourite scents in the world. The smell of burning wood in the air. I like to lay in my hammock just whiffing the air! So we go to the sauna and swim and sauna and swim and sit on the deck and look at the glistening sea or run in the rain…
After that it´s almost always dinner time which most often consists of barbecued fish or meat and salads. Then we read bedtime stories for hours to end or just try and get the girls to bed pretty quickly and enjoy a moment with a cup of tea in our hands.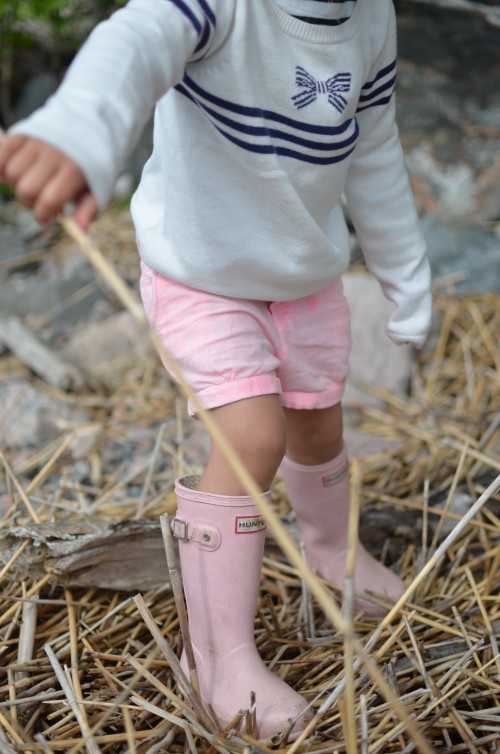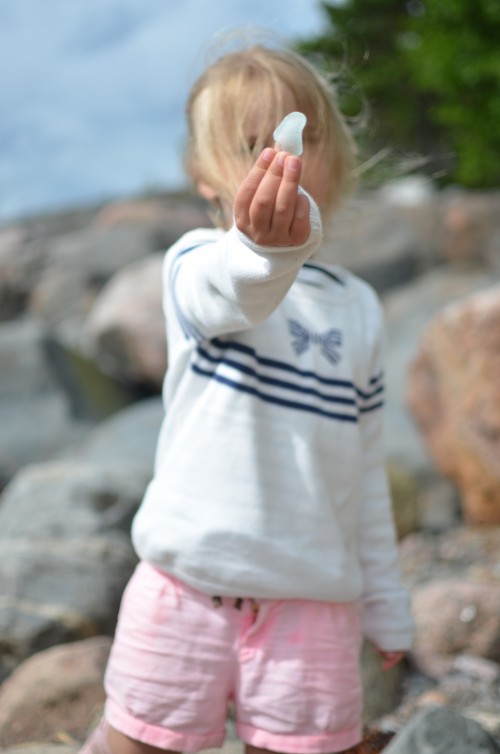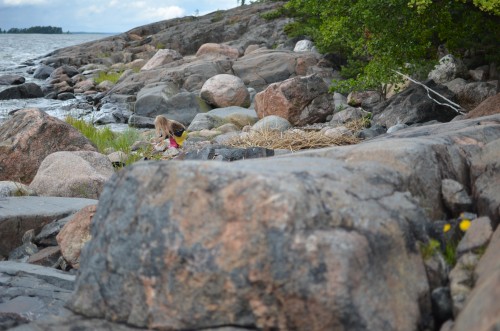 Our days are also spent picking wild blueberries and dancing on the cliffs. Exploring the woods and taking boat rides around the islands. We visit an old school building nearby that has a café once a week and do our grocery shopping on a shop boat where we almost always buy ice-cream cones to eat immediately on the pier. I make myself a cup of coffee to take with me and sit on the cliffs watching the girls play and I lay in my hammock reading detective stories. We brush our hair and teeth in the morning and at night but other than that we rarely think twice about the way we look. It´s a way of life that is relaxed and unpretentious. It´s all about stopping for a while to just be.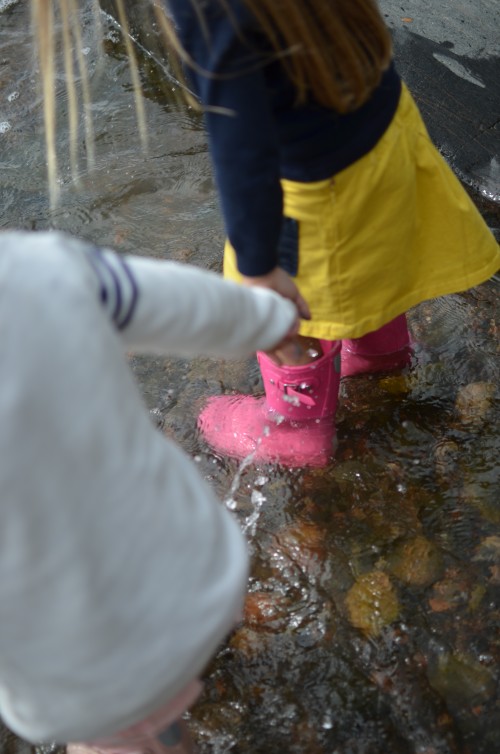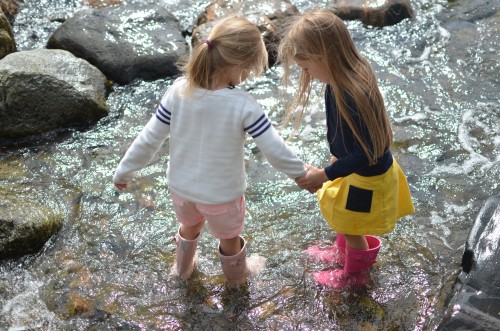 Tomorrow I will sit down for a class of afternoon champagne with a friend to celebrate the fact that we made it alive through the first week of work, school and nursery. Although for me my vacation is actually still ahead and I still have three weeks off in the end of August and beginning of September. After our champagne date I will hop on a boat with my little family and we are off to the island for the weekend. The weather should be amazing and I plan to do just nothing but sip ice-tea on the cliffs and swim with my babies. So I will see you here next week!
Ihanaa, ihanaa viikonloppua!!! Aloitan lähtölaskennan jo tänään!
Lattemamma
Bubble Gum is wearing shorts by Zara, stripy shirt by Petit Bateau, pullover by Jacadi and wellies by Hunter.
Cotton Candy is wearing a skirt and t-shirt by Petit Bateau, cardigan by J.Crew and wellies by Hunter.